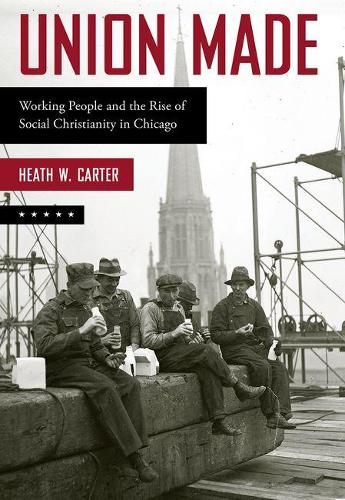 Union Made: Working People and the Rise of Social Christianity in Chicago (Paperback)
Heath W. Carter
(author)
Paperback
296

Pages / Published: 04/01/2018
In Gilded Age America, rampant inequality gave rise to a new form of Christianity, one that sought to ease the sufferings of the poor not simply by saving their souls, but by transforming society. In Union Made, Heath W. Carter advances a bold new interpretation of the origins of American Social Christianity. While historians have often attributed the rise of the Social Gospel to middle-class ministers, seminary professors, and social reformers, this book places working people at the very center of the story. The major characters-blacksmiths, glove makers, teamsters, printers, and the like-have been mostly forgotten, but as Carter convincingly argues, their collective contribution to American Social Christianity was no less significant than that of Walter Rauschenbusch or Jane Addams. Leading readers into the thick of late-19th-century Chicago's tumultuous history, Carter shows that countless working-class believers participated in the heated debates over the implications of Christianity for industrializing society, often with as much fervor as they did in other contests over wages and the length of the workday. The city's trade unionists, socialists, and anarchists advanced theological critiques of laissez faire capitalism and protested "scab ministers" who cozied up to the business elite. Their criticisms compounded church leaders' anxieties about losing the poor, such that by the turn-of-the-century many leading Christians were arguing that the only way to salvage hopes of a Christian America was for the churches to soften their position on "the labor question." As denomination after denomination did just that, it became apparent that the Social Gospel was, indeed, ascendant-from below. At a time when the fate of the labor movement and rising economic inequality are once more pressing social concerns, Union Made opens the door for a new way forward-by changing the way we think about the past.
Publisher: Oxford University Press Inc
ISBN: 9780190847371
Number of pages: 296
Weight: 416 g
Dimensions: 235 x 158 x 18 mm
---
MEDIA REVIEWS
Animated with moral energy, Union Made is engagingly written and passionately argued. * Sociology of Religion *
The author's respect for those 'prophets' is patent throughout the book, and he demonstrates why they deserve such respect. * Journal of Ecclesiastical History *
[A] highly readable narrative The book's strengths lie in clear, narrative prose that belies the enormous primary and secondary research the book required Recommended. * CHOICE *
Carter's strong, clear argument is based on his extensive and creative research, as well as a highly readable narrative His narrative skillfully interweaves biographical information on key actors and situates the story in concrete places [F]orcefully crafted and ambitiously conceived [T]he author deserves much praise for crafting a long overdue and engaging study that interrelates working people's mobilization at the job and in union halls with their stands in the pews, and for relating those activities with some of the great challenges faced by Gilded Age America. * American Nineteenth Century History *
[M]eticulously researched and stimulating [Carter] argues convincingly that working people were 'at the very center of fierce fights to reconcile democracy and capitalism in the industrializing world' His use of many interesting vignettes makes his account very lively. * Journal of Illinois History *
A common critique in this subfield is the privileged focus it often places on mainline Protestants and on the voices of religious and labor leaders. Carter, in contrast, furthers our understanding of the complexities of the working-class religious experiences by including the detailed ideas of Catholics, women, black workers, and other non-native-born rank and file workers. By taking into account such diversity, Carter's narrative makes a tremendous contribution to the on-going scholarship in this area. * American Historical Review *
Ambitious Carter persuasively illustrates the existence of a working-class Christian discourse that predates the work of Social Gospel proponents such as Walter Rauschenbusch [H]is book will prompt thinking about the place of working-class religion in nineteenth-century culture. * Journal of American History *
[L]ucid and extensively documented Union Made is a wonderful resource for those interested in the progressive movement and the social gospel. Readers will find the extensive research to be clear and well-written. Yet this book's greatest achievement is not merely its expansive expose of social Christianity in Chicago, but how closely it mirrors current movements for economic justice. * Speaking of God *
[A] careful exploration Carter has a knack for placing his big argument * recasting the history of social Christianity *
In contemporary America, where the gulf between the rich and poor threatens to yawn that wide again, Christianity and conservative politics have become so intertwined that many American believers are convinced that their faith mandates small government....Carter, however, shows us a different route. * Church History *
A fascinating historical journey. * America Magazine *
A huge accomplishment a gift to everyone interested in American history, and a huge gift to those with a keen interest in the role that Christianity played in American-North American, even-social and economic history. * Comment *
Gracefully written and richly illustrated, Union Made is an eminently accessible text. It is also of pressing relevance in our present age of staggering prosperity and shameful poverty. * Christian Century *
Required reading for all who are studying the Social Gospel. * Review and Expositor *
In Union Made: Working People and the Rise of Social Christianity in Chicago, Carter recovers what has been lost to the rhetoric of the Christian right, namely that Christianity (even its evangelical iterations) aligns very well with the goals of organizers fighting for justice and dignity in their work. * Dissent Magazine *
At the height of the industrial age, working-class Chicago buzzed with talk and action about a progressive Christianity based on the Golden Rule. Heath Carter's Union Made is a brilliantly researched, vividly written, and unfailingly wise work of history that transforms our conception of the Social Gospel. * Michael Kazin, author of American Dreamers: How the Left Changed a Nation *
No mere opiate or tool of oppression, working-class faith emerges from the pages of this extraordinary book as the generative force that made the nineteenth-century social gospel viable. Social Christianity made resistance against industrial capitalism and its barons a possible and necessary thing. Combining the finest qualities of classic social, urban, and labor histories with the curiosities of our scholarly (and political) moment, Union Made is a sharp, much-needed reminder that American Christianity has not always been free-market in persuasion or comfortable on the corporate side. Beautifully crafted, it is also a stirring must-read. * Darren Dochuk, author of From Bible Belt to Sunbelt: Plain-Folk Religion, Grassroots Politics, and the Rise of Evangelical Conservatism *
Heath Carter's Union Made is a powerful and important book. It persuasively documents the working class origins of Social Christianity among Protestant and Catholics alike. It also makes clear that the decline of this Social Gospel tradition has left us increasingly vulnerable to the conscienceless capitalism of our own time. Reading it reminds us of what we have lost. * Jackson Lears, author of Rebirth of a Nation: the Making of Modern America, 1877-1920 *
Union Made provides an amazing history of the battle between elite religious leaders and workers and their pastors to define the meaning of Christianity in society. Set in Chicago... Carter's deep research allows the words from pastors and labor leaders from across the city to come alive. If you care about the intersection of faith and labor, the development of the social gospel, or labor history in Chicago, this is a must read. * Kim Bobo, Founding Director, Interfaith Worker Justice *
In recovering these working-class voices, Carter makes a significant scholarly contribution to the field of American religious history while also deepening our understanding of the labor movement during the Gilded Age and Progressive Era. More than just recasting the origins of Social Christianity, he reminds us of the profound moral debates that surrounded the rise of industrial capitalism and reveals how workers campaigned for justice as forcefully and ardently within the religious sphere as they did in the political and economic arenas. * Thomas Rzeznik, The Journal of the Gilded Age and Progressive Era *
Carter makes a signal contribution to the history of the social gospel by excavating its working-class roots. * Reviews in American History *
Carter's claims are interesting and provocative. Union Made provides crucial insights into how many skilled workers rejected socialism or secularism in favor of a reformist Christianity that conceived of a new and more equitable cooperation between laborers and the church. As historians search for the grassroots origins of the religious right and its support of laissez-faire corporate power, it is interesting to note the existence of an earlier counternarrative that pushed urban Protestants toward liberalism and the New Deal state. * Journal of the Illinois State Historical Society *
You may also be interested in...
Simply reserve online and pay at the counter when you collect. Available in shop from just two hours, subject to availability.
Thank you for your reservation
Your order is now being processed and we have sent a confirmation email to you at
When will my order be ready to collect?
Following the initial email, you will be contacted by the shop to confirm that your item is available for collection.
Call us on or send us an email at
Unfortunately there has been a problem with your order
Please try again or alternatively you can contact your chosen shop on or send us an email at