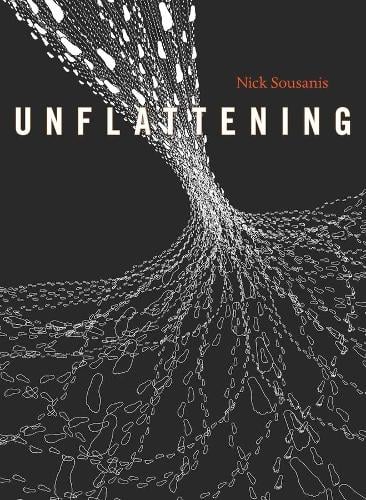 Paperback
193

Pages / Published: 28/04/2015
The primacy of words over images has deep roots in Western culture. But what if the two are inextricably linked, equal partners in meaning-making? Written and drawn entirely as comics, Unflattening is an experiment in visual thinking. Nick Sousanis defies conventional forms of scholarly discourse to offer readers both a stunning work of graphic art and a serious inquiry into the ways humans construct knowledge.
Unflattening is an insurrection against the fixed viewpoint. Weaving together diverse ways of seeing drawn from science, philosophy, art, literature, and mythology, it uses the collage-like capacity of comics to show that perception is always an active process of incorporating and reevaluating different vantage points. While its vibrant, constantly morphing images occasionally serve as illustrations of text, they more often connect in nonlinear fashion to other visual references throughout the book. They become allusions, allegories, and motifs, pitting realism against abstraction and making us aware that more meets the eye than is presented on the page.
In its graphic innovations and restless shape-shifting, Unflattening is meant to counteract the type of narrow, rigid thinking that Sousanis calls "flatness." Just as the two-dimensional inhabitants of Edwin A. Abbott's novella Flatland could not fathom the concept of "upwards," Sousanis says, we are often unable to see past the boundaries of our current frame of mind. Fusing words and images to produce new forms of knowledge, Unflattening teaches us how to access modes of understanding beyond what we normally apprehend.
Publisher: Harvard University Press
ISBN: 9780674744431
Number of pages: 193
Weight: 794 g
Dimensions: 259 x 190 x 25 mm
---
MEDIA REVIEWS
Although the implications are profound, Unflattening is less an insurrection than a carefully argued case for rethinking our priorities about art and learning. Unflattening is above all a humane piece of scholarship which challenges our assumptions about perception.--Matt Finch"Brooklyn Rail" (05/06/2015)
Ranging across a wide range of disciplines--the arts, the sciences, popular culture, critical theory--Sousanis argues that the verbal and the visual are inextricably entwined in the production of knowledge... It is a book that is dense with the syntheses of ideas, nimble, far-reaching and impossible to summarize. It liberates itself from the standard layout of panels within frames, teaching the eye and mind to read the unfailingly intelligent black-and-white artwork in unconventional and new ways. Unflattening deserves a place as a compulsory textbook in schools.--Neel Mukherjee"New Statesman" (10/02/2015)
Sousanis's drawings are first rate and his writing style economical. To demonstrate how introducing new vantage points expands our thinking, he explores a range of philosophical concepts, calling on Plato, Copernicus, and even the 'fifth dimension' explored in the TV series The Twilight Zone.--Jan Gardner"Boston Globe" (05/24/2015)
Nick Sousanis's Unflattening is a genuine oddity, a philosophical treatise in comics form. 'Flatness, ' for Sousanis's purposes, is not the quality of abstraction that Clement Greenberg lauded in modern art, but the lamentable condition of the inhabitants of Edwin A. Abbott's 'Flatland' the inability to understand that there might be more than one can immediately perceive. The solution he proposes is admitting visual elements, and especially drawings, into the intellectual domain of language. (Psst--he's talking about comics!)--Douglas Wolk"New York Times Book Review" (05/29/2015)
An important book, Unflattening is consistently innovative, using abstraction alongside realism, using framing and the (dis)organization of the page to represent different modes of thought. The words and images speak for themselves and succeed on their own terms. I couldn't stop reading it.--Henry Jenkins, author of Spreadable Media: Creating Value and Meaning in a Networked Society
Nick Sousanis's Unflattening is a complex, beautiful, delirious meditation on just about everything under the sun; a unique and bracing read.--Scott McCloud, author of Understanding Comics and Making Comics
Unflattening will no doubt become an essential teaching tool for helping students--especially undergraduates--think about comics, graphic novels, and other media in which words and images combine... The book is potentially revolutionary... This is a book that wants to teach, a book that will be talked about and belongs in any forward-looking library.--R. J. Baumann"Choice" (10/01/2015)
Unflattening is Nick Sousanis's meditation on the nature of learning and visual communication... At a time when graphic literature has become widely accepted as a medium for fiction and memoir, Unflattening breaks new ground in the use of visual narrative for the expression of abstract ideas. Beautifully drawn and brilliantly conceived, Unflattening is an instant classic.--Rob Salkowitz"Forbes" (12/21/2015)
Sousanis has achieved something powerful--a book that goes beyond just saying a thesis to actually showing one.--Stephen Asma"Los Angeles Review of Books" (05/06/2016)
There is much in Unflattening that will interest and stimulate thought for higher education scholars, teachers and students... In this beautiful and complex book, Sousanis grapples with core tenets of Western knowledge: who are our heroes, and why do we valorize their charts and grids so much more than, for example, the oral traditions of Pacific navigators who could read the stars? It is a beautiful book and a complex book that defies categorization--that's why I recommend it.--Frances Kelly"Higher Education Research & Development" (02/01/2017)
You may also be interested in...
Simply reserve online and pay at the counter when you collect. Available in shop from just two hours, subject to availability.
Thank you for your reservation
Your order is now being processed and we have sent a confirmation email to you at
When will my order be ready to collect?
Following the initial email, you will be contacted by the shop to confirm that your item is available for collection.
Call us on or send us an email at
Unfortunately there has been a problem with your order
Please try again or alternatively you can contact your chosen shop on or send us an email at