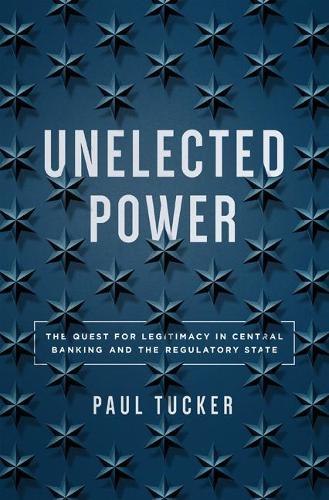 Unelected Power: The Quest for Legitimacy in Central Banking and the Regulatory State (Hardback)
Paul Tucker
(author)
Hardback
656

Pages / Published: 13/04/2018
Guiding principles for ensuring that central bankers and other unelected policymakers remain stewards of the common good
Central bankers have emerged from the financial crisis as the third great pillar of unelected power alongside the judiciary and the military. They pull the regulatory and financial levers of our economic well-being, yet unlike democratically elected leaders, their power does not come directly from the people. Unelected Power lays out the principles needed to ensure that central bankers, technocrats, regulators, and other agents of the administrative state remain stewards of the common good and do not become overmighty citizens.
Paul Tucker draws on a wealth of personal experience from his many years in domestic and international policymaking to tackle the big issues raised by unelected power, and enriches his discussion with examples from the United States, Britain, France, Germany, and the European Union. Blending economics, political theory, and public law, Tucker explores the necessary conditions for delegated but politically insulated power to be legitimate in the eyes of constitutional democracy and the rule of law. He explains why the solution must fit with how real-world government is structured, and why technocrats and their political overseers need incentives to make the system work as intended. Tucker explains how the regulatory state need not be a fourth branch of government free to steer by its own lights, and how central bankers can emulate the best of judicial self-restraint and become models of dispersed power.
Like it or not, unelected power has become a hallmark of modern government. This critically important book shows how to harness it to the people's purposes.
Publisher: Princeton University Press
ISBN: 9780691176734
Number of pages: 656
Dimensions: 235 x 155 mm
---
MEDIA REVIEWS
"One of Foreign Affairs' Picks for Best of Books 2018"
"One of Marketwatch's Nonfiction Best of 2018 Books"
"A book about central banking that begins with Britain's vote to leave the European Union, America's election of Donald Trump as president and Continental Europe's rising populism is starting in the right place. That alone gives Paul Tucker's Unelected Power: The Quest for Legitimacy in Central Banking and the Regulatory State a claim as one of the more perceptive books on his subject in recent years."---Joseph C. Sternberg, Wall Street Journal
"Tucker is refreshingly honest about the problem: across a range of different countries, central bankers have become 'overmighty citizens'. The contract between them and the people they are supposed to serve needs to be rewritten."---Ed Conway, The Times
"A comprehensive and thoughtful guide to the limits of . . . unelected power."---Peter Thal Larsen, Reuters Breakingviews
"Tucker is refreshingly upfront about central bankers' acquisition of power."---Desmond King, Financial Times
"Candidates to succeed [Governor Carney] . . . should work their way through Unelected Power. They will then have some thinking to do."---Christopher Fildes, Standpoint
"[Unelected Power] is of fundamental importance to anyone interested in the future of liberal democracy."---Felix Martin, New Statesman
"[As] Paul Tucker . . . discusses in [his] masterful recent book . . . the argument for democratic delegation is a subtle one."---Dani Rodrik, Project Syndicate
"Paul Tucker . . . [has] published a massive, thoughtful account . . . [which] sets out some bold [principles] for first order agencies, like the Bank of England."---Anthony Barnett, openDemocracy
"Unelected Power brings Tucker's experience and intellect to bear on a controversial issue that has hitherto been underexplored."---Martin Vander Weyer, Literary Review
"In this important books, Paul Tucker, a former deputy governor of the Bank of England, analyses where and how to delegate . . . responsibilities, and where and when such delegation risks undermining democratic legitimacy itself."---Martin Wolf, Financial Times
"[Tucker] has produced this long and meaty book, which is all the better for not focusing simply - as too many central bankers do - on central banks. . . . Unelected Power is likely to be a standard reference work for those thinking about the design of central banks for decades to come. Many legislators could no doubt benefit from it too."---Michael Reddell, Central Banking Journal
"Tucker has advanced public understanding by explaining why legitimacy is essential for central banks and elucidating the problems of achieving it. Unelected Power is a serious and important piece of work, which students of central banking cannot ignore."---William Allen, Financial World
"A terrific book."---Anil Padmanabhan, liveMint
"Profoundly important. . . . [Tucker's] practical experience with the tensions he addresses, combined with his distance from conventional academic disciplines, makes his writing both more accessible and more convincing than much of what is produced by administrative-law specialists and political scientists. . . . In the wake of the financial crisis of 2008, policymakers continue to reassess the ways in which government and the financial sector interact. Democratic institutions are facing a reappraisal in light of the widespread populism of the past few years. Tucker's arguments ought to be carefully considered. Of the many books written by those involved in responding to the financial crisis, his may deserve the longest shelf life."---Lawrence Summers, Washington Post
"Tucker's synthesis of economics, law, political science, and political philosophy is prodigious, and his experience on the front lines of fighting the global financial crisis is imposing. And yet, what is most distinctive about the book is its humility. Tucker's worry that he and his ilk have become 'overmighty citizens' is palpable, and he takes seriously the idea that bureaucrats must ultimately be servants rather than masters. . . . His attitude comes from a kind of modern sense of noblesse oblige, heavy on the obligation. Let us hope Tucker can inspire others who wield unelected power to feel and act on this sense as much as he does."---Philip A. Wallach, American Interest
"Unelected Power is likely to be a standard reference work for those thinking about the design of central banks for decades to come. Many legislators could no doubt benefit from it too."---Michael Reddell, Central Banking Journal
"Paul Tucker brings years of experience at the Bank of England and deep political-economic insights to the most contentious problem of governance today: the delegation of power to independent agencies of government. He shows that the Fed and other central banks have become powerful multipurpose institutions, escaping checks and balances, risking all independence. He then unpacks an entirely novel solution-his Principles for Delegation-which will set off a needed debate over reform for many years ahead."-John B. Taylor, Stanford University
"This book is a much-needed study of a much-neglected problem. Combining experience with theoretical expertise, Paul Tucker offers us an insightful and original account of how central banks and other unelected authorities need to be oriented and constrained within a democracy. Unelected Power is a significant contribution to both political theory and social science."-Philip Pettit, Princeton University and Australian National University
"How do we reconcile delegated authority with democratic legitimacy in an era when decisions are made increasingly by experts? In this magisterial and magnificent book, Paul Tucker, drawing on his extensive experience in central banking, provides us with clear principles for determining the trade-off between professional competence and popular support. A must-read for anyone interested in the theory and practice of governance."-Mervyn King, former governor of the Bank of England
"An important book on a fundamental problem-by an author who combines theoretical intelligence and practical experience in a compelling fashion."-Bruce Ackerman, Yale University
"Paul Tucker has written a most timely and thoughtful analysis of the role of independent agencies in democratic societies. He makes clear that in practice these agencies differ widely in their practical and justifiable insulation from political pressures. Not surprisingly, he concludes by defending a high degree of independence for central banks but also emphasizing the need for caution in extending their mandate beyond the bounds of monetary policy."-Paul A. Volcker, former chair of the Federal Reserve
"Unelected Power is a well-researched, extremely knowledgeable, and authoritative account by a leading expert. It is destined to be one of the most important books on this increasingly topical and contentious subject."-Charles Goodhart, London School of Economics
"A powerful and important book, Unelected Power reshapes the debate about independent regulatory agencies."-Kevin M. Stack, Vanderbilt Law School
You may also be interested in...
Simply reserve online and pay at the counter when you collect. Available in shop from just two hours, subject to availability.
Thank you for your reservation
Your order is now being processed and we have sent a confirmation email to you at
When will my order be ready to collect?
Following the initial email, you will be contacted by the shop to confirm that your item is available for collection.
Call us on or send us an email at
Unfortunately there has been a problem with your order
Please try again or alternatively you can contact your chosen shop on or send us an email at