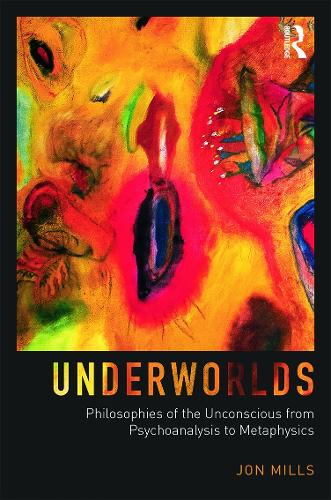 Underworlds: Philosophies of the Unconscious from Psychoanalysis to Metaphysics (Hardback)
Jon Mills
(author)
Hardback
190

Pages / Published: 02/04/2014
The first book of its kind to provide a detailed analysis of the history of the unconscious from the underworlds of Greek and Egyptian mythology to psychoanalysis and metaphysics, Jon Mills presents here a unique study of differing philosophies of the unconscious.
Mills examines how three major philosophical systems on the nature of the unconscious emerge after modern philosophy, finding their most celebrated elaborations in Freud, Lacan and Jung. These three psychoanalytic traditions, quite separate from one another in terms of their emphasis and philosophical presuppositions, are scrutinised alongside contemporaneous movements in existential phenomenology, semiotics, epistemology, transcendental psychology and Western metaphysics in the texts of Hegel, Heidegger, Sartre and Whitehead. Underworlds provides a scholarly exegesis and critique of the main philosophies of the unconscious to have transpired in the history of ideas.
Exploring the unconscious from its philosophical beginnings in antiquity to its systematic articulation brought about by the rise of psychoanalysis, Underworlds is ideal for practicing psychoanalysts, academics of Freud, Jung and Lacan, and scholars of psychology, philosophy and the humanities.
Publisher: Taylor & Francis Ltd
ISBN: 9780415660525
Number of pages: 190
Weight: 431 g
Dimensions: 235 x 159 x 18 mm
---
MEDIA REVIEWS
"Once again Jon Mills has written an erudite and probing text exploring one of his primary interests, the unconcious, as understood by psychoanalysis as well as in some major philosophical traditions...Its 172 pages of text are a tour-de-force, dense with meaning yet explicating these thinkers in a way that most clinicians will find not only clarifying but also clinically helpful."- Gerald J. Gargiulo, The Psychoanalytic Review, June 2015
"It is an ambitious project, but one that Mills executes brilliantly. ... We owe to Mills a debt of gratitude for his willingness to trace the historical recognition of the unconcious from its ancient and prescientific origins to its contemporary and most abstract modern formulations. Maintained throughout is a commitment to understanding how our thoughts, feelings and actions and so thoroughly shaped by structures and forces experienced as other by self. More than any contemporary theorist, Mills has dedicated much of his scholarly efforts to establishing the unconscious as a critical source of agency, the ultimate ground of subjectivity, and as exercising a continuing influence over who we are."- Ronald C. Naso, DIVISION/Review, Winter 2014
"This book is a complex and compelling journey into the intersection of philosophy and psychoanalysis. The author provides a masterful understanding of the unconscious roots of ancient cultural beliefs, the intricacy of Hegel's philosophical insights, and of Freud's unique fusion of ancient and modern ways of conceptualizing the human mind. Challenging and fascinating views on the death drive and the nature of human conflict are introduced. The reader is familiarized with the true philosophical depth in the works of existentialism, Lacan, Jung, and Whitehead. All these topics and more come with intricate and well researched detail, bringing the reader to a new awareness of how much the foundational concepts of psychoanalysis have emerged from and continue to be influenced by the core elements of philosophy and metaphysics."- Robert Waska LPCC, MFT, PhD, author and psychoanalyst, San Francisco, California.
"In Underworlds, Mills gives us a whirlwind, erudite, and cogent tour of depictions of the unconscious from ancient Egypt to Whitehead. His facility in the worlds of both Philosophy and Psychoanalysis enable him to consider psychoanalytic concepts such as the Unconscious, soul, the death drive, and authenticity in relation to their earlier underpinnings in philosophy, helping to form a bridge that links the perspectives of Freud, Lacan, and Jung with their underlying metapsychologies. These considerations invite the reader to reflect on the search for deeper ultimate meaning inherent in the psychoanalytic enterprise."- Marilyn Charles, Austen Riggs Center, Massachusetts, USA.
"What a pleasure to read Jon Mills leading us through a wonderland of philosophical and depth psychological explorations of our feeling soul working through unconscious processes. A colorful, productive tour of the creative unconscious in a variety of guises. How can something so "low" lift us so "high"? The author lives what he thinks and thinks what he lives."- Michael Eigen, author, Contact With the Depths, Flames from the Unconscious, Kabbalah and Psychoanalysis
"In this new book - number twelve by the same author - Jon Mills discusses the concept of soul as it emerges from three psychoanalytic traditions: Freud, Jung and Lacan. He confronts the psychoanalytic conception of the soul with the philosophical conception of human beings as it is present in the philosophical tradition. Even though he refers to Plato, Aristotle, Kant and Schelling, Mills does an explicit study of the metaphysics of the person in Hegel, existentialism (Husserl, Heidegger, Sartre) and Whitehead.
In making the comparison between psychoanalysis and recent important philosophers, Mills distinguishes four philosophical positions: psychological naturalism represented by Freud; environmental determinism as represented by Heidegger and Lacan; transpersonal supervenience represented by Jung and Hegel; and finally cosmic emanationism represented by Whitehead.
This impressive effort provides philosophers empirical data for discussion between themselves and invites psychoanalysts to become aware of their metaphysical view of the person and the universe while using psychoanalytic techniques. It is a breathtaking effort which will challenge both philosophers and psychoanalysts."- Wilfried Ver Eecke, Professor of Philosophy, Georgetown University, USA
"Once again Jon Mills has written an erudite and probing text exploring one of his primary interests, the unconscious, as understood in psychoanalysis as well as in some major philosophical traditions...The depth, what we name as unconscious, is not the private confines of individuals, it is a dimension of reality that we are still struggling to find words for. Mills's text testifies that it is more than a worthy struggle, and his text is more than worth the read."- Gerald J. Gargiulo, Psychoanalytic Review, 102(3), June 2015
"Mills' most recent book [...] is an exemplary case of Mills' scholarly work. The book articulates some of the leading characterizations of the unconscious in modern thought, both in philosophical and psychoanalytical traditions. [...] Mills offers a surprisingly broad yet detailed account of these varying treatments of the unconscious, not only for the sake of scholarly clarification but also with the aim of developing a richer and more justified conception of the unsconscious than any of these conceptions can offer alone. [...] [The] book can help expand one's imagination about what constitutes the unconscious and what constitutes unconscious material as well as expanding how to conceptualize such unconscious material." -John White, Interregional Society of Jungian Analysis, Journal of Analytical Psychology
You may also be interested in...
Simply reserve online and pay at the counter when you collect. Available in shop from just two hours, subject to availability.
Thank you for your reservation
Your order is now being processed and we have sent a confirmation email to you at
When will my order be ready to collect?
Following the initial email, you will be contacted by the shop to confirm that your item is available for collection.
Call us on or send us an email at
Unfortunately there has been a problem with your order
Please try again or alternatively you can contact your chosen shop on or send us an email at