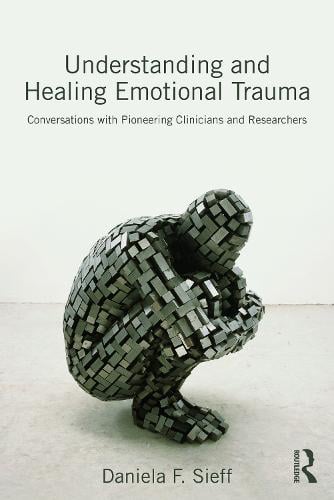 Understanding and Healing Emotional Trauma: Conversations with pioneering clinicians and researchers (Paperback)
Daniela F. Sieff
(author)
Paperback
248

Pages / Published: 01/12/2014
In stock

Free UK delivery
Understanding and Healing Emotional Trauma is an interdisciplinary book which explores our current understanding of the forces involved in both the creation and healing of emotional trauma. Through engaging conversations with pioneering clinicians and researchers, Daniela F. Sieff offers accessible yet substantial answers to questions such as: What is emotional trauma? What are the causes? What are its consequences? What does it mean to heal emotional trauma? and How can healing be achieved?
These questions are addressed through three interrelated perspectives: psychotherapy, neurobiology and evolution. Psychotherapeutic perspectives take us inside the world of the unconscious mind and body to illuminate how emotional trauma distorts our relationships with ourselves and with other people (Donald Kalsched, Bruce Lloyd, Tina Stromsted, Marion Woodman). Neurobiological perspectives explore how trauma impacts the systems that mediate our emotional lives and well-being (Ellert Nijenhuis, Allan Schore, Daniel Siegel). And evolutionary perspectives contextualise emotional trauma in terms of the legacy we have inherited from our distant ancestors (James Chisholm, Sarah Blaffer Hrdy, Randolph Nesse).
Transforming lives affected by emotional trauma is possible, but it can be a difficult process. The insights shared in these lively and informative conversations can support and facilitate that process.This book will therefore be a valuable resource for psychotherapists, psychologists, counsellors and other mental health professionals in practice and training, and also for members of the general public who are endeavouring to find ways through their own emotional trauma. In addition, because emotional trauma often has its roots in childhood, this book will also be of interest and value to parents, teachers and anyone concerned with the care of children.
Publisher: Taylor & Francis Ltd
ISBN: 9780415720847
Number of pages: 248
Weight: 386 g
Dimensions: 234 x 156 x 15 mm
---
MEDIA REVIEWS
"Bringing together leading practitioners, researchers, and scholars from all over the world, this collection of diverse perspectives on trauma offers an in-depth, comprehensive, and holistic view of the effects of emotional trauma on our brain, mind, and body. The thoughtprovoking, yet accessible content communicates how distinct professional disciplines in the field of trauma may have many connecting threads. Whether you are an expert in the trauma field or are personally struggling with the aftermath of trauma, this book will provide refreshing new material and expand your scientific and emotional understanding of trauma." - Christine Valdez, PhD, Trauma Psychology, American Psychological Association
"As interviewer, Sieff is a subtle and discreet weaver, drawing together the stands of her subjects' ideas. By the end of the book, the reader has the sense of how distinct professional disciplines in the field of trauma, and its healing through therapy, have many connecting threads... The book also affirms the view that psychotherapy can help and importantly, shines a light on how it does. There is clearly much still to discover but Sieff's book has an important contribution to make to our integrated, holistic understanding of trauma." - Tamsin Cottis, Attachment: New Directions in Psychotherapy and Relational Psychoanalysis
"This is an intriguing, informative and illustrative book which communicates thought provoking content through an interesting format... I enjoyed this book and found it rich, varied, compelling and thought-provoking. At several times since reading it I have thought of it in relation to work I have been engaged in or colleagues I know. Some aspects of it have stayed with me, like the best and most memorable conversations. The range of perspectives discussed adds to the resonance." - Martin Smith, Out of Hours Mental Health Team Buckinghamshire, Journal of Social Work Practice
"The interview style of this book creates a stimulating yet accessible read of otherwise complex and profound ideas and concepts. Sieff's well-informed comments and insightful questioning stimulates a rich conversation with the contributors, and often pre-empts the reader's own thoughts." - Kirsten M Talbot, Clinical Psychologist, Journal of Child and Adolescent Mental Health
"The book creates a common ground where science and research meets compassion and care. Whether you are an expert in the topic of trauma or a parent seeking information on parenting, this book provides essential information that will expand your scientific and emotional understanding on the subject." - Anny Reyes, International Journal of Psychotherapy
"Understanding and Healing Emotional Trauma drew me through the chapters leaving me asking questions and wanting to read on...As a person working through my trauma this book helped me to see areas I can work on and also inspired me towards reading further, and reading about some of the latest research in the new field of evolutionary psychology was exciting." - Rhiannon Jehu, Alcohol and Alcoholism
"In her book Understanding and Healing Emotional Trauma: Conversations with Pioneering Clinicians and Researchers, Daniela Sieff gives us an opportunity to get into the minds and hearts of leading practitioners and researchers in fields related to trauma. Her insightful questions illicit a depth of knowledge and reflection rare in traditional textbooks, offering the reader journeys into the evolving field of trauma treatment." - Lisa Danylchuk, EdM, LMFT, E-RYT, GoodTherapy.org
"The final section on evolution brings refreshing new material to challenge our assumptions about attachment and appropriate maternal behaviour...I would recommend this book on the basis of this section alone, but there are many other nuggets concealed within - a book not to be taken in one sitting but offering rich pickings."- Chris Rose, Therapy Today
"This is a treasure chest of diverse perspectives on trauma. We are treated to a satisfying mix of leading evolutionary thinkers, stellar neurobiological researchers and distinguished Jungian and other psychotherapists, all offering rich and in-depth insights on a subject that requires inter-disciplinary joined-up thinking. Most importantly, the interview style works, and Sieff's sensitive question-posing and surefooted comments and editing make the reading easy, vibrant and always stimulating." - Graham Music is a Consultant Child and Adolescent Psychotherapists at the Tavistock and Portman Clinics in London, UK, and author of Nurturing Natures and The Good Life.
"Insightful and thought provoking: Sieff opens our eyes to a deeper understanding of how the brain, mind, and body can heal following emotional trauma. Interviews with pioneering psychotherapists, theorists, neurobiologists, and evolutionary researchers help us bridge the gap between clinical practice, theory, and research. A must read for all clinicians and researchers seeking insight into the workings of the mind following psychological trauma, as well as for lay-readers who seek to understand their own trauma and how it might be healed." - Ruth A Lanius, MD, PhD, Harris Woodman Chair, Professor of Psychiatry, University of Western Ontario
"This compelling collection of interviews with outstanding scholars and therapists of our day offers a creative and comprehensive understanding of trauma and its effects. Sieff's book reveals her unique ability to distil the essence of the ideas of each of her subjects into a series of succinct but profound questions. She has shaped their replies into a book in which complex ideas concerning trauma are presented in an accessible conceptual frame. As such it will be of interest to many and a significant new resource for those who seek to integrate the best of the new thinking concerning trauma into their clinical practice." - Margaret Wilkinson, Jungian training analyst and author of Coming into Mind and Changing Minds in Therapy.
"In my work with business leaders and leadership teams, in my own professional and private life, and in my role as a parent, I am continually reminded of the importance of emotional and psychological health. Daniela has made accessible the latest, fascinating thinking of the pioneers of trauma and healing. I highly recommend 'Understanding and Healing Emotional Trauma' to all those seeking a deeper, yet practical and readable understanding of the process of healing trauma to create emotional well-being - whether for their work, or for their personal lives." - Michael Rennie, Global Leader, Organisation, People and Leadership Practice, McKinsey & Co Management Consultants.
"[The] author's unique attempt to engage practitioners/scholars from three different perspectives (psychotherapy, neurobiology and evolution) is laudable [...] Perhaps what distinguishes this book from so many others is that it engages the reader in an internal open dialogue. [...] Sieff's Understanding and Healing Emotional Trauma: Conversations with Pioneering Clinicians and Researchers is a well-organized book that provides multiple perspectives on issues pertaining to trauma." -Victoria A. Comerchero, PsyCRITIQUES 2015
"The most striking feature of this book is not its content--excellent though that is--but its unusual format. [...] The result combines the accessible informality of the interview format with the depth and complexity of written work. There is a genuine sense of dialogue here that is refreshing and illuminating. [...] The fact that she is not a therapist herself enables her to retain the perspective of those that seek help rather than those who provide it, while her academic background provides an intellectual rigour that is indepedent of professional agendas [...] It is a rare achievement to produce a book that can satisfy both kinds of audience." -Warren Colman, Society of Analytical Psychology, Journal of Analytical Psychology
"The book's thesis rests on Sieff's belief that the healing of trauma's wounds is enhanced by a comprehensive and nuanced appreciation for its multidimensional nature. Through a collection of carefully constructed, in-depth interviews with recognized experts, Sieff explores trauma's psychological, neurobiological and evolutionary roots, building a case for a broad, synergistic and evidence-based understanding of trauma's causes and functions...[Three] interviews offer anthropological explanations for the wide spectrum of sensitivities and responses to potentially traumatizing event.s They also provide a historic lens, helpful in viewing and interpreting the ways in which individuals and groups choose adaptive or maladaptive behaviors in response to their environments. Students of social, political and institutional systems may find this section of particular value." -Keith Goheen MDiv BCC, Chaplain, Beebe Healthcare, Lewes, DE, APC Forum
"This is an unusual book in its scope and form... [The] book does more than provide valuable exposition from significant pioneers in their respective specialist fields. The author brings herself to the book too. At many points, her questions and expressed thoughts take the conversations further and deeper, and we have a sense of minds meeting to generate new ideas... With its highly individual contributors, Ms Sieff's book illustrates beautifully the significance of the unique voice and it is a way in which the form of the book reflects the process and ideas expressed within it... Sieff's book has an important contribution to make to our integrated, holistic understanding of trauma." - Tamsin Cottis, Attachments
"The fact that author Daniela Sieff is not a psychotherapist, though she is an experienced client, proves a great strength of the book because her enquiry is powerfully shaped by the client position. In addition, she has utilised her skills as an academic evolutionary antrhopologist and field research... Throughout the book, we feel the thoroughness, and at the same time the personal and professional passion that organises this search... This book has the potential to engage and satisfy many different kinds of readers from therapy trainees to those who already know the trauma field quite well. But I aws especially struck by how it might appeal to those who are not trained health professionals, who desperately want answers to so many questions about the nature of their trauma and the lengthy process of healing. I think the format of posing the questions and exploring them in real depth, with links being made, and clinical illustration, really meets that burning need that so many have for answers to all the whys... Despite the uniqueness of every individual's experience and the range of traumas experienced, many readers will recognise their own story in this book." -Roz Carroll, The Minster Cetnre, London, Body, Movement and Dance in Psychotherapy
You may also be interested in...
×
Download the Waterstones App
Would you like to proceed to the App store to download the Waterstones App?
Reserve online, pay on collection.
Or,
add to basket
, pay online, collect in as little as 2 hours, subject to availability.
Thank you for your reservation
Your order is now being processed and we have sent a confirmation email to you at
When will my order be ready to collect?
Following the initial email, you will be contacted by the shop to confirm that your item is available for collection.
Call us on or send us an email at
Unfortunately there has been a problem with your order
Please try again or alternatively you can contact your chosen shop on or send us an email at