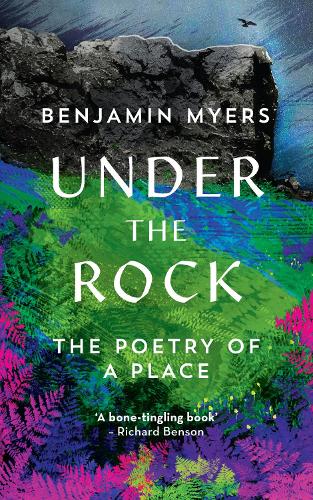 Under the Rock: The Poetry of a Place (Hardback)
Benjamin Myers
(author)
Hardback
384

Pages
Published: 17/05/2018
`A bone-tingling book' - Richard Benson; Carved from the land above Mytholmroyd in West Yorkshire, Scout Rock is a steep crag overlooking wooded slopes and weed-tangled plateaus. To many it is unremarkable; to others it is a doomed place where 18th-century thieves hid out, where the town tip once sat, and where suicides leapt to their deaths. Its brooding form presided over the early years of Ted Hughes, who called Scout Rock `my spiritual midwife . . . both the curtain and backdrop to existence'.; Into this beautiful, dark and complex landscape steps Benjamin Myers, asking: are unremarkable places made remarkable by the minds that map them? Seeking a new life and finding solace in nature's power of renewal, Myers excavates stories both human and elemental. The result is a lyrical and unflinching investigation into nature, literature, history, memory and the meaning of place in modern Britain.; UNDER THE ROCK is about badgers, balsam, history, nettles, mythology, moorlands, mosses, poetry, bats, wild swimming, slugs, recession, floods, logging, peacocks, community, apples, asbestos, quarries, geology, industrial music, owls, stone walls, farming, anxiety, relocation, the North, woodpiles, folklore, landslides, ruins, terriers, woodlands, ravens, dales, valleys, walking, animal skulls, trespassing, crows, factories, maps, rain - lots of rain - and a great big rock.
Publisher: Elliott & Thompson Limited
ISBN: 9781783963621
Number of pages: 384
Dimensions: 216 x 138 mm
---
MEDIA REVIEWS
'A bone-tingling book' -- Richard Benson, author of The Valley and The Farm; "Extraordinary, elemental ... never less than compelling: this is a wild, dark grimoire of a book" - The Times Literary Supplement; 'The writing is perfectly poised and seductive, luminous, an earthy immersion into the granular dark of place. The prose has an intense, porous quality, inhabiting the reader right from the stunning start with the voices of rock, earth, wood and water. This is a truly elemental read from which I emerged subtly changed. The writing has a shamanic quality; Benjamin Myers is a writer of exceptional talent and originality ... it has all the makings of a classic' -- Miriam Darlington, author of Otter Country and Owl Sense; "Compelling ... admirable and engrossing. Myers writes of the rain with a poet's eye worthy of Hughes" - Erica Wagner, New Statesman; 'One of the many joys of Under the Rock - this absorbing, compelling, moving book - is its language; it trickles like a rivulet, thunders like a cataract, and sticks to you like mud. It is full of crannies and dips and peaks wherein wonders hide; explore it for a lifetime and you will not exhaust its mysteries. Unafraid of blood-drenched history and the darkest of despair, this is nonetheless a defiantly life-praising book; it accompanied me to bed and bar, train and plane, and each situation was enriched and brightened by its presence... . It is utterly vital' -- Niall Griffiths, author of Grits, Sheepshagger and Stump; 'Richly layered, densely and elegantly structured, discursive, elegiac and beautiful. Under the Rock is a stunning exploration of place, mind and myth' -- Jenn Ashworth, author of Fell and The Friday Gospels; "Prodigious, awe-incurring ... few are as impressive as the formidable Benjamin Myers, who has developed a voice as pure and authentic as it is stark, honest and resolutely northern ... creates an overall sense of dreamy, quiet beauty, born of love for the lie of the land." - The Big Issue; "Compelling ... an atmospheric exploration of the landscape and its history" - Irish Times; "A visionary work of immense power and subtlety which establishes Myers as one of Britain's most consistently interesting and gifted writers" - Morning Star; 'Place-writing at its most supple: both deeply considered, and deeply felt' -- Melissa Harrison, author of Rain: Four Walks in English Weather; "Best known for his bleak and brilliant crime fiction Myers turns his focus to nature writing with absorbing results in this lyrical exploration of Scout Rock in Yorkshire's Calder Valley" - i-news, Best Books to Take on Holiday 2018; "Exceptionally engaging ... beguiling ... this is a startling, unclassifiable book" - Stuart Kelly, The Scotsman; "Thoughtful, engaging and beautifully crafted ... the writing is lyrical yet muscular and elemental, transporting the reader to this plaece of rugged beauty and dark secrets" - The Yorkshire Post; "[A] beautifully poetic, passionate and elegiac book ... Myers' writing left me with a heart-wrenching desire to be there" - Harry Gallon, Minor Literatures; 'What distinguishes Under the Rock is Myers' unshakeable commitment. He writes at all times with rock-solid conviction, fashioning a book which is less a work of simple description than a new contribution to the mythology of Elmet' -- Will Ashon, author of Strange Labyrinth, Clear Water and The Heritage; 'I have become a Benjamin Myers junkie in the last 12 months . . . Myers' place-writing is as good as anything being scrawled in Britain today' - Horatio Clare, author of Down to the Sea in Ships and Orison for a Curlew; "Terrific... It's a book which doesn't just discuss or describe landscape, but immerses you within it... if this doesn't put Ben Myers on everyone's radar then I don't know what will" - Daniel Carpenter, Bookmunch; "An author to adopt as your own, a book to turn others on to ... boy does it rock" - Cally Callomon, Caught by the River; "A daring new work ... make[s] the unremarkable truly remarkable. It's a work that is focused on landscape and place and is another step on this special writer cementing himself as more than just a cult favourite" - Narc Magazine; "An extraordinary blend of power, poetry and grit ... Benjamin Myers has made his rock sing" - Richard Littledale, The Preacher's Blog; "Myers' prose is outstanding" - Marcel Krueger, Hong Kong Review of Books; "Under the Rock is the most beautifully written non-fiction book... There is an extremely powerful sense of place. I was fully immersed in the landscape, the water, the woods, the rock. Lyrical, powerful, engaging, moving and fascinating. Highly recommended" - The Book Corner, Halifax; "My non-fiction book of 2018" - Bookish Beck; "A journey elemental, luscious, dark, seductive, misty, haunting, captivating like the moors in the twilight, like the Northern nature after the rain. I travelled to a place of unique beauty, to a land that narrates a thousand stories within these marvellous pages" - The Opinionated Reader Blog; "A book of such incredible prose ... for someone like me who loves the writing by Helen Mcdonald, Amy Liptrot and Robert Mcfarlane ... This is an exceptional book, both compelling and elegant and one of my highlights of the year. HIGHLY RECOMMENDED" - The Last Word Book Review; "A captivating read ... Under the Rock gets right under your skin as the author shows his love for this wild and untamed area in words which have a lyricism that so often matches the stark beauty of the landscape" -- JaffaReadsToo; "This is an interesting, beautifully written book with an otherworldly feel to it" -- Ten Penny Dreams; "Poetic, mesmerising and compelling ... I also have to give a special mention to the amazing cover which looks like a piece of art and it's so eye-catching that it constantly invited me to pick up the book for just one more chapter, thereby smashing my non-fiction reading time record. With the inimitable Yorkshire spirit woven throughout, coupled with a dash of humour, Under the Rock is as mesmerising as it is informative. It is a book that is beautiful both inside and out" -- The Book Magnet; "It's hard to put into words that do this book justice but it remains one of my favourite books" -- Tonto Williams Electronic Scrapbook; "A book not to be rushed" -- Never Imitate; "Under the Rock is about immersing oneself in a landscape, in a community. It's about woodland and millstone grit. Trespassing and wild swimming. Dump-scavenging and guerrilla wood-piling. It's about the winter blues. Poetry and prose. Weather and walking. Floods and landslides. Moss and mud. History and counter-culture. It's about Northernness. It's about reservoirs and dams. Native and offcumden species. It's about asbestosis and mass-murder. It's about Jimmy Savile. Throbbing Gristle. Heathcliff the dog. Ted and Sylvia. (Hughes and Plath.) ... It's about bloody time you read it" - RichardCarter.com
You may also be interested in...
"A personal exploration of the Calder valley, and so much more"
An intensely personal, poetic and idiosyncratic book that defies categorisation, this tells the story of a decade spent living in the Calder Valley and Myers's explorations of his surroundings, where the wild and... More
"Poetic and compelling non-fiction at its best"
The most fascinating book I've read in a long time, and non-fiction is not my usual choice, but I loved The Gallows Pole and bought this on a whim, knowing the Calder Valley well. What a find…However the exploration... More
×
Download the Waterstones App
Would you like to proceed to the App store to download the Waterstones App?
Reserve online, pay on collection


Thank you for your reservation
Your order is now being processed and we have sent a confirmation email to you at
When will my order be ready to collect?
Following the initial email, you will be contacted by the shop to confirm that your item is available for collection.
Call us on or send us an email at
Unfortunately there has been a problem with your order
Please try again or alternatively you can contact your chosen shop on or send us an email at