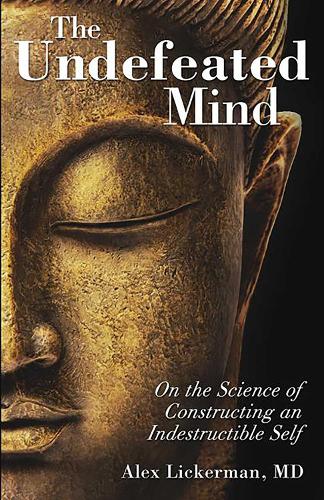 Paperback
312

Pages / Published: 11/12/2012
Legions of self-help authors rightly urge personal development as the key to happiness, but they typically fail to focus on its most important objective: hardiness. Though that which doesn't kill us can make us stronger, as Nietzsche tells us, few authors today offer any insight into just how to springboard from adversity to strength.
It doesn't just happen automatically, and it takes practice. New scientific research suggests that resilience isn't something with which only a fortunate few of us have been born, but rather something we can all take specific action to develop. To build strength out of adversity, we need a catalyst. What we need, according to Dr. Alex Lickerman, is wisdom--wisdom that adversity has the potential to teach us.
Lickerman's underlying premise is that our ability to control what happens to us in life may be limited, but we have the ability to establish a life-state to surmount the suffering life brings us. The Undefeated Mind distills the wisdom we need to create true resilience into nine core principles, including:
--A new definition of victory and its relevance to happiness
--The concept of the changing of poison into medicine
--A way to view prayer as a vow we make to ourselves.
--A method of setting expectations that enhances our ability to endure disappointment and minimizes the likelihood of quitting
--An approach to taking personal responsibility and moral action that enhances resilience
--A process to managing pain--both physical and emotional--that enables us to push through obstacles that might otherwise prevent us from attaining out goals
--A method of leveraging our relationships with others that helps us manifest our strongest selves
Through stories of patients who have used these principles to overcome suffering caused by unemployment, unwanted weight gain, addiction, rejection, chronic pain, retirement, illness, loss, and even death, Dr. Lickerman shows how we too can make these principles function within our own lives, enabling us to develop for ourselves the resilience we need to achieve indestructible happiness. At its core, The Undefeated Mind urges us to stop hoping for easy lives and focus instead on cultivating the inner strength we need to enjoy the difficult lives we all have.
Publisher: Health Communications
ISBN: 9780757316425
Number of pages: 312
Weight: 272 g
Dimensions: 216 x 140 x 25 mm
---
MEDIA REVIEWS
The Undefeated Mind: On the Science of Constructing an Indestructible Self Alex Lickerman.
HCI Books, $15.95 trade paper (288p) ISBN 978-0-7573-1642-5

When life brings adversity such as profound loss or illness, we may sometimes feel defeated and powerless to change either the circumstance or our emotional response. Physician and blogger Lickerman tells us that things are only as bleak as they seem, and, using actual conversations with his patients, reveals the process of achieving an "inner life state" that mitigates suffering. More than presenting just a good theory or interesting stories, he interweaves compelling scientific research and core tenets of Nichiren Buddhism to flesh out this inner life state: nine central principles that moderate physical and emotional pain. The point of easing suffering is "not for solving problems but for establishing a life state that makes all problems solvable." The interplay of dialogue, narrative, science, and faith flows effortlessly, interrupted only by thought-provoking observations such as "research suggests that the more we use our willpower, the weaker it becomes," and "our expectations profoundly influence our responses to our experiences." The principles are well constructed and the book well written; the author not only describes an undefeated mind but also teaches the thinking that yields one. Agent: Stephany Evans. (Nov.)--Publishers Weekly "Publishers Weekly "
"Dr. Lickerman's wisdom and compassion are evident on every page of this outstanding book. Inspired by his many years of practice in the Nichiren Buddhist tradition, Dr. Lickerman, a practicing physician, sets forth nine principles for developing an 'undefeated mind.' An undefeated mind is not a passive mind that is sometimes associated with Buddhism. It is a mind that never gives up the search for solutions to life's inevitable obstacles. It is a mind that knows that peace and happiness are attainable even in the midst of hardships, such as rejection, illness, and loss. It is a mind that treats adversity as an opportunity for growth.
By sharing personal stories of how he and his patients have benefited from these nine principles, Dr. Lickerman turns them into easy-to-apply tools that everyone can put to use immediately.
Incorporating the nine principles of The Undefeated Mind into your everyday life will open the door to limitless compassion for others and to unshakeable happiness for yourself. This profound book has the power to change your life."
--Toni Bernhard, author of How to Be Sick: A Buddhist-Inspired Guide for the Chronically Ill and Their Caregivers
"Alex Lickerman mines life's greatest challenges with an artist's eye, a scientist's rigor and a Buddhist's wise hand. The result is a book that I could not stop reading. Alex's unique gifts as a writer, doctor and scientific thinker make for an epiphany-studded quest to tame his own mind and to commune with the minds of others. He has produced a book that is profound, compassionate, and triply inspiring."
--Kaja Perina, editor-in-chief, Psychology Today
"Buddhism and Western medicine would seem an incongruous mixture, but in the hands of Alex Lickerman they meld seamlessly into a recipe for overcoming life's hardships--indeed, for turning them into advantages. An accomplished physician, Lickerman has no truck for the supernatural, but recognizes that the tenets of Nichiren Buddhism have been honed over centuries to help alleviate life's inevitable sufferings. The Undefeated Mind is a deeply engaging story of how Lickerman has fused modern medicine with ancient wisdom to heal his patients both physically and psychologically--lessons that apply to all of us."
--Jerry Coyne, professor of Ecology and Evolution at University of Chicago and author of Why Evolution is True
"Eastern religious practices such as chanting are often brushed aside as 'mysticism' by Western science. In this highly original book based on extensive case studies, Lickerman effectively bridges these two great traditions, providing novel insights along the way on how we can all triumph over the psychological impact of adversity and live joyfully, even in this 'vale of tears.'"
--V. S. Ramachandran, director of the Center for Brain and Cognition at University of California San Diego and author of the New York Times bestseller The Tell-Tale Brain
"One of my favorite new books is The Undefeated Mind. It's a powerful book that helps you cultivate your inner strength to face hard times with a fearless heart. It's more than a book. It's a set of tools for life."
--J.D. Meier, Sources of Insight
You may also be interested in...
Simply reserve online and pay at the counter when you collect. Available in shop from just two hours, subject to availability.
Thank you for your reservation
Your order is now being processed and we have sent a confirmation email to you at
When will my order be ready to collect?
Following the initial email, you will be contacted by the shop to confirm that your item is available for collection.
Call us on or send us an email at
Unfortunately there has been a problem with your order
Please try again or alternatively you can contact your chosen shop on or send us an email at