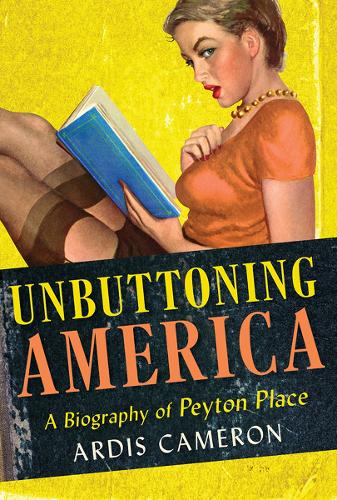 Unbuttoning America: A Biography of "Peyton Place" (Hardback)
Ardis Cameron
(author)
Hardback
240

Pages / Published: 21/05/2015
Published in 1956, Peyton Place became a bestseller and a literary phenomenon. A lurid and gripping story of murder, incest, female desire, and social injustice, it was consumed as avidly by readers as it was condemned by critics and the clergy. Its author, Grace Metalious, a housewife who grew up in poverty in a New Hampshire mill town and had aspired to be a writer from childhood, loosely based the novel's setting, characters, and incidents on real-life places, people, and events. The novel sold more than 30 million copies in hardcover and paperback, and it was adapted into a hit Hollywood film in 1957 and a popular television series that aired from 1964 to 1969. More than half a century later, the term "Peyton Place" is still in circulation as a code for a community harboring sordid secrets.In Unbuttoning America, Ardis Cameron mines extensive interviews, fan letters, and archival materials including contemporary cartoons and cover images from film posters and foreign editions to tell how the story of a patricide in a small New England village circulated over time and became a cultural phenomenon. She argues that Peyton Place, with its frank discussions of poverty, sexuality, class and ethnic discrimination, and small-town hypocrisy, was more than a tawdry potboiler. Metalious's depiction of how her three central female characters come to terms with their identity as women and sexual beings anticipated second-wave feminism. More broadly, Cameron asserts, the novel was also part of a larger postwar struggle over belonging and recognition. Fictionalizing contemporary realities, Metalious pushed to the surface the hidden talk and secret rebellions of a generation no longer willing to ignore the disparities and domestic constraints of Cold War America.
Publisher: Cornell University Press
ISBN: 9780801453649
Number of pages: 240
Weight: 482 g
Dimensions: 229 x 152 x 20 mm
---
MEDIA REVIEWS
"Unbuttoning Americaboasts a sizzling cover of a busty '50s pinup girl resting a blue book on her sleek, gartered legs while flashing the reader a come-hither-quick look.... Cameronteasesout the book's significance as a bold exploration of sexual, political, gender and class questions rarely recognized in its time.For the general reader, the most rewarding parts of Cameron's book are her pages about Grace Metalious herself, the sources of her material, and her fervent fans. Cameron had access to a trove of thousands of letters written by readers to Metalious. Most came from grateful women who felt that she had told their secret, anguished stories."
-- Edward Kosner * Wall Street Journal *
"Cameron (American & New England studies, Univ. of Sourthern Maine; Looking for America) explores the impact of this admittedly trashy novel on buttoned-up America: "dirty" books such as Peyton Place presented believable alternatives to people seeking answers to their dilemmas. Metalious's fan mail shows how women identified with her: they felt she understood them; her success gave them hope. This brisk read on a fascinating subject will be helpful in understanding how we got from there to here. VERDICT Readers who remember the stir Peyton Place aroused when it first came out will rush to pick up this lively book."
* Library Journal *
"Like any good biography of a human, this volume includes the background history of its subject, here Grace Metalious's scandalous best-selling novel Peyton Place 1956. Cameron's book is a rarity among serious scholarly texts: it is thorough in its scholarship and at the same time a page-turner."
-- B. Wallenstein * Choice *
"More than just a page-turner, Cameron argues, Peyton Place was 'an exercise in rupture, a deep gash in the iron fabric of conventional ways of thinking and being.' Its frank portrayal of sex outside of marriage was enough to invite censure and censorship nationwide. (In Beverly Farms, Cameron writes, the library posted a sign for those seeking Peyton Place: 'If you want it, go to Salem.') The book broke other rules as well, Cameron writes, including speaking directly to women about 'the unfairness of things,' a kind of proto-feminist protest published years before Betty Friedan wrote about the 'problem that had no name.'... This is a serious scholarly work, but with very few exceptions Cameron eschews academic jargon for a plainspoken intelligence that befits her subject, who once rebuked critics: 'If I'm a lousy writer... a hell of a lot of people have got lousy taste.'"
-- Kate Tuttle * The Boston Globe *
"When first-time author Grace Metalious's tale of a sleepy New England town's sordid underpinnings first appeared in 1956, it rocked America. Released at the height of Eisenhower-era conservatism, her colourful yarn, which addressed such taboos as incest, abortion and class inequality, with murder and large doses of social hypocrisy tossed into the mix, became the world's favourite dirty secret.... Now, six decades on, Ardis Cameron, a professor at the University of Southern Maine, shapes what is likely the first scholarly examination of the book's role in the changing American zeitgeist. The novel, she says, sounded a clarion call to readers to acknowledge the falsity of Ozzie and Harriet mores. With its positive portrayal of single motherhood, working women and female sexuality, she argues, it helped pave the way for Helen Gurley Brown's Sex and the Single Girl and Betty Friedan's The Feminine Mystique.... [Peyton Place] gave an entire generation of women 'hope, courage, confirmation, validation.'."
-- Christopher Loudon * Maclean's *
"With its pulpy cover art, ample illustrations, and jaunty writing style, Ardis Cameron's Unbuttoning America will entice any reader interested in how a single novel reshaped America at midcentury... Strengthened by her facility with a range of evidence from literature to fan mail to marginalia to visual culture to oral histories, Cameron produces a richly textured study that both draws from and speaks to a number of overlapping fields...[H]er study is able to 'unbutton midcentury America's felt responses to the original Peyton Place. That response is worthy of consideration.'"
-- Anna Creadick * Journal of American History *
"University of Southern Maine American Studies professor Cameron (Radicals of the Worst Sort) presents a unique synthesis of historical research and fresh analysis in this study of Peyton Place.... Cameron dexterously tracks the shock waves, unearthing gushing fan letters as well as scathing reviews that deemed the book a lethal weapon aimed at the purity of family life. Cameron's intelligent treatment of a racy novel meant to be read often at night, under bedcovers, a flashlight illuminating the guilty pleasures of the act' makes for a fascinating read in and of itself."
* Publishers Weekly *
"Seldom have I encountered a book as well-written and argued as Unbuttoning America. Ardis Cameron has mastered a tremendous amount of knowledge of the historic era, popular literature and popular culture, women's writing, women's reading, the literary marketplace, New York publishing, the history of sexuality, the construction of New England, consumer culture, and the sociology of everyday life. Cameron deploys this material lightly, with consummate skill, to produce a revelatory account that illuminates how a popular book enters and transforms the cultural landscape."
-- Judith E. Smith, University of Massachusetts, Boston, author of
Visions of Belonging: Family Stories, Popular Culture, and Postwar Democracy, 1940-1960
You may also be interested in...
Simply reserve online and pay at the counter when you collect. Available in shop from just two hours, subject to availability.
Thank you for your reservation
Your order is now being processed and we have sent a confirmation email to you at
When will my order be ready to collect?
Following the initial email, you will be contacted by the shop to confirm that your item is available for collection.
Call us on or send us an email at
Unfortunately there has been a problem with your order
Please try again or alternatively you can contact your chosen shop on or send us an email at