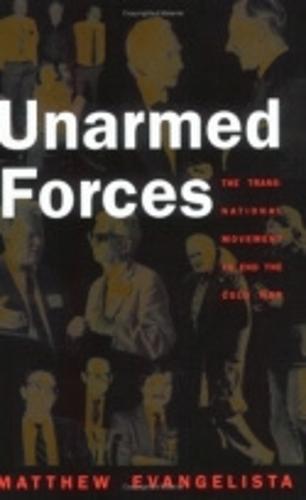 Unarmed Forces: The Transnational Movement to End the Cold War (Paperback)
Matthew Evangelista
(author)
Paperback
416

Pages / Published: 19/03/2002
Throughout the Cold War, people worldwide feared that the U.S. and Soviet governments could not prevent a nuclear showdown. Citizens from both East-bloc and Western countries, among them prominent scientists and physicians, formed networks to promote ideas and policies that would lessen this danger. Two of their organizations-the Pugwash movement and the International Physicians for the Prevention of Nuclear War-won Nobel Peace Prizes. Still, many observers believe that their influence was negligible and that the Reagan administration deserves sole credit for ending the Cold War. The first book to explore the impact these activists had on the Soviet side of the Iron Curtain, Unarmed Forces demonstrates the importance of their efforts on behalf of arms control and disarmament.Matthew Evangelista examines the work of transnational peace movements throughout the Khrushchev, Brezhnev, and Gorbachev eras and into the first years of Boris Yeltsin's leadership. Drawing on extensive research in Russian archives and on interviews with Russian and Western activists and policymakers, he investigates the sources of Soviet policy on nuclear testing, strategic defense, and conventional forces. Evangelista concludes that transnational actors at times played a crucial role in influencing Soviet policy-specifically in encouraging moderate as opposed to hard-line responses-for they supplied both information and ideas to that closed society. Evangelista's findings challenge widely accepted views about the peaceful resolution of the Cold War. By revealing the connection between a state's domestic structure and its susceptibility to the influence of transnational groups, Unarmed Forces will also stimulate thinking about the broader issue of how government policy is shaped.
Publisher: Cornell University Press
ISBN: 9780801487842
Number of pages: 416
Weight: 595 g
Dimensions: 235 x 156 x 22 mm
---
MEDIA REVIEWS
"So if the mighty steel of US military strength did not tame the Russian bear, what did? Matthew Evangelista's answer to this question should pique the interest of argumentation scholars.... Evangelista's findings raise serious questions about realpolitik models of international relations that explain US Cold War victory over the Soviet Union in terms of one mammoth billiard ball smashing into and destroying its more fragile counterpart. His impressive empirical research illustrates how threats, policies, and norms were constructed and deconstructed by argumentation conducted in transnational channels of communication. If the significance of this finding for students of argumentation is not already apparent, it becomes obvious in Evangelista's final case study, which examines the influence of transnational activism on post-Soviet policy."
* Argumentation and Advocacy *
"This is a highly detailed but readable book, punctuated by photographs and entertaining chapter captions.... Evangelista's book makes valuable reading for scholars interested in expanding their views about the end of the Cold War, as well as for those who will be inspired by the fact that transnational citizen influence could bring some amount of pressure to bear on one of the most brutal and tyrannical regimes of the twentieth century."
-- Valerie Sperling, Clark University * Journal of Cold War Studies *
"At the core of this book lies a thesis unsettling for conventional explanations of the cold war and its end: in terms of its professed aims of moderating Soviet conduct, U.S. policy toward the Soviet Union was a resounding failure.... At one level, this book functions as a massive indictment, sotto voce, of the U.S. security establishment, its government officials, allied academics, and media publicists. Evangelista cuts through their bluff, bluster, and baloney to reveal an astounding intellectual bankruptcy.... This is a powerful, path-breaking study."
-- Michael Urban * Political Science Quarterly *
"By shedding new light on the Soviet system and how it made foreign policy, Matthew Evangelista's book, Unarmed Forces: The Transnational Movement to End the Cold War, published by Cornell Unversity Press, illuminates the cold war and how it came to an end. Evangelista focuses on 'transnational actors,' particularly prominent scientists and physicians in the Pugwash movement and the International Physicians for the Prevention of Nuclear War, and their roles throughout the Khrushchev, Brezhnev, and Gorbachev eras in shaping Soviet and American attitutes towards nuclear testing, strategic defense, and conventional force reductions. These scientists and doctors labored for decades often against great odds in both countries to try to reduce the danger of nuclear war. While it has generally been thought that these scientists had little influence on Soviet foreign policy, Evangelista shows, on the basis of exhaustive research in Soviet archives, interviews with Russian and American activists, and a broad range of other primary and secondary sources, that neither the cold war nor its demise can be understood without taking into account the role of transnational groups. By supplying information and ideas to a closed decision-making structure, these groups were able to encourage moderate responses and provide technical expertise to strengthen the arguments of those within the political elite who favored an end to the arms race. The book will challenge those who feel that it was the Reagan policy of Star Wars that was primarily responsible for an end to the Cold War, by showing that decades of linkages amongst an international network of scientists had prepared the groundwork for moderation on the soviet side and for a revision in American thinking about the Soviet threat. In this sense, Evangelista's topic and his extensive research into it offer both new insights into the past and grist for important future research. Additionally, those who argue for the importance of maintaining exchange agreements and cooperative relations across borders even amongst adversaries will also find support from this major and important study."
-- Citation for the 2000 Marshall Shulman Book Prize for an outstanding monograph on the international behavior of the countries of the former Communist bloc
"Matthew Evangelista demonstrates in his well-supported and well-articulated argument that transnational relations played an important role in contributing to the demise of the Soviet threat in American thinking and to the end of the Cold War. He establishes the significant role that such relations can play and the conditions that are required for such relations to have influence. By carefully examining alternative explanations and testing alternative theories, he not only makes the case for his thesis but broadens theoretical analysis."
-- Raymond L. Garthoff, Brookings Institution
"Matthew Evangelista's Unarmed Forces fills a key gap in Cold War historiography and international relations theory by examining how transnational actors (TNAs) affected Soviet and Russian security policies from the 1950s to the mid-1990s.... The book's most important theoretical contribution is its demonstration that, contrary to standard models, TNAs can affect security issues.... The book's remarkable empirical detail and clear theoretical argument will be invaluable for Cold War historians, arms control experts, international relations theorists, and aspiring transnational actors."
-- Andrew Bennett, Georgetown University * Slavic Review *
"This book will help educate those who think the course of the Cold War and its end-or for that matter any important dimension of international politics-were driven only by governments, national leaders, and vast political forces.... This is a smart, well-argued, and unassuming book."
* Foreign Affairs *
"To his credit, Matthew Evangelista has developed in Unarmed Forces a powerful argument that transnational movements of the past half century were able to influence the policies and decisions of a rigid, totalitarian USSR and a bureaucratized US foreign policy establishment.... He carefully marshals his arguments and provides a wealth of source material as an important dividend for the interested reader."
-- Herbert L. Abrams, Stanford University * Physics Today *
You may also be interested in...
Simply reserve online and pay at the counter when you collect. Available in shop from just two hours, subject to availability.
Thank you for your reservation
Your order is now being processed and we have sent a confirmation email to you at
When will my order be ready to collect?
Following the initial email, you will be contacted by the shop to confirm that your item is available for collection.
Call us on or send us an email at
Unfortunately there has been a problem with your order
Please try again or alternatively you can contact your chosen shop on or send us an email at