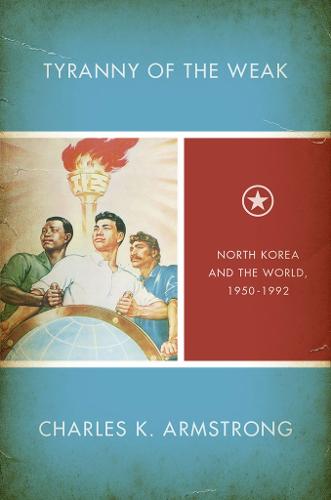 Tyranny of the Weak: North Korea and the World, 1950-1992 - Studies of the Weatherhead East Asian Institute, Columbia University (Paperback)
Charles K. Armstrong
(author)
Paperback
328

Pages / Published: 22/10/2015
To much of the world, North Korea is an impenetrable mystery, its inner workings unknown and its actions toward the outside unpredictable and frequently provocative. Tyranny of the Weak reveals for the first time the motivations, processes, and effects of North Korea's foreign relations during the Cold War era. Drawing on extensive research in the archives of North Korea's present and former communist allies, including the Soviet Union, China, and East Germany, Charles K. Armstrong tells in vivid detail how North Korea managed its alliances with fellow communist states, maintained a precarious independence in the Sino-Soviet split, attempted to reach out to the capitalist West and present itself as a model for Third World development, and confronted and engaged with its archenemies, the United States and South Korea.From the invasion that set off the Korean War in June 1950 to the collapse of the Soviet Union in 1991, Tyranny of the Weak shows how-despite its objective weakness-North Korea has managed for much of its history to deal with the outside world to its maximum advantage. Insisting on a path of "self-reliance" since the 1950s, North Korea has continually resisted pressure to change from enemies and allies alike. A worldview formed in the crucible of the Korean War and Cold War still maintains a powerful hold on North Korea in the twenty-first century, and understanding those historical forces is as urgent today as it was sixty years ago.
Publisher: Cornell University Press
ISBN: 9781501700644
Number of pages: 328
Weight: 539 g
Dimensions: 235 x 156 x 19 mm
---
MEDIA REVIEWS
"Armstrong examines the competition for legitimacy between the two Koreas during the Cold War... ; the result is a superb example of international history that makes use of multiple archives.... This rich analysis shows how the region's weakest state has so often managed to dominate the region's diplomatic agenda."
-- Andrew J. Nathan * Foreign Affairs *
""Charles Armstrong has done it again.... Tyranny of the Weak uses the state archives of those very same failed states to explore the history of North Korean foreign policy - and its interplay with domestic politics - from 1945 until the US victory in the Cold War.... Armstrong showed where we are today was driven by history. Tyranny of the Weak is to be recommended for process and productit is excellently written and has a good story to tell.""
-- Glyn Ford * Chartist *
"Outsiders' understanding of North Korea is veiled in ideology and propaganda-theirs and ours. Once in a while an observer pierces that veil. Charles Armstrong is one such observer. A historian at Columbia University, Armstrong shows how North Korea has defied expectations to survive despite drastic changes in its strategic and economic environment. The Kim dynasty has played a weak hand well, preaching a doctrine of self-reliance while depending on outsiders for its survival. Yet it yielded to none, thwarting all who would push it around or infringe on its prickly sense of sovereign equality. Mining evidence from the archives of Eastern Europe and China, Armstrong tells this tortuous story in detail. In doing so, he sheds light on North Korea's distinctiveness. Calling into question conventional wisdom that it is insular in the extreme-hermetic-Armstrong shows how sensitive it has been to global trends while resisting them-whether bipolarity in the Cold War or globalization since, the growing power of China or the pull of its kin to the South. In doing so, the Kim regime has survived by standing up to friend and foe alike, while accommodating them on its own terms. It is a 'tyranny of the weak,' exploiting external threats to keep its people in thrall and its neighbours off-balance."
-- Leon Sigal * Social Science Research Council *
"Thanks to this book's clear analysis of the North Korean political situation, it is in no uncertain terms one of the best works on this subject. The novelty of this book is its new approach to the foreign policy of North Korea. Indeed, the author examines the foreign policy of North Korea as the most important factor in the survival of this country for more than six decades. This is one of the least studied subjects by experts in the realm of politics. This book is strongly recommended to political experts of Southeast Asia."
-- Ghasem Torabi * Europe-Asia Studies *
"The book contains not only an informed account of how this weak country tyrannized big powers but also a detailed analysis of what enabled it to do so. In this respect, the author offers to his readers a valuable methodological framework by which they can understand North Korea's domestic and foreign policies in a systematic way."
-- Young-hae Chi * Korean Studies *
"This book is an exceptional contribution to the understanding of North Korea's independent diplomacy during the Cold War period. Not only is Charles K. Armstrong's analysis framed in a synthetic way, but his use of underexplored and underused primary materials reveals the unknown roots of the weak state's known behavior. Armstrong explains that North Korea's self-reliance on the diplomatic front was a result of both its own developmental path and its ability to resist more powerful states. He shows that North Korea diplomacy was not merely a response to the politics of the great powers, and that in fact North Korea used the splits, mistrusts, and antagonisms among the great powers for its own benefit. 'North Korea,' Armstrong aptly notes, 'has defied all imperial logics.'"
-- Sung Chull Kim * American Historical Review *
"This new book describes the history of North Korea's government and international relations on a macroscopic and detailed level from the mid to late 20th century.... Armstrong was able to make extensive research visits to access primary sources in Washington, China, Russia, Germany, and other places. This timely, scholarly monograph elaborates on the dearth of Western research on the 'Hermit Kingdom,' and discusses the implications of an `unreformed' North Korea for the 21st century.... Summing Up: Highly recommended."
* Choice *
"This vivid and cogent book... asks how the Democratic People's Republic of Korea (DPRK)- poor, stagnant, and isolated-has continually been able to play international allies, patrons, and enemies against one another to get what it has wanted.... Verdict: Read it!"
* Library Journal *
"Tyranny of the Weak is a welcome addition to the literature on North Korea and the broader history of international relations. It is well couched on small state theory, which underscores the ability of weak states to secure autonomy and influence through a skilful use of diplomacy. While often assuming a sympathetic view of North Korea's unique situation, the author does not turn a blind eye to the brutality of the North Korean regime. Armstrong successfully shows North Korea's interaction with the world based on a masterly use of new historical sources as well as secondary sources in many languages."
-- Seung-Young Kim * Pacific Affairs *
"Cutting through the mythology, leading North Korea historian Charles K. Armstrong has provided an authoritative survey of the DPRK's international political history....Tyranny of the Weak is an indispensable account for anyone seeking to comprehend how one of the world's most weak, misunderstood nations boldly continues to define and demand its international commitments-even as it appears less and less credible to the outside world which helped shape its history."
-- Kevin Y. Kim * Journal of American-East Asian Relations *
"Tyranny of the Weak is the best book on the history of North Korea's foreign relations. Sober and insightful, it is a must-read for anyone interested in how the tragedies of the past influence Korea's present."
-- O. A. Westad, London School of Economics and Political Science, author of
Restless Empire: China and the World since 1750
"With the support of extensive and pathbreaking research, Charles K. Armstrong's Tyranny of the Weak deals with an extremely important subject, tells a good story, and reconstructs the historical origins of one of the most pressing challenges facing the world in the twenty-first century. Armstrong's insightful discussion of North Korea's changing external policies and domestic politics is highly revealing; it provides a much-needed framework for illuminating and defining North Korea's complicated encounters with the world."
-- Chen Jian, Michael K. Zak Chair of History for US China RelationsCornell University, author of
China's Road to the Korean War: The Making of the Sino-American Confrontation
You may also be interested in...
Simply reserve online and pay at the counter when you collect. Available in shop from just two hours, subject to availability.
Thank you for your reservation
Your order is now being processed and we have sent a confirmation email to you at
When will my order be ready to collect?
Following the initial email, you will be contacted by the shop to confirm that your item is available for collection.
Call us on or send us an email at
Unfortunately there has been a problem with your order
Please try again or alternatively you can contact your chosen shop on or send us an email at