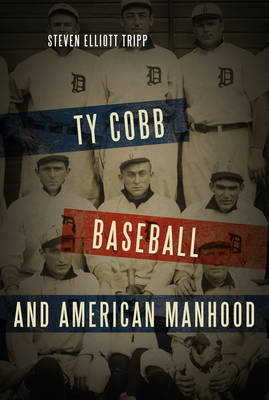 Hardback
424

Pages / Published: 15/07/2016
Ty Cobb called baseball a "red-blooded game for red-blooded men," warning that "molly coddles had better stay out." By this, Cobb meant that baseball was the ultimate expression of the masculine ideal - a game of aggression, rivalry, physical and mental dexterity, self-reliance, and primal honor. For over twenty years, Cobb expressed his fierce brand of manhood in ballparks throughout the American Northeast, gaining for himself a level of celebrity that was unsurpassed in the early twentieth century. Fans idolized Cobb not only because he was the best player in the game, but because his boisterous and combative style of play satisfied their desire for exhibitions of visceral manhood. They found in Cobb an antidote for what they feared were the corrupting influences of over-civilization. With balance, precision, and empathy, Steven Elliott Tripp brings the era to life in a narrative Publisher's Weekly has called "stunning." In contrast to recent biographies of Cobb that have tried to minimize his more brutish behavior and minimize his racial antipathies, Tripp contextualizes Cobb, placing him squarely within the cultural milieu of both the rural South of his birth and the Northern sporting culture of his professional career. Moreover, Tripp's reconstruction of early twentieth-century sporting culture isolates an important source of modern America's culture of hyper-masculinity. Ty Cobb, Baseball, and American Manhood is both an important work of social and cultural history and an absorbing tale of ambition and the quest for dominance. Tripp has written the rare narrative that is as appealing to scholars as it is to general readers and sports enthusiasts.
Publisher: Rowman & Littlefield
ISBN: 9781442251915
Number of pages: 424
Weight: 780 g
Dimensions: 236 x 160 x 35 mm
---
MEDIA REVIEWS
Before baseball icons Babe Ruth, Ted Williams, and Mickey Mantle, there was the prickly, talented Ty Cobb, whose life is the subject of this revealing biography by Tripp, a professor of history at Grand State University. In a career spanning from 1907 into the early 1920s, Cobb, labeled by Tripp as a 'combative and egocentric Southerner from the backwoods of Georgia,' was the first celebrity baseball player, achieving most games played, most plate appearances, most hits, most runs, most stolen bases, most batting titles, and highest lifetime batting average by his career's end. His biographer highlights Cobb's competitive nature, quoting New York sportswriter Paul Gallico as saying the death of Cobb's father brought out a fury, cruelty, and viciousness in his playing that hadn't previously been present in baseball. Cobb, disliked by his teammates and opponents, is termed an example of true Southern manhood; he was set apart by his drawl and actions, and his belief that black people were inferior to whites. His 'gritty, go-for-broke' play showed his obsession of staying on top, and his aggressive game, including playing through injuries, earning him stardom, adoration, and endorsements. Tripp's stunning account of Cobb as a mythic player and manager is a complex glimpse into a tormented personality. * Publishers Weekly *
In this biography, Tripp skillfully links Ty Cobb's life and baseball career to broad social patterns, particularly a muscular form of masculinity. According to Tripp, Cobb preferred to socialize with men and kept his distance from women-including his mother, both of his wives, and his daughters. Tripp traces Cobb's preference for male socialization from his childhood in the post-Reconstruction South through his Hall of Fame career in Major League Baseball. When Cobb launched his baseball career, the sport had developed the reputation as a ruggedly masculine and even rowdy pastime. Baseball, therefore, represented the ideal outlet for Cobb to live out his fondness for socializing with men. With the examination of Cobb through the lens of masculinity, Tripp blends and illustrates an analysis of white American masculinity with a chronicle of an American sports legend. In Cobb's era, American masculinity promoted the dominance of white men, stressed the importance of honor, and reflected the racial legacy of slavery. Cobb embodied all aspects of American masculinity; these defined how he played the game of baseball and how he treated others away from the baseball diamond. Summing Up: Recommended. All readers. * CHOICE *
Steven Elliott Tripp's Ty Cobb, Baseball, and American Manhood, however, demonstrates how a skilled historian can cause us to rethink a figure we believe we know. Tripp's book is one of the best recent studies not only of baseball but of southern and American masculinity as well.... On every page Tripp displays a thorough command of the scholarly literature on baseball and on American history more broadly. Anyone who wishes better to understand American masculinity and the appeal of baseball in the early twentieth century should consider Tripp's measured, persuasive reading of Ty Cobb. * Journal of Southern History *
Tripp's work is a nice complement - and a refreshing, different view - to the volume of works about Ty Cobb. * The Sports Bookie: A sports blog by Bob D'Angelo *
The past few years Ty Cobb has been as popular in the baseball book world as ever. There are contradicting stories about his personality that have arisen over the past few years and has changed the ways in which people perceive Cobb. No matter where you lie on the subject their is never going to be a definitive answer as to the man's personality, but that will not stop the book world from trying. The author takes a unique approach on this one and reviews Cobb's personality from a rural Southern upbringing and the mentality of the times. He compares it to the current day expectations of social behavior and shows the differences and transgressions. Tripp also reviews Cobb's place as a sports icon in Cultural, Social and Gender histories, both within the game and our country. It is a unique approach on a man that passed more than a half century ago and sheds some interesting ideas on what Ty Cobb was all about. Time marches on and so may be the ever changing legacy of Ty Cobb. * Gregg's Baseball Bookcase *
"A judicious corrective to the many myths surrounding Ty Cobb, and above all, a book that embeds this fascinating star in the context of his times and the game he played so well. Tripp has grasped an essential truth about Cobb as a man obsessed with near-perfection and greatness, both of which he attained at times, but shaped by the values of the South and his family. Both a learned and moving portrayal of Cobb that will recast him in a positive light." -- Thomas W. Zeiler, author of Ambassadors in Pinstripes: The Spalding World Baseball Tour and the Birth of the American Empire
"Steve Tripp's Ty Cobb, Baseball, and American Manhood is a provocative portrait of a player who was both a catalyst to baseball's emergence as the nation's game and its most reviled warrior. This perceptive book is about notions of manhood and honor during troubled times, and how they played out on and off the field." -- Rob Ruck, author of Raceball: How the Major Leagues Colonized the Black and Latin Game and professor of Sport History at the University of Pittsburgh
"A wonderfully full-scale, analytical treatment of the tempestuous hero in his own times and in his own terms, Steve Tripp explains how Cobb came to represent a popular, nationwide version of aggressive manhood at the very moment that it was under a massive assault." -- Benjamin G. Rader, author of Baseball: A History of America's Game
"Steven Tripp's compelling book is the first work to place Ty Cobb fully in the context of his times. The result is much more than a biography. Here is a rich and nuanced study of how the culture of manhood shaped the making and meaning of one of the greatest, and most controversial, players who ever lived." -- Louis P. Masur, Distinguished Professor of American Studies and History at Rutgers University and author of Autumn Glory: Baseball's First World Series, Rutgers University
"Steven Tripp's Ty Cobb, Baseball, and American Manhood is a first-rate biography of one of the most interesting characters in all of sport. It is also an excellent social history of America at the beginning of the twentieth century. The great Detroit Tigers outfielder stepped onto the national stage just as the United States came of age as a political, economic and military juggernaut. Best of all, Tripp weaves it all together-our national pastime, a gifted athlete, a troubled man, and a defining moment for American masculinity. Ty Cobb, baseball and turn-of-the-century America come to life in these pages." -- Elliott Gorn, Professor of History, Loyola University Chicago
"Steven Elliott Tripp's Ty Cobb, Baseball, and American Manhood is an exemplary work of cultural history. With engaging prose, impressive research, and an admirable amount of historical empathy, he gives us the definitive treatment of Ty Cobb and his place in American popular culture. I enjoyed this book immensely." -- John McMillian, Associate Professor of History, Georgia State University, and author of Beatles Vs. Stones
"In this fresh and fascinating approach to Ty Cobb, Steve Tripp's critical and yet sympathetic analysis moves beyond basic biography to explain baseball's first celebrity and perhaps most controversial player. Tripp tells a compelling story of a complex man and by contrasting the conflicting values of the rural American South into the expanding cities of the North like Cobb's adopted Detroit, we learn about both sport and the changing values of the modernizing twentieth century United States. This is an important book for students of sport and of American history." -- Orville Vernon Burton, Creativity Professor of Humanities, Professor of History, Pan African Studies, and Sociology, Clemson University and author The Age of Lincoln
You may also be interested in...
Simply reserve online and pay at the counter when you collect. Available in shop from just two hours, subject to availability.
Thank you for your reservation
Your order is now being processed and we have sent a confirmation email to you at
When will my order be ready to collect?
Following the initial email, you will be contacted by the shop to confirm that your item is available for collection.
Call us on or send us an email at
Unfortunately there has been a problem with your order
Please try again or alternatively you can contact your chosen shop on or send us an email at