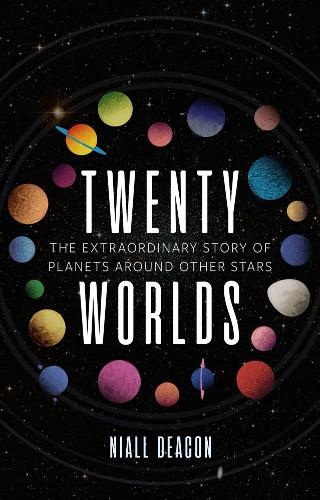 Twenty Worlds: The Extraordinary Story of Planets Around Other Stars - Universe (Hardback)
Niall Deacon
(author)
Hardback
Published: 10/08/2020
Thirty years ago the only planets we knew were the ones orbiting our own sun; we now know of thousands of other worlds orbiting distant stars. In this book astronomer Niall Deacon journeys to twenty of these globes: from giant, blisteringly hot planets orbiting close to their parent stars to frozen planets that float through space alone, and from dead stars shredding asteroids to worlds made of diamond and even planets that may be similar to the Earth. Deacon also takes in the latest exoplanet discoveries, and explains how astronomers have come to learn so much about these strange and distant worlds.
Twenty Worlds tells a sweeping story, of real planets around other stars, and appeals to the wide audience for popular science and astronomy.
Publisher: Reaktion Books
ISBN: 9781789143386
Dimensions: 216 x 138 mm
---
MEDIA REVIEWS
"This is the perfect book to introduce exoplanet science. . . . But Twenty Worlds is not really for those who want to find out more about any one of the planets covered. Rather it reveals what each of them represents to the field in general. Its real value is in the analogies that Deacon uses to clarify difficult and complex exoplanetary scientific methods to the reader. Nowhere will you find a more descriptive book to understand the processes used to learn about the existence of these worlds. Five stars." "With thousands of exoplanets currently known, it must be a daunting task to choose twenty of them to highlight. Yet, that is exactly what Deacon sets out to do. The book, rather than presenting a cornucopia of bizarre exoplanets (and there are many of them out there), uses a curated sample of twenty exoplanets to tell a story about how these systems are detected, studied and what they can tell us about the birth, evolution and even death of planets, as well as their interaction with their host stars. The sheer diversity of the exoplanets detected poses a fascinating challenge to planet-formation theorists and exoplanet observers alike." "This is an attractive, well-produced book providing much information about new and exciting discoveries being achieved by good old-fashioned astronomical methods, albeit highly sophisticated. It is refreshingly free from the dilemmas existing in other areas of cosmology—wave/particle duality, string theory, multiverses, et cetera—and I recommend it as well worth reading by any interested layman (who doesn't feel too strongly about Pluto)." "This is a truly entertaining and informative book, but the reason I'm giving it the full five stars has as much to do with the refreshing novelty of the author's style as anything else. There's novelty in the subject-matter too—the wide variety of recently discovered exoplanets orbiting other stars. . . . He's a professional astronomer too, though you wouldn't guess that from his writing style, which is as straightforward and lucid as science writing gets." "Twenty Worlds describes planets beyond our solar system. Though long imagined in science fiction novels and films, these 'exoplanets' have only been discovered since the 1990s. Author Deacon, an expert on this topic affiliated at the Max Planck Institute for Astronomy in Heidelberg, writes in a conversational manner that is far different from the stiff exposition of a science textbook. Yet he conveys as much about how astronomers deduce the physical and chemical properties of exoplanets as he does about the planets themselves. While thousands of exoplanets are now known, Deacon's text comprises only twenty short chapters, each devoted to a single planet, or to a solar system of planets orbiting around their own sun. These are not necessarily the most interesting or unusual planets, but each one is exploited to introduce one method or another by which researchers have deduced the nature of objects of its type, such as their size, mass, and orbit, or whether they are rocky, gaseous, atmosphere-bearing, aqueous, possibly habitable, or even perhaps composed of diamond. The reader who sets out to enjoy a popular account may end up with a serious understanding . . . of these alien worlds. Recommended." "With Deacon's book we not only see that there are a multitude of worlds out there, but the variety and conditions in which they were born are as strange as we could hope to imagine. They all have individual characteristics, some similar to our own family, others bizarrely different. His choice of worlds, I feel, has been carefully done, to show the known variety in the family of discovered planets. . . . Deacon's style of writing is easy to follow and keeps the reader interested throughout. . . . The book was very enjoyable to read and the 200 pages kept the reader wanting more, I genuinely felt I was both entertained and informed." "A wonderfully enjoyable tour of twenty diverse worlds that orbit distant stars. Deacon uses simple ideas from science to show us how each world has its own personality—its own story. Twenty Worlds is an accessible introduction to some of the most exciting discoveries in astronomy."
You may also be interested in...
×
Download the Waterstones App
Would you like to proceed to the App store to download the Waterstones App?
Reserve online, pay on collection


Thank you for your reservation
Your order is now being processed and we have sent a confirmation email to you at
When will my order be ready to collect?
Following the initial email, you will be contacted by the shop to confirm that your item is available for collection.
Call us on or send us an email at
Unfortunately there has been a problem with your order
Please try again or alternatively you can contact your chosen shop on or send us an email at