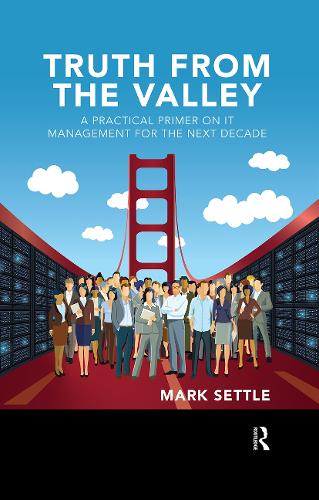 Truth from the Valley: A Practical Primer on IT Management for the Next Decade (Hardback)
Mark Settle
(author)
Hardback
214

Pages / Published: 12/02/2020
Email me when available
Stay one step ahead and let us notify you when this item is next available to order
×
Email me when available
Enter your email below and we will notify you when this item is next available to order.

Truth from the Valley: A Practical Primer on IT Management for the Next Decade (Hardback)
Thank you
We will contact you when this item is next available to order.
The IT industry was transformed during the 2010 decade. Cloud-based business applications proliferated throughout most enterprises. Rules of engagement between IT and its business partners were redefined. Proprietary data centers came to be viewed as corporate liabilities instead of corporate assets. Information security and regulatory compliance concerns multiplied. And finally, end user support practices were redesigned to support smart devices and smart millennials who wanted immediate access to their data, applications and productivity tools at any time and any place.
Nowhere have these changes been more profound or pervasive than in Silicon Valley. The Valley is home to a wide variety of cloud-native companies that operate entirely on cloud applications and cloud computing resources. Many operate under stringent security safeguards and all are engaged in a perpetual war for IT talent. They are ravenous (sometimes reckless) adopters of new technology and are continually re-inventing the processes they use to recruit and retain talent, optimize internal operations, and manage new forms of technology.
Truth from the Valley describes the organizational challenges confronting Silicon Valley IT teams and proposes ways of transforming such challenges into organizational opportunities. Seven-time CIO Mark Settle brings a unique perspective to the discussion of contemporary IT management practices based upon his personal experience in the Valley startup community and larger Fortune 500 firms.
This book can be used as a strategic planning document by IT leaders everywhere to identify the organizational competencies their teams will need to succeed during the next decade. Savvy leaders will use this book to make targeted investments in those organizational capabilities that will enhance the impact of their teams and advance their careers in the process.
Publisher: Taylor & Francis Ltd
ISBN: 9780367430009
Number of pages: 214
Weight: 414 g
Dimensions: 229 x 152 mm
---
MEDIA REVIEWS
"A compelling read! If you are looking to embrace the wave of change sweeping over the IT industry, this book is a must. Mark Settle has the uncanny ability to describe the opportunities ahead, while also providing practical tips on how to navigate this new world - all backed by his depth of knowledge as a seven-time CIO."
Stephen Franchetti, CIO, Slack
"Truth from the Valley provides a fresh contemporary view of the people, process and technology practices that have transformed IT management in Silicon Valley. It describes why traditional practices are no longer effective, what needs to be changed and how to go about doing it in clear colorful language. This is a roadmap that all IT professionals can use to cope with the changes transforming our industry. As a Silicon Valley native - born and raised - I'm impressed by Mark Settle's deep understanding of what makes this place tick and how truly fortunate we are to live and work here."
Bob Concannon, Senior Client Partner, Korn Ferry
"As a VC here in the Valley for the past 15 years I've been able to share emerging innovations with hundreds of CIOs and their innovation teams. Often the impact of innovation has less to do with the technology and more to do with the people and processes required to implement change. Mark has thoughtfully captured this as a core issue for today's IT leaders. Truth from the Valley is a map for the CIO of the future from one of the most thoughtful CIOs I know, Thank you Mark!"
Gamiel Gran, Mayfield
"If you want to skate to where the puck is going and not to where it's been, then you need to read Truth from the Valley. It's a user's guide to the trends that are disrupting the IT industry and a manual on how to harness those changes to improve the effectiveness and business impact of your IT team."
Manjit Singh, CIO, Toyota North America
"I find that there are two sorts of approaches to books on technology leadership, those that focus on problem identification and those that focus on problem solving. Mark Settle has been a problem solver for decades, having led teams of varying size operating in multiple industries. Be a problem solver, not a problem identifier. Be like Mark!"
Ralph Loura, CIO, Lumentum
"The post-digital era is coming. Are you prepared to lead your organization there? Find out. Truth from the Valley gives readers a window into the critical competencies of high-performing organizations of the next decade."
Trevor Schulze, CIO, Ring Central
"As Winston Churchill once said, "Tact is the ability to tell someone to go to hell in such a way that they look forward to the trip.". While not explicitly advocating such extreme measures, Truth from the Valley tactfully provides its readers with the survival skills needed to navigate the ever-changing IT landscape. Here you can tap into the wisdom of a successful serial CIO that has not only survived but thrived where others have struggled."
Declan Morris, Former CIO, Splunk
"IT leaders can put away their Taro cards and Ouija boards. There's no need to guess what the future holds. Just read Truth from the Valley for a peek into the critical competencies IT teams need to win long term. Mark Settle helps his readers work their way through initial reactions of denial, anger, bargaining and depression to arrive at a point where they're prepared to take the actions needed to empower their teams, themselves and their companies. A must-read for the leaders of tomorrow."
Yvonne Wassenaar, CEO, Puppet
"Canary environments are test environments in which changes to software systems are initially tested on a limited number of users. Silicon Valley is a canary environment for the next generation of IT management practices for the modern enterprise. Truth from the Valley leads its readers on a guided tour of this canary environment and leaves it to the readers to determine which practices are applicable to their companies and their teams. An indispensable planning guide for any leader who has been asked to present a strategic roadmap for the IT function during her next annual budget presentation."
Alexander Rosen, Managing Director and Co-Founder, Ridge Ventures
"Mark Settle is one of the few people who really understands how IT is evolving in the enterprise - he's been at the front-lines as a seven-time CIO for the past 25 years. Mark's experience as a CIO has run the gamut from running IT at one of the largest oil and gas companies to an iconic financial services company to one of the fastest-growing technology players. In Truth from the Valley, Mark shares fundamental truths regarding the irreversible changes occurring within the IT industry. This book provides practical advice on how to adapt to these changes and position IT teams for success in the coming decade."
Sid Trivedi, Partner, Foundation Capital
"In Silicon Valley, we closely guard secrets about how to build high growth tech companies. Mark has done a service for everyone living outside the Valley by revealing what's unique, what's hard, and what's misunderstood about supporting the technology that supports the technologists. I have a shelf full of Silicon Valley anthropologies but none explains how we actually operate like Truth from the Valley. This should be required reading for every employee at a venture-backed startup - not just CIOs!"
Dan Turchin, CEO, Astound
"I thoroughly enjoyed reading Truth from the Valley - it totally captures the opportunities and challenges every CIO is facing today. Mark Settle is part IT Yoda and part CIO Therapist. His advice is practical, honest and actionable. IT leaders who fail to heed his advice do so at their own peril!"
Julie Cullivan, CIO, Forescout
"Mark Settle's wealth of experience as an accomplished CIO in Silicon Valley provides him with the ideal perspective to opine on the tumultuous future facing Information Technology executives everywhere. IT careers in the 2020's will not be for the faint of heart, but Mark graciously shares his practitioner's wisdom on emerging tech challenges and opportunities."
Bill Miller, CIO, Netapp
"Truth from the Valley is a must-read for IT leaders around the world who are interested in their personal growth and strategies for keeping their team relevant"
Tony Young, CIO, Sophos
"Too many IT leaders are locked into traditional ways of managing people, processes and technology. They need to read Truth from the Valley to escape the insanity of doing the same things over and over again and expecting different results. This book is a much needed dose of therapy for IT teams that are tired of being middle-of-the-road performers and truly seek to become leading edge organizations."
Chris Borkenhagen, CIO, Docker
"Truth from the Valley provides a template for IT leadership in the next decade that has been forged within the startup community of Silicon Valley. The revolution in management practices that has occurred within the Valley is one of the least researched and yet most impactful phenomenon altering the ways in which modern enterprises exploit information technology. This concise book defines the next generation IT leadership model based upon clear, actionable strategies for adopting people, technology and organizational processes that have been tested and proven in Silicon Valley. If every reader simply embraces One Idea presented here, the better their enterprises will be!"
Stuart Evans, Distinguished Service Professor, Carnegie Mellon University - Silicon Valley
"If there's a key takeaway from our work at the intersection of "suits and hoodies" it's that the IT industry has experienced fundamental changes during the past five years. These changes are radically altering the ways in which IT will deliver business value in the future. Practitioners can either lead, follow or get out of the way of the current revolution. If you want to lead, read Truth from the Valley!"
Jonathan Lehr, Co-Founder & General Partner of Work-Bench and former Morgan Stanley Office of the CIO
"Truth from the Valley zeroes in on a set of complex, novel challenges facing IT leaders today. This book is a practical playbook for success in an increasingly dense and disrupted tech ecosystem with actionable advice for both IT leaders and the technology vendors that seek to engage them."
Shruti Tournatory, VP, Portfolio Growth, Sapphire Ventures
"IT is entering a new age and organizations that succeeded in the past can't rest on their laurels and assume success during the 2020's. The ones that will survive are the ones that will adapt. With Truth from the Valley, Mark Settle's futuristic views are evidence that he just might be the Charles Darwin of the IT world."
Casey Renner, Executive Network Director, OpenView Venture Partners
"Mark Settle is perhaps the best person to write about the trials facing Silicon Valley tech leaders due to the unprecedented pace of innovation occurring there. As a tech chief at Fortune 500 companies multiple times over and as the former CIO of a Silicon Valley security company, he's eminently qualified to predict the downstream impact of Silicon Valley management practices on companies everywhere. Read this book as a working manual on what is coming next!"
Peter High, President, Metis Strategy and Author of Implementing World Class IT Strategy
"Mark Settle delivers yet again with his incredible wit and invaluable wisdom for technology leaders. Truth from the Valley highlights the organizational capabilities that IT teams need to survive and prosper in the 2020s. Every IT leader needs to join Mark's One Idea Club. I'm already a member!"
Alvina Antar, CIO, Zuora
"I have always been a big believer in the wisdom of the technology community and its willingness to share learnings and perspectives with one another. Mark Settle is the consummate community collaborator. His willingness to share insights and seek advice is a wonderful strength that should be emulated by every IT leader. I personally benefit from spending time with Mark and always come away from our conversations having learned something new. You can benefit as well by reading Truth from the Valley."
Paul Chapman, CIO, Box
"Today's rapidly shifting technical landscape demands continual re-education, constant innovation, and persistent reimagination of what's possible. Truth from the Valley is a richly detailed book that looks deep into the changes that are currently disrupting IT organizations. Mark Settle offers practical and actionable insights into the ways in which next generation IT organizations will adapt to these changes and thrive in the future"
Praniti Lakhwara, CIO, Apttus
"Mark Settle is not only one of the CIO thought leaders in the Valley but always generous with his time and advice. This book is another example of his many contributions to the IT community and shows why his perspective is so appreciated."
Karl Mosgofian, CIO, Gainsight
"Truth from the Valley is a strategic planning guide for every IT organization at the outset of the 2020s. Fundamental changes in talent acquisition and development, internal organizational processes, and technology management are occurring all around us. Every IT shop needs to take stock of these changes and determine how they will be impacted. Truth from the Valley will guide you through this strategic assessment and assist in developing a plan of action that is uniquely suited to your company."
Mark Grimse, Former CIO, Rambus
"Mark Settle's practical advice is based upon his personal interactions with many of Silicon Valley's leading companies. It's been of great help to me and many others. Mark has a unique perspective and a wealth of experience and knowledge to share."
Brian Hoyt, CIO, Unity Technologies
"When it comes to IT trends, Silicon Valley is often a harbinger of what's to come for the rest of the IT industry. Learning about the talent, technology and operational practices being implemented in the Valley allows the rest of us to better prepare for the challenges we'll all be facing in the future. In Truth from the Valley, Mark Settle provides a clearly articulated glimpse into the changes that bleeding edge companies are making to succeed in the next decade. Mark's panoramic view of the changes sweeping through our industry are thought-provoking and scary, all at the same time!"
Martha Heller, Author of Be the Business: CIOs in the New Era of IT and The CIO Paradox: Battling the Contradictions of IT Leadership
"Truth from the Valley is a guided tour of the strategic challenges facing every IT organization at the outset of the 2020s. Seven-time CIO Mark Settle provides practical advice on how to convert those challenges into opportunities that will make IT teams more productive and business-relevant. It's a must-read for every IT leader."
Mindy Lieberman, VP, Enterprise Systems, Peleton
"Mark Settle takes readers on a twisted, unpredictable and hilarious journey into the treacherous world of IT management in Silicon Valley. Another great CIO companion guide from Mark."
Eric Tan, CIO, Coupa
"In Truth from the Valley Mark Settle breaks out his crystal ball to examine the talent development, operational practices, and technology management trends that are reshaping the IT industry. Mark explores ways to leverage these trends and develop the competencies that IT teams need to remain business-relevant in the 2020s. This book is an invaluable strategic planning document and a must-read for every IT leader!"
Shawn Johnson, Former IT VP, Great-West Financial
"Truth from the Valley provides extraordinary insight into the top challenges faced by technology leaders within the progressive, leading edge environment of Silicon Valley. IT leaders should treat this book as their personal over-the-horizon radar system, warning them about changes in industry best practices that will impact them directly during the coming decade. Mark Settle shares his real world experience and practical tips on how to build a next generation IT organization. His insights are as valuable to business leaders as they are to IT professionals."
Rodney Fullmer, CTO, Arrow Global Services
"Mark Settle always has original insights into IT industry trends. This book is no exception. Truth from the Valley is a must-read for IT practitioners who are transitioning, transforming or reminding themselves about how to be great leaders."
Steve Comstock, Former CIO, CBS Interactive
You may also be interested in...
×
Download the Waterstones App
Would you like to proceed to the App store to download the Waterstones App?
Reserve online, pay on collection
Alternatively, for multiple items you may find it easier to
add to basket
, then pay online and collect in as little as 2 hours, subject to availability.
Thank you for your reservation
Your order is now being processed and we have sent a confirmation email to you at
When will my order be ready to collect?
Following the initial email, you will be contacted by the shop to confirm that your item is available for collection.
Call us on or send us an email at
Unfortunately there has been a problem with your order
Please try again or alternatively you can contact your chosen shop on or send us an email at