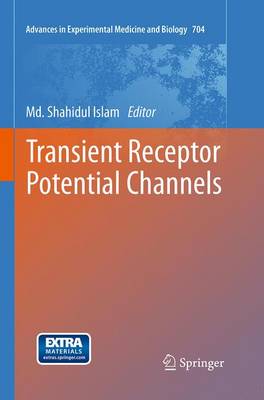 Transient Receptor Potential Channels - Advances in Experimental Medicine and Biology 704 (Paperback)
Md. Shahidul Islam
(editor)
Paperback
1095

Pages / Published: 23/08/2016
Transient Receptor Potential Channels offers a unique blend of thoughtfully selected topics ranging from the structural biology of this fascinating group of ion channels to their emerging roles in human diseases. This single book covers TRP channels of yeasts, flies, fishes frogs and humans. And from the biophysics of primary thermo-sensory events in cells to the thermosensation at whole organism level, from physiology of pain to the development of pain-killers, from psychiatric illnesses to cancers, from skin cells to sperms, from taste buds to testes, from established facts to heated debates, this book contains something for every TRP enthusiasts, beginner and expert alike. It includes crucial background information, critical analysis of cutting edge research, and ideas and thoughts for numerous testable hypotheses. It also shows directions for future research in this highly dynamic field. It is a book readers will be just as eager to give to others as keep for themselves.
Publisher: Springer
ISBN: 9789401778329
Number of pages: 1095
Weight: 2258 g
Dimensions: 235 x 155 mm
Edition: Softcover reprint of the original 1st ed. 201
---
MEDIA REVIEWS
Transient Receptor Potential Channels
Series: Advances in Experimental Medicine and Biology, Vol. 704
Islam, Md. Shahidul (Ed.)
1st Edition., 2011, XXIII, 1095p., Hardcover
ISBN: 978-94-007-0264-6
(c)Springer Science+business Media B. V. 2011
Price: 169.95 Euros
Sometime ago, I had an impromptu casual conversation with a cell biologist about plasma membrane (PM) calcium (Ca2+) channels. PM Ca2+ channels or ion channels in general, he contended "are all the same". "We all know that Ca2+ is universally important to drive diverse cell functions and what matters is what Ca2+ does once inside the cell; that is where our efforts should be focused and little should we care about how Ca2+ does enter, a pore is just a pore", so went the argument. As the conversation pushed on, I realized that his most laudatory thoughts went to Ca2+ channels; he had much less flattering words for potassium, sodium and chloride channels. By nature, I sometimes get caught in similar situations where the person across the table plays the devil's advocate to get my most thoughtful opinion. I thought at first this was one of those instances, only to find out to my dismay that my Interlocutor's argument stemmed from firm convictions. The great American writer Samuel Langhorne Clemens, famously known by his nom de plume Mark Twain, is attributed a saying that fits here: "What gets us into trouble is not what we don't know. It's what we know for sure that just ain't so".
The diversity of mammalian ion channels is quite staggering; hundreds of genes with splice variants that further increase this diversity. Heteromultimerization, association with ancillary regulatory subunits, posttranslational modifications, alternative regulatory mechanisms, expression levels and expression patterns take this diversity to a whole new level, explaining how complex mammalian organisms can function with a number of genes that has turned out to be much less than originally anticipated. The realization that PM ion channels are more accessible than intracellular proteins and that through oligomerization and multiplicity of regulatory mechanisms, they might offer far more diversity than for instance cytoplasmic enzymes or adaptor proteins highlights the urge for proper understanding of their structure and pharmacology so they can be specifically targeted for the purpose of therapy. These facts and the increasing number of diseases due to ion channel dysfunction or channelopathies are being recognized at an alarming pace; no, a pore is not just a pore.
Perhaps no ion channel proteins have garnered as much attention in recent years as members of the Transient Receptor Potential (TRP) channel proteins. TRP constitute one of the largest families of ion channels (about 28 different members in mammals) with remarkable range of activation mechanisms, ionic conductances and physiological functions. The term TRP or as originally denoted trp was coined by Baruch Minke and colleagues in 19751 to describe a spontaneous visually impaired mutant drosophila melanogaster first identified by Cosens and Manning in 19692. The cloning of the drosophila trp gene by Craig Montell in 1989, then a postdoc in Gerald Rubin's laboratory heralded the molecular birth of a new family of ion channel proteins3. In a subsequent 1992 report, Roger Hardie, in collaboration with Minke, provided the first biophysical evidence for the existence of two distinct light-sensitive conductances in drosophila, with the major conductance being absent in the trp mutant4. A back-to-back report from Leonard Kelly's group reporting the cloning of a close homologue to the drosophila TRP gene, TRPL5 along with Hardie and Minke's findings collectively explained the mystery behind the remaining presence of quantum bumps in the trp mutant. It is the outsider's view that the establishment of TRP as the major light-sensitive channel in drosophila stems from the collective and indispensable contribution of each of the above mentioned authors. A personal historical account of TRP by Minke has been recently published6 and independent alternative historical perspectives by Montell7 and Hardie8 quickly followed. In 1969, when Cosens and Manning first reported the mutant "trp", I believe no one could have anticipated the far reaching importance of TRP channels in terrestrial life. Despite their different perspectives on the history of TRP, perhaps Minke, Montell, Hardie and all others would agree that the TRP acronym could rightfully stand for "truly remarkable proteins" as Bernd Nilius repeatedly refers to these amazing channel proteins both in public and in print11.
Much knowledge has been gained since theses early reports, with cloning in 1995 of the first TRP gene in mammals (TRPC1) by the group of Craig Montell and independently by Mike Zhu, as a postdoc in Lutz Birnbaumer's group9, 10 and the discovery of TRP homologues and their involvement in a wide variety of sensory transduction pathways, including pressure, touch, vision, smell, taste, temperature, pain and fear. As of this writing, TRP channels have been involved in an overwhelming number of cell functions; a non exhaustive list includes processes of cell proliferation, growth, migration, differentiation, secretion, death, adhesion, contractility and polarity. The ubiquitous nature of TRP channels is illustrated in their demonstrated ability to regulate the physiological function of several organs and systems and mediate the response to a wide variety of endogenous, environmental and pathological stimuli. TRP channels involvement was documented for endothelial barrier function, vascular and non vascular smooth muscle tone, axon pathfinding, motor coordination, pulmonary, bladder, uterine, immune and kidney function, cardiac failure and cancer progression, to cite just a few.
There are only a handful of books devoted to TRP channels. The most recent and most inclusive of which is the one edited by Md. Shahidul Islam, published by Springer (2011). As suggested by Islam in the preface to the book, perhaps the reason for the paucity of books on this important family of ion channels is the fast pace of this field of research, where investigators are occupied and more interested in publishing original research articles in high impact journals than review articles or book chapters. Clearly, judging from the book's 52 chapters, Islam has been diligent and persuasive to enlist major researchers in this field to contribute to this large compendium. This is the most up-to-date book on this exciting family of ion channels where topics have been carefully organized to cover many aspects of TRP channel research from their structure, their basic activation mechanisms, their natural and synthetic ligands, their contribution to cell function in model organisms and their involvement in human health and disease.
The book starts with chapters on the structure and function of TRP channels, followed by two comprehensive chapters documenting the natural and synthetic ligands of TRP channels. Among these, chapter 3 on natural product ligands of TRP channels by Vetter and Lewis is very informative with excellent overview of the natural compounds that modulate TRP channel function. Natural ligands have made substantial contributions to our understanding of receptor and ion channel physiology and pharmacology and continue to be the source of inspiration for novel synthetic drugs used in disease therapy. The five-page long table in the chapter by Vetter and Lewis on the natural product ligands of TRP Vanilloid 1 (TRPV1) is quite impressive where structure, class, source and alternative targets of the compounds are listed in addition to effective concentrations and corresponding references. TRPV1 is a heat sensor, capsaicin receptor and the first TRPV to be identified; TRPV1 is currently perhaps the most pharmaceutically targeted TRP channel for management of pain and other conditions. Similar tables comprehensively address natural ligands for other TRPV and TRP Melastatin (TRPM) channel proteins. Subsequent chapters address the function of members of TRPM, TRPV, TRP Mucolipin (TRPML), TRP polycystin (TRPP) and TRP canonical (TRPC). Of particular interest, chapter 9 contributed by Clapham and colleagues discusses the channel/kinase TRPM7 involved in magnesium homeostasis, its contribution to fundamental cell functions and its emerging role in several disease states such as hypertension and dementia. Chapter 10 by Liu and Qin addresses the cold sensor channel protein TRPM8 and evidence linking it to inflammatory/neuropathic pain and prostate cancer. This chapter presents an impressive overview of TRPM8 agonists and antagonists and discusses the potential of TRPM8 as a target for disease and ongoing clinical trials with a TRPM8 agonist in advanced prostate cancer patients.
One of the most detailed chapters is chapter 14 where Peng discusses the epithelial Ca2+ selective channels TRPV5 and TRPV6 and their role in intestinal/renal Ca2+ absorption. Of note, is the section allocated to the gene regulation of these channels by Hormones; the most representative example is the identification of TRPV6 gene as a direct target of vitamin D through vitamin D responsive elements in its promoter. Peng discusses thoroughly the regulation of these channels under physiological conditions such as low dietary Ca2+, exercise and pregnancy, draws conclusions from the studies on TRPV5 and TRPV6 knockout mice and summarizes evidence implicating these channels in other systems such as bone resorption and the function of the uterus, inner ear and exocrine glands. Peng also discusses the regulation of these channels under pathological conditions and finishes by addressing the unusually high frequencies of single nucleotide polymorphisms (SNPs) of TRPV5 and TRPV6 in African populations and their implication in Ca2+ and salt homeostasis of these populations. Chapter 22 by Albert presents an overview of the gating mechanisms of Drosophila TRP and TRPL channels and expands on mammalian TRPC channels and the role of polyphosphoinositides second messengers and their metabolites and protein phosphorylation in regulating TRPC channel activity. Chapters 17 through 20 discuss current findings on TRP channels in model organisms: yeast, the worm Caenorhabditis Elegans, frog, zebrafish and parasites. In addition, the book addresses some of the hotly debated issues at the moment. Such controversies include the role of TRPC channels in mediating the so-called store-operated Ca2+ entry pathway (SOCE) where interactions between TRPC and STIM/Orai proteins are proposed to increase the diversity of Ca2+ signaling pathways in response to physiological agonists.
It was quite amazing to discover that a substantial portion of the book dealt with the role of TRP channels in specific tissues, their proposed physiological functions in these tissues and their contribution to tissue dysfunction. Contributions covered the expression and function of TRP channels in the brain, liver, skeletal muscle, endothelial cells and smooth muscle from the vasculature, airways and bladder, including a chapter on TRP channels in islets by Islam. Of particular note, Chapter 36 by Savineau et al addressed the expression and physiological roles of TRP channels in different types of smooth muscle while chapter 37 by Zholos et al focused on the role of TRPM channels in vascular smooth muscle and endothelia. Both chapters effectively review the current knowledge on TRP channels and their contribution to vascular and smooth muscle pathophysiology, including hyperreactivity, hypertension, fibroproliferative phenotypes, inflammation etc. The last chapters critically review data available on the contribution of TRP channels to cancer progression, psychiatric disorders, respiratory diseases and human inherited diseases.
It is impossible to discuss thoroughly all the excellent chapters of the book in this short review as it is impossible to overstate the breadth of the book and the giant work that went into bringing it to fruition. This is an amazing contribution to the field of ion channels, one of a kind that is likely to become a reference for experts and non experts alike. We sometime eagerly agree to be involved in a project unaware of the magnitude of the effort that it would require. In mid course, we regret that we hastily accepted a task that seems at the time rather impossible. Nonetheless, when the task is finally completed we are glad to have suffered through it, to have achieved the impossible. This is a truly remarkable book on truly remarkable proteins where Islam has achieved the impossible or the nearly impossible. In the words of Mark Twain: "they did not know it was impossible, so they did it".
Mohamed Trebak
Center for Cardiovascular Sciences
Albany Medical College
Albany, New York 12208
Phone: (518) 262-4682
Email: trebakm@mail.amc.edu
Acknowledgements: Research in the author's laboratory is supported by the National Institutes of Health (NIH) grant R01 HL097111.
References:
1. Minke B, Wu C, Pak WL. Induction of photoreceptor voltage noise in the dark in Drosophila mutant. Nature 1975;258(5530):84-7.
2. Cosens DJ, Manning A. Abnormal electroretinogram from a Drosophila mutant. Nature 1969;224(5216):285-7.
3. Montell C, Rubin GM. Molecular characterization of the Drosophila trp locus: a putative integral membrane protein required for phototransduction. Neuron 1989;2(4):1313-23.
4. Hardie RC, Minke B. The trp gene is essential for a light-activated Ca2+ channel in Drosophila photoreceptors. Neuron 1992;8(4):643-51.
5. Phillips AM, Bull A, Kelly LE. Identification of a Drosophila gene encoding a calmodulin-binding protein with homology to the trp phototransduction gene. Neuron 1992;8(4):631-42.
6. Minke B. The history of the Drosophila TRP channel: the birth of a new channel superfamily. J Neurogenet 2010;24(4):216-33.
7. Montell C. The history of TRP channels, a commentary and reflection. Pflugers Arch 2011.
8. Hardie RC. A brief history of trp: commentary and personal perspective. Pflugers Arch 2011.
9. Wes PD, Chevesich J, Jeromin A, Rosenberg C, Stetten G, Montell C. TRPC1, a human homolog of a Drosophila store-operated channel. Proc Natl Acad Sci U S A 1995;92(21):9652-6.
10. Zhu X, Chu PB, Peyton M, Birnbaumer L. Molecular cloning of a widely expressed human homologue for the Drosophila trp gene. FEBS Lett 1995;373(3):193-8.
11. Nilius B, Mahieu F. A road map for TR(I)Ps. Mol Cell 2006;22(3):297-307.
"TRP channels came as a surprise in the early days of single-channel- recording, when many researchers thought that a handful of channels were sufficient to explain 'bioelectricity'. By now it is clear that they constitute one of the largest families of channel proteins with a remarkable range of physiological functions. Their relevance for biomedicine can hardly be underestimated". Prof. Dr. Erwin Neher, Nobel Laureate Membranbiophysik, Max-Planck-Institut fur biophysikalische Chemie Am Fassberg 11, 37077 Goettingen
"There had been an explosion of information on this large family of TRP channels that pervade almost every aspect of cell physiology. A remarkable feature of this compendium is that most of the major researchers in this field have contributed didactic reviews on both the properties of these channels and their cellular function. Of particular interest are the numerous chapters that describe the role of these channels in specific cell types and different diseases. The excitement surrounding this field is encapsulated in this book that is likely to become a primary source for future research on these TRP channels". Professor Sir Michael Berridge, Laboratory of Molecular Signalling, The Babraham Institute, Babraham, Research Campus, Cambridge, CB22 3AT, UK

"The book on Transient receptor Potential channels edited by Md. Shahid Islam can be considered as the most up-to-date source book on this exciting family of ion channels. Topics are thoughtfully selected and written by leading scientist in the field. One of the intriguing features of this new book is the combination of "fundamental" research on TRP channels, the evaluation of these channels in model animals with new approaches of identifying TRP channels as multiple targets for novel therapeutic strategies in a plethora of diseases".
Bernd Nilius, MD, PhD, Full Professor of Physiology, Member Academia Europea, EMBO Member, KU Leuven, Department Mol Cell Biol, Campus Gasthuisberg, Herestraat 49 bus 802, B-3000 LEUVEN, Belgium
"This is a very timely and exciting book that is published at a time when research in the TRP field is exploding. It contains essential background information and critical analysis of cutting edge research by the leaders in the field. I am convinced that all TRP enthusiasts will find the book highly useful." Rene Bindels, PhD., Radboud University Nijmegen Medical Centre
"It is sufficient to read the titles of the various chapters in the book entitled "Transient Receptor Potential channels" edited by Shahidul Islam to realize how important are these channels for almost every aspect of biomedicine. The multi-functionality of these evolutionary conserved channel proteins is faithfully reflected in the book in a comprehensive manner. Covering all aspects of up-to-date TRP channel research is like shooting a moving target. This is one of the most dynamic fields of study in biomedicine, full of surprises and characterized by new and unexpected discoveries. Therefore, this book is a valuable asset to both old and new investigators in the field". Prof. Baruch Minke, The Hebrew University of Jerusalem
You may also be interested in...
×
Download the Waterstones App
Would you like to proceed to the App store to download the Waterstones App?
Reserve online, pay on collection.
Please note that owing to current COVID-19 restrictions, many of our shops are closed. Find out more by
clicking here
.
Thank you for your reservation
Your order is now being processed and we have sent a confirmation email to you at
When will my order be ready to collect?
Following the initial email, you will be contacted by the shop to confirm that your item is available for collection.
Call us on or send us an email at
Unfortunately there has been a problem with your order
Please try again or alternatively you can contact your chosen shop on or send us an email at