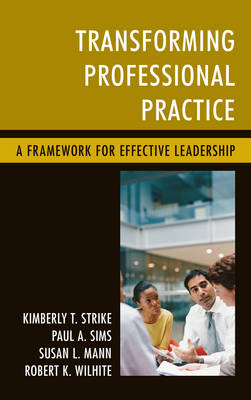 Hardback
228

Pages / Published: 13/06/2016
Educational accountability for excellence begins with educational leaders. In the past decade states have adopted revised requirements for school and district leaders in K-12 public schools with reliance on national standards like ELCC and ISLLC leadership standards. The development of Common Core State Standards (CCSS), No Child Left Behind (NCLB), and Race to the Top have also had profound changes on school curriculum, instruction, assessment and district leadership, evaluation, and accountability. While there are many and varying leadership books on the market, few to none outline an effective framework of educational leadership domains needed to address the current needs of administrator evaluation, self-reflection, and personal growth.
Publisher: Rowman & Littlefield
ISBN: 9781475822373
Number of pages: 228
Weight: 481 g
Dimensions: 239 x 162 x 22 mm
---
MEDIA REVIEWS
In many school districts the best method for evaluating educational leaders begins with self-assessment and reflection. Effective leaders develop methods to continually improve and evaluate practice and the authors of this book have done an excellent job creating an easy to use framework for what effective leadership should look like. The text can be a useful tool for those studying educational leadership or those experienced leaders looking for self-evaluation, goal setting, and improving practice. The layout of the book includes chapter objectives aligned with the standards that guide evaluation of leadership, giving practitioners a valuable resource to use. Reading this book, I found inspiration to embrace the process of professional growth and a better understanding of what I need to do to be an effective school leader. -- Michael Glover, principal McHenry Middle School, McHenry, IL
In this book, the authors provide a wonderful balance of theory and practice useful to initial education leaders, as well as those who are well seasoned. Had I had a book like this when I was a superintendent and principal, I would have used it as a reference and guide to assist in the development of my colleagues and administrative team. The authors are experienced educational leaders, researchers and authors who bring all of that talent to bear in the provision of this wonderful reference. I recommend it without reservation. -- Thomas P. Jandris, PhD, senior vice president for innovation, dean, College of Graduate & Innovative Programs, Concordia University Chicago
Not only does Transforming Professional Practice fill a gap in the present collection of resources for supervising and evaluating administrators, but it includes dimensions that may not be emphasized enough because they are considered too challenging to consider including trust, respect, and reflection. The group finding this book of greatest value may be board members who annually review one or more central office administrators as part of their duties. The obligations of administrators are many and varied, and the framework provides a multi-dimensional view of roles, responsibilities, and dispositions that contribute to making a school or district strong, effective, and a reflection of the community. -- Barbara J. Phillips, Former principal and central office administrator, professor, Department of Leadership, Concordia University Chicago
In this era where many times legislative leaders are implementing laws regarding school leadership based on non-researched ideas and emotional outbursts from influential citizens, it is refreshing to see the development of effective leadership components presented in understandable language that is backed up by research. This is exactly what takes place in the text of Transforming Professional Practice: A Framework for Effective Leadership. It is essential for all leaders to understand and recognize the importance of professional learning and growth as major influences in improving leader effectiveness, and the different yet inter-related processes between evaluation and supervision. This book provides this knowledge and much more. -- Jim Rosborg, president, Illinois Council of Professors in Education Administration (ICPEA), director of Master's in Education, McKendree University
The authors have combined their passion and expertise to create a roadmap for effective leadership. The tangible examples support understanding the critical components to successful leadership. The focus on professional traits and competencies evident in successful and effective leaders are relevant to every leader. I highly recommend every principal and superintendent read this book as it is designed to strengthen the leadership skills in every individual. -- Amy Alzina, principal, Adams Elementary School, Santa Barbara Unified School District
The authors of this book address a critical gap in the current practice of educational leadership. Their unique leadership framework transforms the act of evaluating administrators into a much more robust process that focuses on continuous improvement and ongoing professional learning. As a principal over the last ten years, I have struggled to find a sound approach to developing the leadership capacity of administrators and school leaders. This book captures the essence of leadership development, and is a much needed resource in the field of education. I highly recommend it as a valuable resource for school reform. -- John A. Becchio, principal, Santa Barbara High School, Santa Barbara, CA
Finally, a comprehensive, cogent, and consistent model for developing effective administrative leaders! The authors have skillfully crafted four leadership domains of effectiveness for administrators paralleling Danielson's framework for teaching. This leadership framework is a must read for current administrators, professors of educational leadership, and aspiring educational leaders! -- Kathryn Hollywood, PhD, president and CEO, Cordis Educational Services, LLC
This book is a must read for both new and veteran administrators. This book discerns itself in a field that has been over studied by driving the reader to the pure essence of leadership and how each one of us, regardless of level or position, can become more personally proficient at leading. As a school leader, it is critical for me to challenge myself with professional reading in order to reflect on my practice and educational theory. I plan on sharing it with others at my school. I know this book will help my team grow as educational leaders. -- Patrick Keeley, principal, Almond Campus, Warren Township High School District 121, Gurnie, IL
I am pleased to give a strong endorsement of the book Transforming Professional Practice: A Framework for Effective Leadership. This is an excellent piece of work written by experts in the field. The book highlights the components of successful leadership and offers strategies necessary to grow and improve. I know that I will use this as a reference in my classes and recommend it to those that I mentor who are aspiring to be educational leaders. -- Robert J. Madonia, EdD, adjunct professor, Concordia University, River Forest, IL, president of RJM Consulting Services Inc.
I strongly recommend Transforming Professional Practice: A Framework for Effective Leadership as an essential study for all educators involved in leadership capacities. And this means, actually, all educators. I find that the structure of the book follows the plan of a well-structured classroom lesson. Each chapter begins with a clear statement of objectives. Following, the chapter presents well-documented principles and practices which develop the objectives. Finally, the chapter concludes with a case study and personal reflections which begin, for the reader, the process of application. This is a must read book which belongs on the shelves of all educators. -- John Nickelsen, teacher, administrator, author
The new public school leader needs to have skills and attributes much different than their predecessors. Transforming Professional Practice: A Framework for Effective Leadership captures these new ways of thinking and acting in a precise structure that allows the reader to gain strength in each capacity. This book will serve as a guidepost for anyone choosing to be an effective school leader. -- Kevin J. O'Mara, superintendent, Argo Community High School, president, Illinois High School District Organization, executive board member, Illinois Association of School Administrators
Congratulations to the authors on providing a practical, well-articulated framework for effective leadership. Grounded in professional learning, this book is central to advancing individual growth, enhancing organizational capacity and enriching the learning experience of our students - it is a must read! -- Carol J. Reiseck, Ed.D., assistant dean, Learning Technology and Innovation, College of Graduate and Innovative Programs, Concordia University Chicago
The authors have hit a home run with this book by focusing the practical side of leadership and what really works to make effective leaders. -- Craig A. Schilling, EdD, CEO, SBM Pros, LLC., Northbrook, IL
The authors of Transforming Professional Practice: A Framework for Effective Leadership have developed an easy-to-use matrix to describe what effective leadership looks like. The framework and accompanying rubrics can be put to immediate use in both formal and informal evaluation and professional growth systems. This book is a tremendous resource that provides a common understanding of and language for leadership that is applicable to aspiring, new, and veteran school leaders, as well as those responsible for preparing, coaching, mentoring, and/or evaluating them. -- Victor Simon, superintendent of schools, Gower Elementary School District 62, Willowbrook and Burr Ridge, IL
This book provides an excellent innovative framework for effective supervision and evaluation of professional educational leaders. This framework is structured to cause leaders to reflect, design and implement professional growth systems for self and colleagues based on an extensive review and integration of theories and practices. This book is a blueprint for professional growth strategies designed to enhance leader collaboration and cooperation to improve student learning. -- Ronald Warwick, professor, Concordia University-Chicago, River Forest, IL
Four distinguished authors who have many years of experience as superintendent, principal, and teacher have written this outstanding book which would enhance novice and seasoned leaders competence by linking theory and practice through implementation of four domains of the leadership framework aligned to ELCC and ISLCC standards. The book provides numerous practical uses of the leadership framework for supervision and evaluation. Research-based exercises, questions, self-assessments, and reflections are ways for leaders to create effective professional learning and development plans. I highly recommend this book for professors, superintendents, principals, and leaders in the field of education! -- Lauren A. Wellen, EdD, professor and program leader, Dept. of Literacy and Early Childhood
Transforming Professional Practice: A Framework for Effective Leadership is a powerful addition to the K-12 literature on educational leadership. It successfully bridges the gap between theory and practice and should be used as a practical, hands-on guidebook that provides numerous opportunities to self-audit and/or coach others in processes needed to grow highly effective leaders. Starting with a clear understanding of effective leadership and concluding with applications of the leadership framework, there is something in this book for everyone and at every level of school and district leadership. -- Lynette Zimmer, EdD, superintendent, Lake Villa School District 41, Lake Villa, IL
You may also be interested in...
×
Download the Waterstones App
Would you like to proceed to the App store to download the Waterstones App?
Simply reserve online and pay at the counter when you collect. Available in shop from just two hours, subject to availability.
Thank you for your reservation
Your order is now being processed and we have sent a confirmation email to you at
When will my order be ready to collect?
Following the initial email, you will be contacted by the shop to confirm that your item is available for collection.
Call us on or send us an email at
Unfortunately there has been a problem with your order
Please try again or alternatively you can contact your chosen shop on or send us an email at