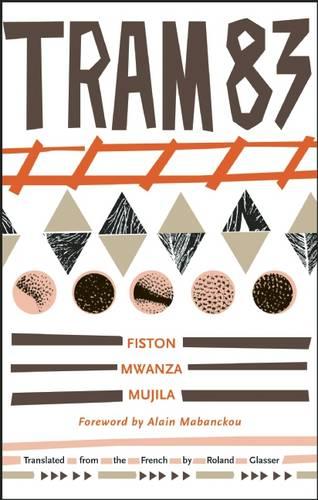 Paperback
224

Pages / Published: 24/09/2015
Email me when available
Stay one step ahead and let us notify you when this item is next available to order
×
Email me when available
Enter your email below and we will notify you when this item is next available to order.

Thank you
We will contact you when this item is next available to order.
"An exuberantly dark first novel." -- NPR's Fresh Air w/ Terry Gross
**Nominated for the Man Booker International Prize 2016**
**Winner of the 2015 Etisalat Prize for Debut African Fiction**
Two friends, one a budding writer home from abroad, the other an ambitious racketeer, meet in the most notorious nightclub--Tram 83--in a war-torn city-state in secession, surrounded by profit-seekers of all languages and nationalities. Tram 83 plunges the reader into the modern African gold rush as cynical as it is comic and colorfully exotic, using jazz rhythms to weave a tale of human relationships in a world that has become a global village.
**One of Flavorwire's 33 Must-Read Books for Fall 2015**
Fiston Mwanza Mujila (b. 1981, Lubumbashi, Democratic Republic of Congo) is a poet, dramatist, and scholar. Tram 83 is his award-winning and much raved-about debut novel that caused a literary sensation when published in France in August 2014.

Publisher: Deep Vellum Publishing
ISBN: 9781941920046
Number of pages: 224
Weight: 241 g
Dimensions: 210 x 133 mm
---
MEDIA REVIEWS
"A high-velocity debut . . . The writing has the pulsing, staccato rhythms of Beat poetry and Roland Glasser has exuberantly harnessed that energy in his translation from the French." --
Sam Sacks
,
Wall Street Journal
"In this visceral, fast-paced debut novel, acclaimed Congolese poet Mujila examines life in a central African state plagued by instability. . . . Rapid and poetic, Mujila depicts a province where 'every day is a pitched battle.' . . . Mujila succeeds in exploring themes of globalization and exploitation in a kinetic, engaging work." --Publishers Weekly
"Mujila has turned out a multiaward-winning debut that's decidedly cool and juicy. . . . The writing, which has all the edgy darkness of the best street lit, sometimes mimics the bar's background jazz in its syncopation and the occasional quick-burst, broken-sentence, run-on format, with the bar regulars feeling like a Greek chorus." -- Library Journal (Starred Review)
"If his portrait of Congo makes it appear socially and politically hopeless, what's hopeful is the spirit of his writing, which crackles and leaps with energy. Rather than moralize, he transfigures harsh reality with a bounding, inventive, bebop-style prose, translated from the French with light-footed skill by Roland Glasser." -- John Powers, NPR's Fresh Air w/ Terry Gross
"Stylistically quirky and unorthodox fiction from Africa...Tram 83 is the locus of those driven by ambition, desire, greed, or pleasure--and in this underworld we meet quite a cast of characters." --Kirkus Reviews
"Deeply allusive . . . most original about Tram 83 is its conscious application of a music no longer of the avant-garde - a normalized music - to sing of modern Africa. Jazz is a language his foreign readers can understand, and this is what implicates them as yet another gang of tourists in the bar of Tram 83." -- Michael LaPointe, The Times Literary Supplement (TLS)
"Roland Glasser's wonderful translation, roiling and musical, delivers Mujila's profane and teeming portrait of a semi-fictional Congolese city with all the feverish sweep of the modern African gold rush it depicts. Somehow epic, intimate, and morally complex at the same time." -- Jonny Diamond, The Literary Hub (Best Books of 2015)
"Energetically written Congolese satire that goes dark and funny in its depiction of a city-state around a mine where everything and everybody is for sale, neoliberalism on full-blast." -- Jace Clayton (DJ Rupture), Dwarf + Giant
The expressive and elegiac prose makes the seediness so palpable, the poverty so tangible, the darkness and debauchery so intense, yet it does not reach the point of despair." -- The Deccan Herald
"Mujila employs the logic of poetry - to evoke a febrile eternal present. It's bustling, strange experimental fiction in which the chaos of daily life leaks like blood from the iron fist of violence and profit." -- Cameron Woodhead, Sydney Morning Herald (Pick of the Week)
"With echoes of Flannery O'Connor, Ralph Ellison, and Joseph Conrad, Mujila's language alchemizes epic poetry from violence, despair and distraction. He bebops in broken time with words and structure, improvising and free-associating." --Michelle Newby, The Rumpus
"A frenetic writing style, like that of a jazz musician, gives this Africa-set novel an enthusiastic, adventurous energy . . . Tram 83 isn't for the faint of heart, but rather, it's for those that have a sense of humor, an interest in seedy underbellies, and a willingness to, at times, feel a little lost in the haze of biblical imagery, flippant debauchery, free sex, and anarchy. Ezra Pound would be proud; Mujila 'made it new.'" -- Josh Cook, Foreword Reviews
"As a meditation or debauch on the nothing that is left behind when everything falls apart, Tram 83 is a literary manifesto, or at least a literary revelation. Its ambition has to be seen in the context of African literature's predicament: if African literature is in need of saving--as critics regularly contend that it is--then this might be a book you could turn to as salvation." -- Aaron Bady, Guernica
"Mujila's writing is at once quirky and dark, frenetic and melodic. Some passages seem pulled out of a somewhat comedic noir novel while others rival David Foster Wallace's best paragraphs, both in complexity and length. . . . Tram 83, while a novel about Africa, is also a novel about the world and a text that perfectly exemplifies the global village imagined by philosopher and communication theorist Marshall McLuhan; a place where travel and technology contribute to bringing the world together in a physical, as well as a cultural, way." -- Gabino Iglesias, The Collagist
"Tram 83 is political commentary in haute creative form...the novel comes to you vividly as a melange of spoken word and lisapo in the form of Congolese oral tradition, as though you are sat around a fire in the quiet night listening to the seasoned voice of the village elder as the embers flicker into the air and paints the scenes before your eyes. Tram 83 is the harmony of Papa Wemba, the rhythm of Franco Luambo and the art of Eddy Kamounga Ilunga in literary form; you cannot help but either be arrested or moved by it. It resonates so deeply with Patrice Lumumba's message and that of lipanda (independence); write your own story. The independence of Congo was not just a political move, but also one relating to its culture, creativity and arts. To write your story and celebrate your artists is to crystallise the experience of a generation so that it may be passed on to the next, and never be forgotten or taken away as it once was. It is an act of self-determination, a discovery of self, which we are beginning to see once again in its finest form." -- JJ Bola, poet and author of WORD
"TRAM 83 reads like a modern, twisted The Great Gatsby . . . eccentric and somewhat disturbing, yet inclusive and universally appealing." -- Caitlin Thomas, Three Percent
"The prose is visceral, as sensuous and vivid as a live performance." -- Merin McDivitt, Michigan Daily
"Dazzling . . . a fascinating read that oscillates between gripping dystopia and humanist celebration." -- Pedro Monaville, Africa is a Country
"Spiky, quirky and edgy . . . Mujila serves up predators' delight." -- Mark Thomas, Sydney Morning Herald
"Exuberant, with an additive style . . . a formally engaging book that mimics both the structures of jazz and the sense of overhearing conversation in a bar." -- The Saturday Paper (Australia)
"Tram 83 is driven more by language, rhythm and atmosphere -- and, most important, how all of these mix, dissolve and reconfigure in consciousness. . . . the book confronts the myopic view that literature (or industry) could "fix" or "redeem" Africa. Mujila's world is too complex for that." -- Scott F. Parker, Minneapolis Star-Tribune
"As much a musical work as it is a fictional one." --Geoff Wisner, The Quarterly Conversation
"A literary mixtape of a book. Mujilla utilizes everything from science fiction's alienating style, which often features protagonists grappling to understand a brave new world just as readers must grapple with the head-spinning array of baby chicks, single mamas, students, diggers and tourists of the City-State, to the profane energy of the beat's drug-induced, maniacal prose stylings. Add a bit of theatre of the absurd and, of course, poetry, and you have one hell of a read." -- Jennifer Smart, Dallas Observer
"Loud and garish, Tram 83 pushes towards overwhelming the senses. . . . Playful, even with all its dark edges, Tram 83 is a different kind of modern urban novel -- City-State so alien and removed (it is very much a city apart) that much of this feels closer (especially in Mwanza Mujila's presentation) to dystopic science fiction than the usual gritty realism." -- Michael Orthofer, The Complete Review
"Mujila's transcription of the "City State" is, literally, stunning, even as one must feel stunned when sitting amid the jazzy uproar and underhand dealings of the seedy nightclub. How can so much sordidness, aggressiveness, and disastrous human interaction be so captivating -- and sometimes amusing? . . . through Roland Glasser's lively translation, Mujila tells a dynamic, sometimes scabrous, sometimes satirical story with political and economic underpinnings." -- John Taylor, The Arts Fuse
"A superb novel, without doubt the noisiest novel I have ever read, and one that will clearly set the African novel on a new path." -- The Modern Novel
"Talk about verve--and vivre: Fiston Mwanza Mujila's Tram 83 introduces a rousing, remarkable new voice to this world, surely in its original French, most definitely in Roland Glasser's superb translation.This book has drive and force and movement, it has hops and chops. It has voices! . . . Written with a driving, kinetic narrative voice--at times multiple voices . . . this is one of the most refreshing, energizing, and enlightening novels to come along in some time." -- Rick Simonson, Elliott Bay Book Company (Seattle, WA)
Mujila's novel is darkly comic, seemingly written to both 'reestablish a truth' that transcends African literature, while also playing with its tropes in a surreal mix of philosophy, friendship, and criminal exploitation." -- Daniel Haeusser, Reading 1000 Lives blog
"I was totally into the wild formal thug-haunted adventurousness of Tram 83." -- Forrest Gander, author of The Trace
"Blade Runner in Africa with a John Coltrane soundtrack." -- Mark Haber, Brazos Bookstore (Houston, TX)
"Through observation and conversation, the reader is exposed to the economic boom and cultural bust of contemporary Africa in search of what the future holds for human relationships and survival in a place where tradition and personal histories are quickly being swept under the rug by global forces. Mujila captures chaos in a hypnotic free-jazz rhythm that is so rarely found in novels of this scope." -- Kevin Elliott, 57th Street Books (Chicago, IL)
"Tram 83 is part Satantango, part Fitzcarraldo, and part Blood Meridian. A dark, funny, and true accomplishment." -- Chad Felix, WORD Bookstores (Brooklyn, NY & Jersey City, NJ)
"Q: What if C saire beat Houellebecq at his own game? A: Tram 83." -- Dustin Kurtz
"This book may represent the future of the novel. It is both more speculative and more rigorously structured than it first appears to be. With unique humor and a complete rejection of sentimentality, Mujila sets out to expose those global (universal?) systems--often invisible, and so human in their pettiness and contingency--that stoke the engines of chaos." -- Joe Milazzo, author of Crepuscule w/ Nelli
"Thanks to its infectiously energetic prose and lurching narrative, Tram 83 is a shot in the arm, a shot of bourbon, a shot in the night, echoing throughout the mines as they collapse. Deep Vellum has done us all a service by adding Fiston Mwanza Mujila's incredible first novel to the world of contemporary American fiction." -- Colin Winnette, author of Haints Stay (Two Dollar Radio)
"Mujila's prose is prone to a kind of ecstatic repetition: for all the tried-and-true plot elements Tram 83 includes--estranged friends, political convulsions, totalitarian violence--the novel's execution is where it truly excels. . . . One reader might find this to be a stylized take on a real-world situation; another might find it to head into the realm of speculative fiction. " -- Tobias Carroll, The Scofield
"James Ellroy would appreciate this writing style . . . TRAM 83 is a book to be savored, read slowly, and with an appreciation for the language." -- Just a Guy That Likes to Read Blog
"Already a post-modern classic; a unique and thrilling piece of work that captures the folly of humanity and your imagination. Mujila has certainly made his mark on the world with this crazy, entertaining book." -- Book Lover's Hangout
"It's a wonder. The language is something I hope to emulate."TJ Benson, The Daily Trust
"A chilling representation of the DRC today, Fiston Mwanza Mujila's debut novel, Tram 83, is ground-breaking literary art, distinguished by its dark splendour, amplified volume and its circus of crazed and abused people." Olatun Williams, Borders Literature Online
You may also be interested in...
×
Download the Waterstones App
Would you like to proceed to the App store to download the Waterstones App?
Reserve online, pay on collection.
Or,
add to basket
, pay online, collect in as little as 2 hours, subject to availability.
Thank you for your reservation
Your order is now being processed and we have sent a confirmation email to you at
When will my order be ready to collect?
Following the initial email, you will be contacted by the shop to confirm that your item is available for collection.
Call us on or send us an email at
Unfortunately there has been a problem with your order
Please try again or alternatively you can contact your chosen shop on or send us an email at