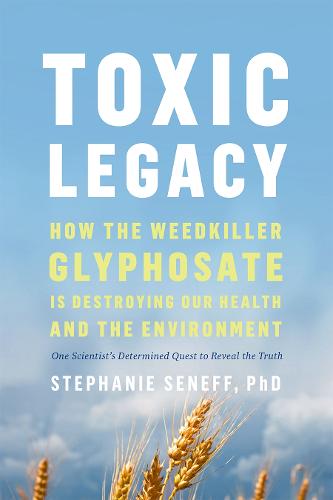 Toxic Legacy: How the Weedkiller Glyphosate Is Destroying Our Health and the Environment (Hardback)
Stephanie Seneff
(author)
Hardback
Published: 01/07/2021
Named a 'Best Book of the Year' by Kirkus Reviews
'Urgent and eye-opening, the book serves as a loud-and-clear alarm.' – The Boston Globe
From an MIT scientist, mounting evidence that the active ingredient in the world's most commonly used weedkiller is contributing to skyrocketing rates of chronic disease.
Glyphosate is the active ingredient in Roundup, the most commonly used weedkiller in the world. Over 300 million pounds of glyphosate-based herbicide are sprayed on farms – and food – every year.
Agrochemical companies claim that glyphosate is safe for humans, animals and the environment. But emerging scientific research on glyphosate's deadly disruption of the gut microbiome, its crippling effect on protein synthesis and its impact on the body's ability to use and transport sulfur – not to mention several landmark legal cases – tells a very different story.
In Toxic Legacy, senior research scientist Stephanie Seneff, PhD, delivers compelling evidence based on countless published, peer-reviewed studies – all in frank, illuminating and always accessible language.
As Rachel Carson did with DDT in the 1960's with Silent Spring, Seneff sounds the alarm on glyphosate, giving you guidance on simple changes you can make right now and essential information you need to protect your health, your family's health and the planet on which we all depend. 
'A game-changer that we would be foolish to ignore.' – Kirkus Reviews (starred)
'Toxic Legacy will stand shoulder to shoulder with Rachel Carson's Silent Spring. [This is] unquestionably, one of the most important books of our time.' – David Perlmutter, MD, #1 New York Times bestselling author of Grain Brain
'Dr. Seneff's work will change the way we all think about food.' – Mark Hyman, MD, New York Times bestselling author
Publisher: Chelsea Green Publishing Co
ISBN: 9781603589291
Weight: 544 g
Dimensions: 229 x 153 x 32 mm
---
MEDIA REVIEWS
"Toxic Legacy is a bold and heroic work that reveals how today's most well-respected science confirms the existential threat posed by the herbicide glyphosate. Dr. Seneff courageously defends her position in the face of seemingly insurmountable opposition from industry at every turn. And for this we owe her incalculable gratitude. Toxic Legacy will stand shoulder to shoulder with Rachel Carson's Silent Spring, not just defining the pervasive threat to us and future generations, but more importantly, articulating what we can do right now to change our destiny. Unquestionably, one of the most important books of our time."—David Perlmutter, MD, #1 New York Times bestselling author of Grain Brain and Brain Wash
"A highly readable, fascinating look at how man-made chemicals invade the air we breathe, the water we drink, and the food we eat. Toxic Legacy is both a scientific exposé and an inspiring call to action. In revealing the diabolical mechanisms by which glyphosate damages human health, Dr. Seneff's work will change the way we all think about food."—Mark Hyman, MD, founder and director, The UltraWellness Center; Head of Strategy and Innovation, Cleveland Clinic Center for Functional Medicine; and a thirteen-time New York Times bestselling author
"Anyone who wants to understand a root cause of the massive epidemics of chronic diseases we are experiencing—from autism to non-alcoholic fatty liver and 30+ other devastating diseases rampant in today's society—can find the answers in Toxic Legacy. Dr. Seneff is to be complimented in her comprehensive, in-depth connection of the dots from glyphosate through the myriad biochemical and physiological processes altered, to the tragic consequences from the indiscriminate application of the Roundup and other glyphosate-based herbicides. The complex chemical perturbations are presented in an easily-understood manner, and the systems are well documented. Her 'relaxed' writing style makes for easy reading and ready comprehension of this important information."—Don M. Huber, professor emeritus, Purdue University and retired colonel, US Army, Medical Intel
"Dr. Seneff is a senior scientist at MIT. She not only understands molecular biology at a deep level but also has the unique ability to translate extremely complex technical concepts into easy-to-understand language. This is a must-read book to help you comprehend one of the most significant toxic threats unleashed on the world. Toxic Legacy is the modern-day equivalent of Rachel Carson's Silent Spring from 1962—one of the greatest science books of all time."—Dr. Joseph Mercola, founder, mercola.com, the most visited natural health site for eighteen years
"Monsanto knew for decades that glyphosate causes cancer and a deadly retinue of other devastating illnesses. Instead of warning its customers and consumers about those risks, Monsanto manipulated the science, defrauded regulators, bribed prominent researchers, transformed the EPA pesticide division into a cesspool of corruption, and promoted propaganda worldwide, systematically lying to the public that the deadly pesticide was safe. This company injured public health, destroyed our soils, exterminated species, wiped out small farmers, and deprived the public of their fundamental civil right of informed consent. Monsanto made a special project of discrediting and destroying scientists, advocates, and reformers who exposed its corrupt cover-up. Among the most prominent of these was heroic MIT researcher Dr. Stephanie Seneff. In 2018, I was fortunate enough to be a part of the legal team that finally brought Monsanto to justice. We relied heavily on Dr. Seneff's research to achieve this victory."—Robert F. Kennedy, Jr.
"Glyphosate (the active ingredient in Roundup) and the other toxic chemicals and GMOs of industrial agriculture are the primary drivers of the chronic disease epidemic that has degenerated public health and the environment. Until we drive these poisons off the market and make the transition to organic and regenerative farming practices, our health, the health of our children, and the health of the planet are at risk. Glyphosate is the DDT of the twenty-first century, and Toxic Legacy is essential reading for everyone who cares about food and health."—Ronnie Cummins, Organic Consumers Association; author of Grassroots Rising
"Seneff takes us on a shocking biochemical journey through the deleterious effects of glyphosate on the environment and humans. The author clearly explains the ever-growing body of scientific evidence of the insidious consequences of its continued, massive application across the world. As Seneff shows, the herbicide is the common denominator to a swath of environmental and human health problems, from obesity to autism to toad die-offs. The herbicide disrupts the uptake of minerals by plants and kills the bacteria, fungi, and other organisms that have symbiotic relationships with plants for mutual health. The direct effect on humans is dire, as glyphosate damages the gut microorganisms our bodies use to synthesize the amino acids that build body proteins. This affects everything from liver and kidney functions to fertility and autoimmunity. Seneff is precise about the biochemistry involved, but she is a genial, attentive guide. "I know this is technical but stay with me," she writes. When she ventures into new, even controversial work, she is diligent in her analysis but candid about such territory: 'I propose . . . ,' 'may be damaging . . . ,' 'Autism is not due to glyphosate exposure alone. . . .' The two most salient—and devastating—points that Seneff highlights: First, glyphosate, which shows up in our soil, water, and even air, is disturbingly pervasive . . . ubiquitous . . . 'nearly impossible for even the most diligent person to avoid.' Second, the agricultural industry, taking a page from the tobacco industry's playbook, does everything it can to hide the dangers: Monsanto and other companies censor research and proliferate junk science, raking in profits by turning a blind eye to the chronic illnesses resulting from glyphosate use. Comparisons will be made to Rachel Carson's Silent Spring—and they should be. We can only hope Seneff's work goes on to rival Carson's in reach and impact."—Kirkus Reviews (starred)
"At last, a scientist with impeccable credentials has painstakingly assembled, categorized, and presented the growing body of evidence that highlights the negative impacts of the most widely used pesticide in the world.
"Stephanie's forensic analysis demonstrates beyond reasonable doubt that the use of Roundup and its active ingredient glyphosate is not only poisoning the planet but also its human population.
"Everyone should read this book. It's about our future health and the health of the planet. What issue could be more important than that? As an organization that has been highlighting these potential harms for more than a decade, The Sustainable Food Trust hopes that this milestone publication gets the publicity it needs and deserves."—Patrick Holden, founder and chief executive, Sustainable Food Trust
"Stephanie Seneff's Toxic Legacy continues on the path laid by Rachel Carson in Silent Spring. Seneff provides the scientific evidence of how, by disrupting our bodies' metabolic pathways, glyphosate is at the root of multiple metabolic, neurological, autoimmune diseases that have taken epidemic form. More significantly, Seneff's book introduces us to the complex, sophisticated, metabolic processes of life, from the soil to our gut microbiome. It is a book for governments who want to ban glyphosate. It is a book for every citizen who seeks to regenerate the health of the planet and people."—Dr. Vandana Shiva, director, Navdanya; coauthor of Oneness vs. the 1%
"There is nothing more important than the health of our current and future generations. There is nothing more costly than jeopardizing the physical and mental health of generations of our populations. Without our health, we cannot effectively combat climate change, homelessness, poverty, racial injustice, addiction, or other daunting issues. This book unlocks why we should and how we can resolve a myriad of skyrocketing health issues plaguing society. If heeded, the result of banning glyphosate would put us in the direction of recovering our health and the future of human life on this planet."—Zen Honeycutt, founding executive director, Moms Across America
"Dr. Stephanie Seneff, established and out-of-the-box critical thinker/researcher, lays down the foundation of our understanding of the toxicity from glyphosate, in a clear and concise format, from the practical to the molecular mechanisms on how glyphosate does harm. Although Dr. Seneff leans heavily on the biochemical basis of glyphosate's modes of action, her information is understandable and carefully cited for the more investigative readers. She carefully describes the blueprint for the myriad of chronic diseases now prevalent globally and how they are created around the ubiquitous glyphosate. Her book is not only an analytic reference treasure, but a call to action to denounce and reverse our self-imposed toxic legacy."—Michelle Perro, MD; coauthor of What's Making our Children Sick?; executive director and cofounder, GMO Science
"While I'd always intuited that glyphosate exposure—with all of its other deleterious effects—is a contributor to the stark rise in autoimmunity, Dr. Seneff presents unequivocal evidence of this truth."—Jill McLaughlin (Grunewald), HNC, FMCHC, bestselling author of The Essential Thyroid Cookbook
"I've long been impressed with Dr. Stephanie Seneff's published work on neurological damage, environmental toxins, and chronic disease. She's a brave and meticulous scientific researcher. She's also one of the smartest people I know."—Paul Thomas, MD, #1 Amazon bestselling author of The Vaccine-Friendly Plan and The Addiction Spectrum
"For the last decade, while 'science' and 'health' journalists were gleefully content to repeat the limited corporate talking points about glyphosate's safety, Dr. Seneff was on the hunt for deeper truths. Toxic Legacy may be one of the most important literary journeys, weaving in a bounty of irrefutable evidence, essential science, and the personal journey of one of the most treasured scientific researchers of our time."—Jefferey Jaxen, investigative health reporter
"Stephanie Seneff is one of the most important, original, and brilliant scientific researchers of our time."—Jennifer Margulis, PhD, award-winning journalist and author
 "Dr. Stephanie Seneff's deep dive into the science of glyphosate helps us as consumers make choices that protect ourselves, our families, and the environment."—Kate Hanley, author of How to Be a Better Person and host, How to Be a Better Person podcast
"Glyphosate has become a bit like sugar, used by everyone for everything, everywhere. It has spread, largely invisibly, across farms and gardens and parks and so, too, into our food, bodies, and lives. This book lays out, in expert technical detail by a scientist with huge and broad knowledge, what this ubiquitous and 'uniquely diabolical' chemical and its formulations could be doing. And how the deeply worrying, chronic consequences this may have for our health are only being recognized—from affecting our critically important gut microbes to causing hormone disruption and DNA damage. It's also an intriguing, if complex, lesson on the dense web of interconnected bodily functions, structures, enzymes, and chemicals. Glyphosate has also allowed a kind of sterilization of farming with even wider consequences for the ecosystems on which we all depend. Dr. Seneff shows clearly how we need to act fast to curb its use and so change our diets, our green spaces, and how we farm."—Vicki Hird, MSc, FRES, food and environmental writer and campaigner; author of Rebugging the Planet 
"I am so thankful for Stephanie Seneff's work, which is invaluable in protecting the health of generations to come. I did a toxin screen on my three children a few years back and found they were all high in glyphosate even though we used organic products for our home and garden and tried our best to eat organic food! Dr. Seneff's work is spreading much-needed awareness so our children and our children's children can grow up less toxic."—Cammy Benton, MD, founder, Benton Integrative Medicine
"It's crucial we all understand the harm environmental toxins are doing to people and the planet. Like Rachel Carson who blew the whistle in her book Silent Spring, Stephanie Seneff is educating us about current poisons. There's no question in my mind that she is the scientist to help us open our eyes."—Vera Sharav, president, Alliance for Human Research Protection and Holocaust survivor
You may also be interested in...
×
Download the Waterstones App
Would you like to proceed to the App store to download the Waterstones App?
Reserve online, pay on collection


Thank you for your reservation
Your order is now being processed and we have sent a confirmation email to you at
When will my order be ready to collect?
Following the initial email, you will be contacted by the shop to confirm that your item is available for collection.
Call us on or send us an email at
Unfortunately there has been a problem with your order
Please try again or alternatively you can contact your chosen shop on or send us an email at