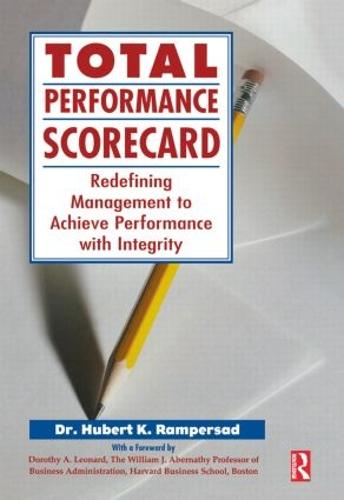 Hardback
354

Pages / Published: 27/05/2003
In the post-Enron climate corporate executives are increasingly pressured to increase productivity and create an ethical, trustworthy organizational climate. 'Total Performance Scorecard' introduces a concept of organizational improvement and change management that combines the Balanced Scorecard model with the learning organization theory.

The TPS contains a personal balanced scorecard, which is tied to an organizational balanced scorecard. These scorecards reflect not only performance goals but personal learning and growth goals as well, and the organizational scorecards also address organizational climate issues. Continuous improvement, change management, 360 degree feedback, and the learning organization are theories that the TPS makes use of in a very straightforward way. If implemented, the TPS enables a company to tie personal goals to organizational goals and tie personal performance to organizational performance, all within a culture that supports integrity, personal growth, learning, and open communication. Nirvana!
Publisher: Taylor & Francis Ltd
ISBN: 9780750677141
Number of pages: 354
Weight: 688 g
Dimensions: 235 x 159 x 20 mm
---
MEDIA REVIEWS
"Hubert Rampersad takes the balanced scorecard and other management ideas and puts them in a framework of personal integrity. By unifying organizational change strategies with individual ethics he has written an outstanding synthesis, which is addressed to the corporate challenges of managing in the 21st century."-Paul Bracken, Professor of Management, Yale School of Management

"This book should be read by anyone interested in affecting organizational improvement and change. By expanding and integrating concepts such as the Balanced Scorecard, Total Quality Management, Performance Management and Competence Management into one overall framework, which he calls the Total Performance Scorecard, Dr. Rampersad gives us a new blueprint for creating a learning organization in which personal and organizational performance and learning mutually reinforce each other." -Cornelis A. de Kluyver, Henry Y. Hwang Dean and Professor of Management, Peter F. Drucker Graduate School of Management, Claremont Graduate University.

"Hubert Rampersad has amassed and synthesized a huge amount of material . . . The book serves as a practical guide, in that there are numerous exercises and business illustrations."-From the Foreword by Dorothy A. Leonard, The William J. Abernathy Professor of Business Administration, Harvard Business School.

"Hubert Rampersad's Total Performance Scorecard is management technology for the enlightened age. Rampersad beautifully explains how anyone can apply principles of motivational alignment and individualistic scorecard techniques to engineer an organization for continuous learning."-Dr. James O'Toole, Massachusetts Institute of Technology

"Total Performance Scorecard is a thorough, systematic, and integrated approach to individual and organization success. It synthesizes and extends personal, leadership, and organization theories of change and success. It offers managers tools to do a complete physical for their organization and it offers individuals an encyclopedia of knowledge about personal success." -Dave Ulrich, Professor of Business, University of Michigan.

"There is often a disconnect between organizational goal-setting and the way individuals establish individual objectives and are reviewed. Total Performance Scorecard fills the gap with a complete system that unites individual and organizational performance scorecards, linking continuous improvement efforts with individual learning and development programs. If you are looking for a comprehensive toolkit for improving results in your company, this is the book to buy." -Philip Anderson, Professor of Entrepreneurship, INSEAD Alumni Fund Chair in Entrepreneurship, Director, 3i Venturelab

"For organizational leaders looking to achieve outstanding results through the Balanced Scorecard, this book by Dr. Hubert Rampersad is essential reading. Through his exceptional framework of the Total Performance Scorecard (TPS), Dr. Rampersad takes the ideas of the Balanced Scorecard to even greater heights. His system creates a completely new vision for bringing individual, team and organizational performance to higher levels, through a comprehensive set of tools that can easily be applied to a broad range of organizational systems. The TPS goes beyond individual behavior to the more challenging goal of measuring and then changing organizational processes that limit and even impede individual performance. In this sense, it goes to the heart of a learning organization in which measuring systems facilitate the personal development of employees.
Peter Senge broke the mindset barrier and showed how systems thinking and system change are essential to support individual development. The strength of TPS, however, is that it measures personal development in the context of organizational development. This highly interactive process creates the foundation for dynamic change where everyone can benefit from constant learning and improvement. Dr. Rampersad's brilliance lies in bringing Peter Senge's ideas of system symbiosis into alignment with ideas of personal ambition, vision and mission. When leaders can accurately measure true performance - low, average or outstanding - it is possible for the ideal to become a reality.
I have often seen situations in which leaders and organizations lower their expectations of performance because they have no way to accurately define what are realistic, attainable levels. TPS is a truly effective system for identifying what is achievable and encouraging people to build on potential. After all, an organization must serve not only its customers but also its own members. Dr. Rampersad also addresses various dilemmas in his book. He discusses independence vs. interdependence in the sense that an organization can only reach its vision when individuals reach their own vision. There are also tools for dealing with other dilemmas such as creativity vs. discipline or fear to act vs. courage to change .On reading Dr. Rampersad's ideas, I was filled with enthusiasm and new insights about how much can actually be measured in the highly interactive relationship between the organization and the individual. This book is an invaluable reference and source of ongoing inspiration for all those who are interested in achieving organizational effectiveness through healthy change. I heartily recommend it".--George A. Kohlrieser, Professor of Leadership & Organizational Behavior IMD, Switzerland

I am amazed with the fact that the Total Performance Scorecard (TPS) concept is spreading like gospel. Dr. Hubert Rampersad's innovative and pragmatic approach to combine organizational and personal performance agendas into one line of thinking helps organizational participants to come up with tangible solutions to current performance and leadership issues.-- Padmakumar Nair, Ph.D., D.Sc., MBA, Organization, Strategy and International Management, School of Management, University of Texas @ Dallas

"The United States Air Force is trying to become more accountable for performance using the Balanced Scorecard method, but I like the way Dr. Hubert Rampersad has tied the BSC to a Personal Balanced Scorecard. It's almost like Kaplan & Norton meet Stephen Covey"- Bob Marx, United States Air Force

"Total Performance Scorecard is a desperately needed direction that management of organizations should adopt. It stresses the importance and need of developing an organizational structure and philosophy that combines the goals and aspirations of the individual with those of the company. It is a melding process, which results in a corporate culture that is both individually and organizationally driven. The concepts embodied in this management concept provide solutions to preserving and utilizing individual rights and capabilities while adjusting the organizational structure and philosophy to this new environment." -Edward H. Barker, Professor at University of LaVerne, CA

"Dr. Rampersad's book is just as timely an exhortation to American business as was In Search of Excellence. In this case, the survival of corporations depends on possessing an integrity that can both fuel their drive for performance and keep it in check. Such integrity cannot be legislated by government or management. Fortunately, Dr. Rampersad's processes bring organizations face-to-face with their own moral fiber (and many other important issues). He couldn't have come along at a better time." -George Cline, MBA, President, VitalConcern, Tampa, FL

"Dr. Rampersad's latest book makes a most useful contribution to the neverending challenge of aligning individual motivations and behaviors with enterprise performance aspirations." -Jon R. Katzenbach, co-author of the international bestseller The Wisdom of Teams and editor of The Work of Teams, a Harvard Business Review compendium

"A tool kit for executives who would aspire to run high performing learning organisations-managing to be at the same time immensely practical, current, ethical and integrated in its coverage of a large and challenging territory." -Professor Nigel Nicholson, Chairman, Organisational Behaviour Subject Area and Director, Centre for Organisational Research, London Business School
You may also be interested in...
Simply reserve online and pay at the counter when you collect. Available in shop from just two hours, subject to availability.
Thank you for your reservation
Your order is now being processed and we have sent a confirmation email to you at
When will my order be ready to collect?
Following the initial email, you will be contacted by the shop to confirm that your item is available for collection.
Call us on or send us an email at
Unfortunately there has been a problem with your order
Please try again or alternatively you can contact your chosen shop on or send us an email at