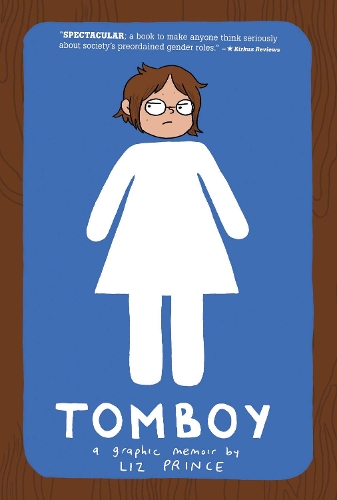 Tomboy: A Graphic Memoir (Paperback)
Liz Prince
(author)
Paperback
256

Pages / Published: 02/09/2014
Growing up, Liz Prince wasn't a girly girl, dressing in pink tutus or playing Pretty Pretty princess like the other girls in her neighborhood. But she wasn't exactly one of the guys either, as she quickly learned when her Little League baseball coach exiled her to the outfield instead of letting her take the pitcher's mound. Liz was somewhere in the middle, and Tomboy is the story of her struggle to find the place where she belonged. Tomboy is a graphic novel about refusing gender boundaries, yet unwittingly embracing gender stereotypes at the same time, and realizing later in life that you can be just as much of a girl in jeans and a T-shirt as you can in a pink tutu. A memoir told anecdotally, Tomboy follows author and zine artist Liz Prince through her early childhood into adulthood and explores her ever-evolving struggles and wishes regarding what it means to "be a girl." From staunchly refuting anything she perceived as being "girly" to the point of misogyny, to discovering through the punk community that your identity is whatever you make of it, regardless of your gender, Tomboy is as much humorous and honest as it is at points uncomfortable and heartbreaking.
Publisher: Orange Avenue Publishing
ISBN: 9781936976553
Number of pages: 256
Weight: 358 g
Dimensions: 210 x 140 x 15 mm
---
MEDIA REVIEWS
"Prince explores what it means to be a tomboy in a magnificently evocative graphic memoir. From the age of 2, Liz knows she hates dresses. As a child, she wears boys clothes and plays with boys. However, as she enters her teen years, things change. Still wishing to dress like a boy and disdainful of all things girly--including the inevitable biology of puberty--she stays true to herself and her identity, but not without struggling to fit into a teenage society that neatly compartmentalizes how boys and girls should act. Liz's troubles are magnified as she navigates the ways of the heart, falling for boys who often pass her over for girls who are more feminine. As she stumbles and bumbles her way to friends who will accept her, she pulls readers along that oh-so-tough and bumpy road of adolescence. Simple, line-based art provides a perfect complement to her keen narration, giving this an indie, intimate feel and leaving readers feeling like they really know her. Liz's story, captured with wry humor and a deft, visceral eye, is a must-read for fans who fell for Raina Telgemeier's work in middle school. Spectacular; a book to make anyone think seriously about society's preordained gender roles."--starred, Kirkus Reviews
--Journal
"Comics creator Prince (Will You Still Love Me If I Wet the Bed?) makes her YA debut with a candid graphic memoir about growing up resisting all forms of girliness. Early on, Liz's family supports her wardrobe choices (blazers and baseball caps) and her interest in Little League; her schoolmates are merely puzzled. When she arrives at middle school, though, the pressure starts to build. Girlfriends whose sexuality is beginning to develop leave her behind or use her as a prop, and boys bully her relentlessly: 'Loser dykes spotted in the wild!' Liz resists becoming a sexual being, and Prince's artwork resists sexuality, too; the cast is a series of endearing, childlike figures (even when they're smoking). A running visual expresses Liz's attempts to negotiate predetermined gender roles by marking out a figure that resists the standard bathroom-door symbols for 'male' and 'female.' Prince's most important revelation--that in dressing like a boy, 'I subscribed to the idea that there was only one form of femininity and that it was inferior to being a man'--gives readers space to question their own acquiescence to gender stereotypes."--Publishers Weekly
--Journal
"Prince knew from an early age that she was not a typical girl. The only pictures of her in a dress were from when she was a baby and could not protest. She hates dresses and all things 'girly.' Fortunately, she had supportive parents who did not force her into traditional gender roles and who let her wear the kinds of clothing she wanted. Most of Prince's friends were boys, and her fantasies and playtime were devoted to being a hero, not a princess. Her wardrobe choices made her the target of ridicule and bullying in Boston and in Santa Fe, where her family moved when she was in early elementary school. In their first neighborhood, most of her friends were boys, but she found some girlfriends after the family moved. It was the first time she found girls with similar interests in comics and Ghostbusters, and it was also when she realized that she did not want to be a boy but, rather, wanted the freedom that came with being one. Meeting a good friend of her mother's, who encouraged her talent and interest in comics, and transferring to a very small, highly experimental high school helped her become comfortable with her choice as a tomboy. Purchase where graphic novel memoirs are in demand."--School Library Journal
--Journal
"Is there any grade-school struggle more defining than the desire to fit in? In her first full-length graphic novel, award-winning comics artist Prince tells the story of her lifelong battle with gender stereotypes through the lens of her tomboy childhood, marked by a preference for male role models, slouchy oversize clothes, and some serious bullying. As a kid, Prince chafed at femininity--'Given the chance, I'd much rather wield a sword than wear a tiara'--but her offbeat choices made it hard for her to find friends or a boyfriend. She starts to believe that her disinterest in being girly is what makes her unlikable, and soon she feels embarrassed by being a girl altogether. Luckily, she eventually finds a group of people who appreciate her differences and don't expect her to act a particular way just because she is a girl. Prince's tongue-in-cheek black-and-white line drawings, in a charming style reminiscent of Jeffrey Brown's autobiographical comics, pack a punch in this empowering memoir that should have ample appeal for any kid who feels like an outsider."--Booklist
--Journal
"'When you don't look or act like what everyone has been told is the norm, you get proverbially barfed on a lot.' In an often funny, sometimes painful, and sharply observed graphic memoir, comics artist and self-described tomboy Prince views her formative years through the lens of gender--or rather, society's rigid rules for gender conformity. Chronicling the evolution of her thoughts about her own identity--'Maybe I am a boy . . .'-- Prince examines deeply ingrained cultural assumptions about the sexes. The narrative takes a satisfying shape, and Prince's honest voice and self-deprecating humor help make young Liz a sympathetic and relatable character. The simply rendered black-and-white panel drawings have an unpretentious quality, in keeping with the narrative tone. Prince's childhood and adolescent trials and tribulations will resonate with readers in general, but it's all compounded by her unwavering gender nonconformity. She's frequently humiliated and even bullied in elementary and middle school, but she comes through the tumult of puberty to find a community of like- and open-minded 'misfits' and 'dweebs' in high school (including a boyfriend) who share her interests in comics, punk music, and zines. More importantly, she discovers that tomboy and girl don't have to be mutually exclusive."--The Horn Book Magazine
--Journal
"A real slash and burn of gender stereotypes, this title delivers a unique message for both teens and adults about finding your own way despite cultural conventions. Fans of Jeffrey Brown's autobiographical comics will also enjoy it."--Library Journal
--Journal
You may also be interested in...
"Prince turns her unique humour to being a tom-boy in a girl's world"
I must admit Liz Prince is growing on me more and more, she seems to have a direct line to my brain and is able to straighten out the mess that's in there in a coherent and humorous fashion. This time she deals... More
Simply reserve online and pay at the counter when you collect. Available in shop from just two hours, subject to availability.
Thank you for your reservation
Your order is now being processed and we have sent a confirmation email to you at
When will my order be ready to collect?
Following the initial email, you will be contacted by the shop to confirm that your item is available for collection.
Call us on or send us an email at
Unfortunately there has been a problem with your order
Please try again or alternatively you can contact your chosen shop on or send us an email at