We regret that due to the technical limitations of our site, we are unable to offer eBooks or Audio Downloads to customers outside of the UK.
For further details please read our eBooks help.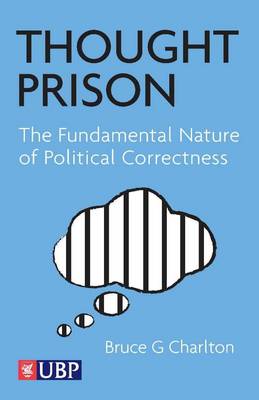 Thought Prison: The Fundamental Nature of Political Correctness (Paperback)
Bruce Charlton
Paperback
Published: 17/10/2011
Thought Prison explores the ramifications of political correctness on language, and thus thought; its casual denial of logic and insidious reach into the realms of science and learning; its total saturation of its twin supports, the mass media and ruling elites. Once the collectively self-imposed blinkers, of good causes and good intentions, are stripped away we can see the nanny state and moral universe beyond for what it is a catastrophic delusion that is destroying the world we know. Most of us think of political correctness in terms of its scope for irony. It provides opportunity to protect us from a vaguely troubling acceptance of an enforced orthodoxy. We are familiar with the no-go areas defined by PC taboos race, sex (or to be PC, gender), ethnicity, sexual preference, disability, class and indeed of it being an engineered term to suit political and scientific argument. What we may be less able to accept is that PC is something in which we are all complicit. Thought Prison examines the way we are now, and how the Western world has come to be that way. It reveals an Orwellian dystopia that instead of being characterized by a crude authoritarian elite, is supported and driven by an irrational yet equally totalitarian and all-pervasive status quo of our own making, dominating politics, economics, public administration, law, education, the military, health services our very selves.REVIEWS "Employing an aphoristic, almost Nietzschean, style of prose, Charlton issues a jeremiad against "political correctness," which he identifies as a product of the left (whether socialists, communists, liberals, etc.) but as also currently infecting the center and the right, perpetuated by the mass media and an intellectual elite and representing a "triumph of the left" that threatens to > unravel modernity itself. It's unfortunately not entirely clear just exactly what he means by "political correctness." It is, at various times: a form of nihilism, a defense of pure pleasure-seeking, an irrational denial of reality (for example, of the assumed fact that the military is for men and care of young children is for women), or an attempt to privilege some groups over other groups, to cite a few examples. Previously unavailable in the US."Protoview (previously known as Book News)"
Publisher: The University of Buckingham Press
ISBN: 9780956395245
You may also be interested in...
We would love to hear what you think of Waterstones. Why not review Waterstones on Trustpilot?