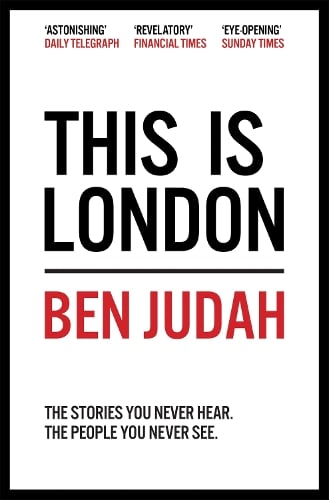 This is London: Life and Death in the World City (Paperback)
Ben Judah
(author)
Paperback
352

Pages
Published: 11/08/2016
I was born in London, but I no longer recognise this city. I don't know if I love the new London or if it frightens me: a city where at least 55 per cent of people are not ethnically white British, nearly 40 per cent were born abroad and 5 per cent are living illegally in the shadows. I have no idea who these new Londoners are. Or even what their London really is.
Noël Coward once wrote of London 'the higher the buildings the lower the morals' and Ben Judah too finds a contemporary London reveals something of the same, writing that 'English currency of status in this city is Victorian brick'.
As prices rocket and the stark gap between rich and poor widens, the heart of the city becomes ever more fractured.
So Ben Judah undertakes a journey to find the alternative accounts of London, stepping beyond the statistics of wealth and poverty to speak to the people who live in the city; those who were born there, those passing through and those who are trying to make it their home.
This is London in the eyes of its beggars, bankers, coppers, gangsters, carers, witch-doctors and sex workers. This is London in the voices of Arabs, Afghans, Nigerians, Poles, Romanians and Russians.
This is London as you've never seen it before.
'Judah grabs hold of London and shakes out its secrets' - The Economist
'An eye-opening investigation into the hidden immigrant life of the city' - Sunday Times
'Full of nuggets of unexpected information about the lives of others ...It recalls the journalism of Orwell' - Financial Times
Publisher: Pan Macmillan
ISBN: 9781447276272
Number of pages: 352
Weight: 351 g
Dimensions: 197 x 130 x 28 mm
---
MEDIA REVIEWS
It is hard to overstate the value of what Judah has done . . .
This is London
is an important and impressive book * Sunday Telegraph *
A revelatory work, full of nuggets of unexpected information about the lives of others . . . [Judah] is a fine, intrepid reporter * Financial Times *
Judah has succeeded in opening reader's eyes to the hardships experienced by many and ignored by most * Independent *
This is of my favourite books on London, largely because of the quality of the writing - such sass, such soaring confidence and style . . . Judah listens and observes with acute loyalty to depicting truth, so that no matter who's talking, the dialogue seems brilliantly accurate. Well researched, it covers all corners of London in forensic detail -- Diana Evans, author of
Ordinary People
An epic account of London as a place where global migrants come to scratch a subsistence living or, occasionally, spend a shady fortune. We are far, far beyond the Windrush generation here. Arabs, Afghans, Nigerians, Poles, Romanians and Russians pour out their stories - often terrifying, mostly sad, occasionally funny - while Judah writes it all down in compulsive, shocking detail. We're back in Mayhew's London, but now watercress sellers and mudlarks have been replaced by sleepy Africans catching the early morning night bus to their office cleaning jobs four zones over on the other side of town. * Guardian, included in the ten best non-fiction books about London feature *
Work of this sort really is necessary; this is the stuff we must think about it we are ever to get to grips (assuming it's not too late already) with what lies ahead for our cities. Every MP should be given a copy immediately. On every page lies and uncomfortable truth, in every paragraph sheer horror. It is a book that demonstrably improves the eyesight. Read it, and the streets will look different: I guarantee it. Above all, more than I can possibly say, I admired its author's pluck, determination, compassion and refusal to judge - and I'd like him to know that some of the stories he told will haunt me for a long time to come -- Rachel Cooke * New Statesman *
However well you think you know the city, you'll see it afresh after reading this immersive account by Judah . . . by turns heartbreaking and heartening, and sometimes both in the space of a page. It's a fizzing, buzzing, choral
account of the 21st-century capital
* Daily Telegraph *
This truly extraordinary book is as raw, powerful, unflinching, witty, engaging, shocking, in-your-face and occasionally both heartwarming and heartbreaking as the great but complex and flawed city it chronicles. I've lived in London for three decades yet found something I didn't know about it on virtually every page -- Andrew Roberts, author of
Napoleon the Great
An eye-opening investigation into the hidden immigrant life of the city . . . You won't read a more succinct analysis * Sunday Times *
Having spent the last year meeting people along several of the world's busiest migration trails, it is fascinating to read Ben Judah's powerful account of where some of them end up. Judah has created an alternative and essential guide to London, and Londoners, in 2015.' -- Patrick Kingsley * Guardian *
Mesmerising, trenchant and deeply compassionate -- Book of the Month * Bookseller *
A vital, almost overwhelming panorama of brutality and injustice * Metro *
Ben Judah offers no answers; but bears witness. He reports the stories of London's immigrants with a smart mind, a light touch and a brave and compassionate heart. These statements deserve to be heard.
This is London
is an important, state of the nation, eye-opening report from our increasingly ghettoized capital city -- Dan Boothby, author of
Island of DreamsThis Is London
is an exhilarating account of the British capital . . . His writing is visceral, and at its best echoes the immersive style of the great Polish reporter and author Ryszard Kapuscinski . . . He treats his subjects with great sensitivity . . . an important, unflinching piece of reportage. Judah digs deep into parts of London that a less adventurous journalist would avoid, unearthing some of the many tragic narratives shaping a city at the turbulent forefront of globalisation * The National (Scotland) *
[Judah travels through the city, coaxing astonishing interviews from a wide range of migrants . . . He captures the different voices with great skill . . . His observations are acute . . . His interviews are always psychologically telling . . . Most remarkable is Judah's obvious compassion, to which his subjects respond, opening their hearts and letting their voices "tumble" into his tape recorder . . . London emerges from this book as a disturbing, dramatically changing city . . . It is an extraordinary portrait of a city and a rare treat to come across a book in which the ideas are as compelling and fresh as the writing.
This is London
is a game changer. No longer can we stroll past villages of sleeping Roma and pretend they do not exist. This is London today and Ben Judah is its chronicler * Literary Review *
Amazing -- Peter Pomerantsev
A chronicle of the capital so incisively up-to-date it is disconcerting, invigorating, and depressing all at once . . . Judah allows the new Londoners to speak for themselves and, in so doing, shines a light on the dark corners of the city -- Lilian Pizzichini * Mail on Sunday *
Judah is brilliant at winning the confidence of London's immigrant poor and encouraging them to talk . . . In terms of getting under the skin of a small part of England, Judah has written the most impressive book since Nick Davies'
Dark Heart
. . . Work like this is vital in reminding the middle classes that poverty - the filthy and beggarly poverty of soul-destroying drudgery and an empty stomach - is more than a set of figures in the negative column of the UK PLC balance sheet. It is an ineradicable feature of the economic system on which much of the middle classes' own prosperity depends * Little Atoms *
Compassionate, fresh and courageous * Spectator *
Judah grabs hold of London and shakes out its secrets. He has a gift for ingratiating himself into very foreign surroundings and teasing out stories. . .Judah has done an important service in capturing the voices of those swept to the margins by economic forces beyond their control * Economist *
A wonderfully-written, fascinating account of modern-day life, offering a glimpse of the world from those arriving in the city hoping for a better life. . .an important, detailed read on the stories of those often unheard -- Simon Peach * Press Association *
Astonishing. . .Judah has travelled the length and breadth of the city, talking to and empathising with those too often airbrushed from the picture. . .As a former foreign correspondent, Judah is the ideal guide to this new landscape. . .important and impressive * Sunday Telegraph *
People say Ben Judah is Orwellian. They're Right. . . . He's a superb reporter. -- William Leith * Evening Standard *
This is an important book - one that should open our eyes to the price others often pay for our comfort. * Daily Telegraph *
The lower depths of London today are brilliantly eviscerated in Ben Judah's
This Is London
, an Orwell for our grim times. -- Roy Foster * Times Literary Supplement - Books of the Year 2017 *
Brilliant -- Hanif Kureishi, author of
The Buddha of Suburbia
You may also be interested in...
×
Download the Waterstones App
Would you like to proceed to the App store to download the Waterstones App?
Reserve online, pay on collection


Thank you for your reservation
Your order is now being processed and we have sent a confirmation email to you at
When will my order be ready to collect?
Following the initial email, you will be contacted by the shop to confirm that your item is available for collection.
Call us on or send us an email at
Unfortunately there has been a problem with your order
Please try again or alternatively you can contact your chosen shop on or send us an email at