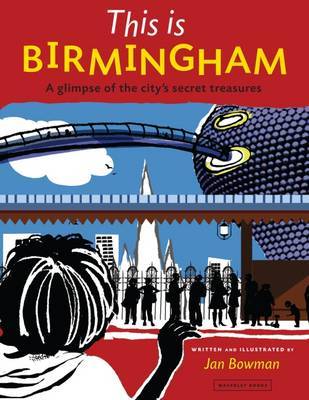 This is Birmingham: A Glimpse of the City's Secret Treasures (Paperback)
Jan Bowman
(author,illustrator)
Paperback
64

Pages
Published: 10/12/2009
"This is Birmingham: A glimpse of the city's secret treasures".
Publisher: The Gresham Publishing Co. Ltd
ISBN: 9781902407937
Number of pages: 64
Weight: 140 g
Dimensions: 282 x 219 x 8 mm
---
MEDIA REVIEWS
' This is Birmingham is a book very much continuing that tradition of imaginative non-fiction at its best. Stunningly illustrated it brings to glorious life the sights and sounds of Brum. But the real genius is that it sneaks in some hardcore social and political history, starting with Birmingham's Lunar Society and broadening out into the American, French and industrial revolutions, taking in immigration and urban development along the way. And the whole thing' reads like an adventure through time and place.' Shirley Dent, The Guardian.co.uk 'It's 20 years since I put all my worldly goods into a van and left for pastures new. Perhaps it's time for me, like a lot of Brummies, to rediscover our city.' www.spiked-online.com 'As Bowman herself tells the young reader, the biggest secret of all is that Birmingham created the modern world. And then forgot. We should be putting this right and rediscovering the promise of 'this' Birmingham, and inspiring younger generations to shape their city and their world in the inquiring and industrious spirit of the Lunar men before them.' www.culturewars.org.uk It's well worth visiting Jan Bowman's website for a glance at some more of the pics. The book's aimed at those of us who are aged 8+ and it's only GBP6.99 on Amazon at the moment.A" Created in Birmingham.com ' Jan's book is a deceptively simple yet beautifully illustrated journey along the canals and through the back alleys of Birmingham's rich history. From the enlightenment through to the industrial revolution ably guided via the lunatics without whom this dynamic cultural melting pot we brummies call home would be a very different place, and its that sense of home that makes us brummies what we are, happy deep within the heart of England, inspired by our city full of secrets. This book will be top of my list for not only children this christmas but also for the grown up kids still playing hide and seek in those back alleys. Brian Travers UB40. Birmingham September 26th 2009 Drawing on History from BIRMINGHAM LIFE Birmingham today boasts shiny retail, leisure and lifestyle attractions, so it's all too easy to forget its industrial, slightly sooty past, created thanks to the likes of the free-thinking and progressive minds of members of the 18th Century Lunar Society. Inventors, engineers and scientists, counting amongst them Erasmus Darwin, the entrepreneur Matthew Boulton, James Watt, Joseph Priestley and more, it was on account of their questioning, experimenting and lively debates that the Industrial Revolution came about, transforming Birmingham from, in Jan Bowman's words: This grotty little hamlet in the mud at the bottom of Digbeth!A" Her illustrated book, due to be published by Geddes and Grosset/Waverley Books (in the autumn), while opening and closing depicting the colourful, multi-cultural, and dynamic city that Birmingham is today, tells of its industrial development and then gradual urban planning, all through the use of rhyme and illustration. Jan has lived in Birmingham, on and off, for nearly 20 years, but it wasn't until she returned after a two-year spell in London to retrain as an illustrator that she noticed how much the city had improved. The Bullring had been built and it was a vast improvement, and I suddenly got inspired to draw pictures of the city. I never would have thought Birmingham would be inspiring,A" explains Jan, as we sit in the 'creative space' in her home on the border of Moseley and Balsall Heath. Emigrating from Edinburgh to Canada when she was 10, Jan originally studied architecture at the Mackintosh School of Architecture in Glasgow. There followed jobs both in Canada and Britain in architecture, design and graphics before she decided on a career change to illustration, to pursue her love of drawing. Jan creates her images from initial hand sketches, which are then developed into digital images using a Wacom Pen. Her drawings 'aim to capture the best aspects of 21st Century civilisation' including people, cities and food. She agrees that her training as an architect has influenced the way she does her illustrations. I think it's made me not afraid of drawing buildings. I have a friend who trained as a chef and as he says 'training doesn't make you a good cook, but if someone gave you a whole bull to cook you wouldn't be afraid of the bull'. I love drawing buildings and environments and then putting people in to inhabit them. To have people in it makes a picture come alive.A" Jan's projects in the past have included work for corporate clients such as the BBC, Waitrose and designing animations for International law firms, so the book was a bit of a departure from the norm. But aimed at children aged from 10 to 14 years, her plans have met with approval from the decision makers at the Children's Library and Schools Library Service. They all really loved it, which was really nice and thought I should publish it,A" she adds. Jan was inspired by the 'This Is - ' series of illustrated children's books by the Czech illustrator and author, Miroslav Sasek, which introduced its young readers to cities such as New York, Paris or Rome by depicting the landmarks and places of interest. I was really struck by how he had all these wonderful things in his book that I was struck by the first time as a tourist to New York, like the UN building and the height of things and water tanks on the rooftops, and I thought that was what Birmingham needs,A" notes Jan. Then when I started doing some research I found out about this wonderful connection of the city with the Lunar Society and so it turned more into a history book, showing the Industrial Revolution and how forward thinking Birmingham people were and how the city was built by immigration. In the days of the Lunar Society there was a lot of optimism and inspiration. I didn't know what to do so I just started to write and it came out as a rhyme,A" she explains. I wrote the text and started doing pictures and it sort of fell together.A" There are obvious and less obvious areas and pockets of the city that Jan has illustrated, from Chamberlain Square, to Ladypool Road and Lancaster Circus ( the most underrated pedestrian underpass in Birmingham.A"). And she's also received suggestions of other places she should draw from numerous quarters. There are some great parks and beautiful bits of Birmingham, parts that nobody knows about and aren't in the brochures. Whenever I talk to Birmingham people they will give me ideas out of the blue. For instance, I had a plumber around the other week who lives up in Sutton and said I should go and draw Sutton Park and this skate park there with all of this graffiti. A woman in the hairdressers said to me 'you should go to Star City because the lights from the motorway when you go past at night are really beautiful'. It seems to bring out nice ideas from people.A" Jan is finding there is an endless stream of inspiration and there is never a time when she's not looking around her with an illustrator's eye. She's already got further projects in the pipeline including a possible series of books on other cities, following on from Birmingham, as well as a set of postcards of undiscovered Birmingham for visitors. The nice thing about being an illustrator is it doesn't feel like work. You've got to be working all of the time and be a bit obsessed by it and really enjoy doing it. If I haven't got a paid commission I just draw pictures. I find my city very inspiring. Picasso said: 'painting is just another way of keeping a diary', and if you look at the work of old masters, they spent their spare time just drawing their friends and it's completely legitimate. So I draw on travels and of nice places I've stayed. You can take drawing anywhere, so it's a bit like a gift really. You can sit anywhere and draw and people are interested in what you are doing.A" To see more of Jan's work or to order a print of one of her pictures visit www.janbow.com or call her on 0794 096 4814. To read more interviews visit our website www.birminghamlifemagazine.co.uk
You may also be interested in...
×
Download the Waterstones App
Would you like to proceed to the App store to download the Waterstones App?
Reserve online, pay on collection


Thank you for your reservation
Your order is now being processed and we have sent a confirmation email to you at
When will my order be ready to collect?
Following the initial email, you will be contacted by the shop to confirm that your item is available for collection.
Call us on or send us an email at
Unfortunately there has been a problem with your order
Please try again or alternatively you can contact your chosen shop on or send us an email at