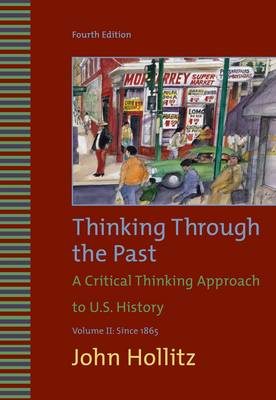 Thinking Through the Past: v. 2 (Paperback)
John Hollitz
(author)
Paperback
400

Pages / Published: 07/06/2009
The latest book from Cengage Learning on Thinking Through the Past, Volume II
Publisher: Cengage Learning, Inc
ISBN: 9780495799924
Number of pages: 400
Weight: 499 g
Dimensions: 162 x 232 x 14 mm
Edition: 4th edition
---
MEDIA REVIEWS
Each chapter begins with Setting and Investigation sections and ends with Conclusion, Further Reading, and Notes. 1. HISTORIANS AND TEXTBOOKS: THE "STORY" OF RECONSTRUCTION. Sources: Reconstruction (1906). The Negro in Reconstruction (1922). The Ordeal of Reconstruction (1966). Reconstruction: An Unfinished Revolution (2001). 2. USING PRIMARY SOURCES: INDUSTRIALIZATION AND THE CONDITION OF LABOR. Sources: Testimony of Workingmen (1879). "Earnings, Expenses and Conditions of Workingmen and Their Families" (1884). "Human Power...Is What We Are Losing" (1910). Why We Struck at Pullman (1895). Colored Workmen and a Strike (1887). "I Struck Because I Had To" (1902). Women Make Demands (1869). Summary of Conditions Among Women Workers Found by the Massachusetts Bureau of Labor (1887). A Union Official Discusses the Impact of Women Workers (1897). Work in a Garment Factory (1902). Gainful Workers by Age, 1870-1920 Breaker Boys (1906). Night Shift in a Glass Factory (1906). 3. EVALUATING PRIMARY SOURCES: "SAVING" THE INDIANS IN THE LATE NINETEENTH CENTURY. Sources: "Land and Law as Agents in Educating Indians" (1885). The Dawes Act (1887). A Cheyenne Tells His Son About the Land (1876). Cheyennes Try Farming (ca. 1877). A Sioux Recalls Severalty (ca. 1900). Supervised Indian Land Holdings by State, 1881-1933. A Proposal for Indian Education (1888). Instructions to Indian Agents and Superintendents of Indian Schools (1889). The Education of Indian Students at Carlisle (1891). Luther Standing Bear Recalls Carlisle (1933). Wohaw's Self-Portrait (1877). Taking an Indian Child to School (1891). A Crow Medicine Woman on Teaching the Young (1932). Percentage of Population Over Ten Illiterate, 1900-1930. 4. EVALUATING A HISTORICAL ARGUMENT: AMERICAN MANHOOD AND PHILIPPINE ANNEXATION. Secondary Sources: Male Degeneracy and the Allure of the Philippines (1998). Primary Sources: "Recommended by Hoar" (1899). "The Anti-Expansion Ticket for 1900" (1899). "The White Man's Burden" (1899). "The Filipino's First Bath" (1899). "The Strenuous Life" (1899). William McKinley on Annexation (1899). "In Support of an American Empire" (1900). Selection from the Treaty Debate (1899). Value of Manufactured Exports, 1866-1900. Value of U.S. Exports by Country of Destination, 1866-1900. 5. THE PROBLEMS OF HISTORICAL MOTIVATION: THE BUNGALOW AND THE "PROGRESSIVE HOUSE." Secondary Source: The Progressive Housewife and the Bungalow (1981). Primary Sources: A Victorian House (1881). A Craftsman Cottage (1909). The Craftsman Contrasts Complexity and Confusion with Cohesion and Harmony (1907). Gustav Stickley on the Craftsman Home (1909). Edward Bok on Simplicity (1900). Cover from The Bungalow Magazine (1909). Putting the American Woman and Her Home on a Business Basis (1914). The Efficient and Inefficient Kitchen (1920). Domestic Economy (1904). Double Bungalow Plan, Bowen Court. Average Daily Servants' Wage Rates, Chicago, 1890-1910. Female Servants by Regions, per 1,000 Families, 1880-1920. Clerical Workers in the United States, by Sex, 1870-1920. 6. IDEOLOGY AND HISTORY: ADVERTISING IN THE 1920's. Secondary Source: Advertising the American Dream. Primary Sources: "The Poor Little Bride of 1865" (1920). Listerine Advertisement (1923). Kotex Advertisement (1927). General Motors Advertisement (1928). Calvin Coolidge on the Economic Aspects of Advertising (1926). Business the Civilizer (1926). Walter Dill Scott on Effective Advertisements (1928). Advertising to Women (1928). 7. HISTORY "FROM THE TOP DOWN": ELEANOR ROOSEVELT, FIRST LADY. Secondary Source: Eleanor Roosevelt as First Lady (1966). Primary Sources: Letter to Lorena Hickok (1933). Transcripts of Eleanor Roosevelt's Press Conferences (1933-1938). "The Negro and Social Change" (1936). Letter to Her Daughter (1937). This I Remember (1949). Letter from Barry Bingham to Marvin McIntyre (1934). Excerpts from Letters to Franklin Roosevelt (1935). It's Up to the Women (1933). News Item, "Definition of Feminism" (1935). News Item, "Opposes Amendment" (1938). 8. HISTORY "FROM THE BOTTOM UP": THE DETROIT RACE RIOT OF 1943. Secondary Source: The Detroit Rioters of 1943. Primary Sources: A Handbill for White Resistance (1942). Black Employment in Selected Detroit Companies, 1941. An Explanation for Strikes (1943). Black Workers Protest Against Chrysler (1943). A Complaint About the Police (1939). Changes in White and Black Death Rates, 1910-1940. A Profile of the Detroit Rioters. 9 POPULAR CULTURE AS HISTORY: THE COLD WAR COMES HOME. Secondary Source: The Culture of the Cold War (1991). Primary Sources: Advertisement for Runaway Daughter (1953). Promotional Material for Walk East on Beacon (1952). A Game Show Producer Remembers the Red Scare (1995). A Playwright Recalls the Red Scare (1995). The Hammer Song (1949). A Folk Singer Remembers the Early 'Fifties (1995). Pogo (1952). On the Road (1957). 10. HISTORY AND POPULAR MEMORY: THE CIVIL RIGHTS MOVEMENT. Secondary Source: I've Got the Light of Freedom (1995). Primary Sources: A SNCC Founder Discusses Its Goals (1966). A Mississippi Civil Rights Pioneer Bids Farewell to the "N-Double-A" (ca. 1975). Chronology of Violence, 1961. A Sharecropper's Daughter Responds to the Voter Registration Campaign (ca. 1975). A Black Activist Endorses White Participation (ca. 1975). A SNCC Organizer Recalls Federal Intervention (ca. 1975). A Letter from a Freedom Summer Volunteer (1964). "Deeper Than Politics: The Mississippi Freedom Schools" (1964). An "Insider" Recalls the Divisions in SNCC (1966). Fannie Lou Hamer on the Lessons of 1964 (1967). "What We Want" (1966). 11. CAUSATION AND THE LESSONS OF HISTORY: EXPLAINING AMERICA'S LONGEST WAR. Secondary Sources: Fighting in "Cold Blood": LBJ's Conduct of Limited War in Vietnam (1994). God's Country and American Know-How (1986). Primary Sources: LBJ Expresses Doubts about Vietnam (1965). LBJ Recalls His Decision to Escalate (1971). The Central Intelligence Agency Reports on the War (1967). McNamara Recalls the Decision to Escalate (1995). Fighting a Technological War of Attrition (1977). A Medical Corpsman Recalls the Vietnamese People (1981). A Marine Remembers His Shock (1987). A Foreign Service Officer Acknowledges American Ignorance (1987). 12. GENDER, IDEOLOGY, AND HISTORICAL CHANGE: EXPLAINING THE WOMEN'S MOVEMENT. Secondary Sources: Cold War Ideology and the Rise of Feminism (1988). Women's Liberation and Sixties Radicalism (2002). Primary Sources: The Problem That Has No Name (1963). Civil Rights and the Rise of Feminism (1987). NOW's Statement of Purpose (1966). Redstockings Manifesto (1969). "What's Wrong with 'Equal Rights' for Women?" (1972). Latinas and the Women's Movement (1976). The Combahee River Statement (1986). On Women and Sex (1972). Our Bodies, Ourselves (1973). The Politics of Housework (ca. 1970). Sex Ratios of High School and College Graduates in the United States, 1940-1990. Women's Labor Force Participation, by Marital Status, 1940-1990. 13. WHY HISTORICAL INTERPRETATION MATTERS: THE BATTLE OVER IMMIGRATION. Secondary Sources: Unguarded Gates (2004). Immigrant America (2006). Primary Sources: "Illegal Immigrants: The U.S. May Gain More Than It Loses" (1884). Immigration as a Threat to Social Cohesion (1985). "Don't Give Me Your Tired, Your Poor" (1994). Undocumented Workers as International Workers (1997). "The Secret of Success" (2002). Two Illegal Immigrants' American Dream (1988). A Cambodian Immigrant's American Dream (1988). A Chinese Immigrant Battles Jessica McClintock (1993). An Illegal Immigrant Contemplates Citizenship (2004).
You may also be interested in...
×
Download the Waterstones App
Would you like to proceed to the App store to download the Waterstones App?
Reserve online, pay on collection


Thank you for your reservation
Your order is now being processed and we have sent a confirmation email to you at
When will my order be ready to collect?
Following the initial email, you will be contacted by the shop to confirm that your item is available for collection.
Call us on or send us an email at
Unfortunately there has been a problem with your order
Please try again or alternatively you can contact your chosen shop on or send us an email at