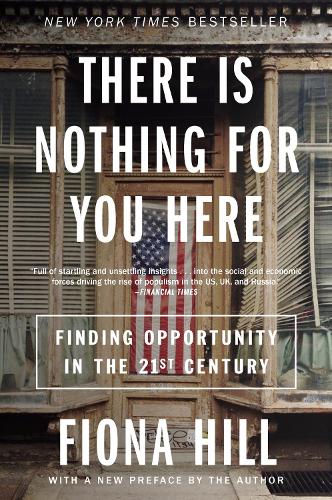 There Is Nothing for You Here: Finding Opportunity in the Twenty-First Century (Paperback)
Fiona Hill
(author)
Paperback
448

Pages
Published: 11/05/2023
"This book has a miraculous quality.... As a memoir this is hard to put down; if you are seeking a better American future you should pick it up."-Timothy Snyder, New York Times best-selling author of On Tyranny
INSTANT NEW YORK TIMES BESTSELLER | A celebrated foreign policy expert and key impeachment witness reveals how declining opportunity has set America on the grim path of modern Russia-and draws on her personal journey out of poverty, as well as her unique perspectives as an historian and policy maker, to show how we can return hope to our forgotten places.
Fiona Hill grew up in a world of terminal decay. The last of the local mines had closed, businesses were shuttering, and despair was etched in the faces around her. Her father urged her to get out of their blighted corner of northern England: "There is nothing for you here, pet," he said.
The coal-miner's daughter managed to go further than he ever could have dreamed. She studied in Moscow and at Harvard, became an American citizen, and served three U.S. Presidents. But in the heartlands of both Russia and the United States, she saw troubling reflections of her hometown and similar populist impulses. By the time she offered her brave testimony in the first impeachment inquiry of President Trump, Hill knew that the desperation of forgotten people was driving American politics over the brink-and that we were running out of time to save ourselves from Russia's fate. In this powerful, deeply personal account, she shares what she has learned, and shows why expanding opportunity is the only long-term hope for our democracy.
"Of every book written by anybody associated with the Trump administration, in any way, [this] is absolutely the one to read."-Rachel Maddow
A New York Times Bestseller | A Washington Post Bestseller | A Washington Post Notable Book of the Year | A Financial Times Best Book of the Year
Publisher: HarperCollins Publishers Inc
ISBN: 9780063269088
Number of pages: 448
Weight: 325 g
Dimensions: 203 x 135 x 26 mm
---
MEDIA REVIEWS
"No one in the West understands Russia's strategic thinking, Vladimir Putin's strategic ambitions, as well as [Fiona] Hill." - Ezra Klein, The Ezra Klein Show "The rare Trump insider memoir that doesn't obsess over Trump . . . As it turns out, we should have paid more attention to Hill's life story. Though her book does feature first-person accounts of Trump and his inner circle, There Is Nothing for You Here is a more ambitious and personal effort." - Washington Post "Riveting...compelling...Hill deftly combines three books into one to great effect...This is not a kiss-and-tell account, but what she does relate of her interactions with the president is in every case worth telling." - Foreign Affairs "Hill is a lucid writer, delivering her reminiscences in a vivid and wry style. . . . with immediacy, tenderness and a good bit of gallows humor." - New York Times "Thoughtful...compelling....While other Trump-era memoirs have focused solely on the carnival, Hill's scope pans out to the wounded country that put him in office, and then wider still, across the Atlantic to Britain and then across Europe to Russia." - The Guardian "Full of startling and unsettling insights into how Trump dealt with foreign leaders and his 'autocrat envy.' Hill's book is also a compelling memoir about her journey from a working-class background in northern England to the corridors of power in Washington. Her background gives her particular insight into the social and economic forces driving the rise of populism in the US, UK and Russia." - Gideon Rachman, "Best books of 2021," Financial Times "The alarm [Hill] sounds is urgent . . . She sees striking similarities between the impoverished region of her roots and disadvantaged areas of both America and Russia. . . . Her journey from disadvantaged origins to success has echoes of the bestselling tales of Tara Westover's Educated and J.D. Vance's Hillbilly Elegy." - The Economist "This book has a miraculous quality. Fiona Hill has transformed her own predicaments in the Trump administration into a prescription for a better America. Known as an outstanding expert on Russia and an exemplary public servant, she reveals herself here as a wise observer and a beautiful writer. As a memoir this is hard to put down; if you are seeking a better American future you should pick it up." - Timothy Snyder, Yale University, New York Times best-selling author of On Tyranny: Twenty Lessons from the Twentieth Century "[An] ambitious, immensely compelling memoir, Hill interweaves her interesting life story with events and issues she has continued to observe during her career . . . The author persuasively argues that America may be heading in a similar direction to Russia unless we address the crucial challenges facing much of the country, specifically regarding education, health care, and job opportunities. Drawing insightful parallels between Trump and Putin, she unpacks how the threat of populism can quickly undermine democracy . . . A shrewd, absorbing memoir that casts a sharp eye on America's future while offering feasible solutions for change." - Kirkus Reviews (starred review) "Valuable and riveting . . . Hill's personal, professional and political lives form a coherent whole so that each part illuminates the other . . . a memoir that will give pleasure to readers today - and will be an important document for historians of the future." - Financial Times "In this captivating chronicle of her improbable life, Fiona Hill takes us from a Northern England of idled coal mines and deindustrialization to Trump's Oval Office, demonstrating how individual biography can illuminate far broader issues of world affairs. Her book represents a stern and essential warning about the global threats to democracy and their root causes in a worldwide crisis of opportunity." - Drew Gilpin Faust, President Emerita and Arthur Kingsley Porter University Professor, Harvard University "A story told with self-deprecating humor and kindness . . . Unlike other tell-all authors from the Trump administration, [Hill] isn't obsessed with the scandalous. Much like her measured but riveting testimony in Trump's first impeachment, the book offers a more sober, and thus perhaps more alarming, portrait of the 45th president. If Hill's tone is restrained, it is damning by a thousand cuts. It lays out how a career devoted to understanding and managing the Russian threat crashed into her revelation that the greatest threat to America comes from within." - Associated Press "A sobering analysis of the toxic environment Trump and his aides created and how it continues to threaten democracy's very existence." - Booklist (starred review) "Fiona Hill knows all too well the threats posed by Russia and the Trump administration, but this well-written, analytically sophisticated autobiography is focused on an even more dangerous crisis: the vast and growing opportunity gap in the United States and much of the rest of the world. Her personal story of upward mobility from the distressed coal fields of northern England to the White House is, as she knows, 'a fluke.' That is precisely what makes this remarkable book must reading for anyone concerned about our country's future." - Robert D. Putnam, Professor of Public Policy, Harvard Kennedy School, and New York Times best-selling author of Our Kids: The American Dream in Crisis and The Upswing: How America Came Together a Century Ago and How We Can Do It Again "Lucid . . . a forceful argument for investing in education to lower the barriers to opportunity . . . Readers will come for the insider details about Trump, but stay for the keen analysis." - Publishers Weekly (starred review) "A masterful book with remarkable depth and breadth...There Is Nothing for You Here is a wonderful and compelling read that interweaves its author's amazing personal journey with deep analysis of some of the most urgent issues facing capitalism, democracy, and international diplomacy today. It is a rare and remarkable combination." - Carol Graham, Leo Pasvolsky Senior Fellow, Brookings Institution and College Park Professor, University of Maryland School of Public Policy "Fiona Hill's talents took her from England to Putin's Russia and to the Trump White House. She has lived through the social and economic disintegration of all three countries, and has the close-up experience to draw new parallels between Putin and Trump. A candid, insightful, and disturbing story." - Sir Angus Deaton, Nobel Prize winner and co-author of the New York Times best-selling Deaths of Despair and the Future of Capitalism
You may also be interested in...
×
Download the Waterstones App
Would you like to proceed to the App store to download the Waterstones App?
Reserve online, pay on collection


Thank you for your reservation
Your order is now being processed and we have sent a confirmation email to you at
When will my order be ready to collect?
Following the initial email, you will be contacted by the shop to confirm that your item is available for collection.
Call us on or send us an email at
Unfortunately there has been a problem with your order
Please try again or alternatively you can contact your chosen shop on or send us an email at