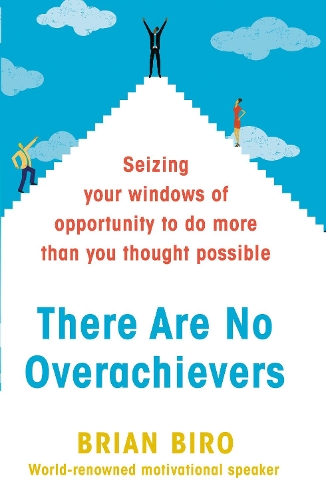 There Are No Overachievers: Seizing Your Windows of Opportunity to Do More than You Thought Possible (Hardback)
Brian Biro
(author)
Hardback
192

Pages / Published: 06/04/2017
In an inspiring new book, management consultant and world-renowned speaking guru Brian Biro describes how each and every one of us can seize and act upon the Windows of Opportunity that we encounter to transform our lives. In There Are No Overachievers, Brian Biro distils a lifetime of motivational lessons on how to be more energized and passionate in work and life by seizing what he calls the WOO - our windows of opportunity. A WOO is a precious, unrepeatable moment that can influence, redirect and even reshape our lives when we choose to seize it. And as we begin to recognize these exceptional opportunities, we see how they can... * enhance our ability to relate to others * increase our personal energy * foster greater teamwork to deliver breakthrough results * improve our partnerships, personally and professionally Narrated in short, targeted chapters and interweaving personal stories and anecdotes from his life as a top business speaker, national swimming coach and former corporate vice president, Biro offers a wealth of practical insights and action steps we can apply to our lives - and the secret to creating a dynamic, flourishing and fulfilling career.
Publisher: Transworld Publishers Ltd
ISBN: 9780593077924
Number of pages: 192
Weight: 329 g
Dimensions: 222 x 144 x 21 mm
---
MEDIA REVIEWS
"Most opportunities that come our way are gifts. Some are good for us - some for others. There Are No Overachievers gives you the information you need to select the right ones and, more important, how to make the most of them when you do! This is the secret to a rich and full life." -- Harry Paul, co-author of Fish! and Who Kidnapped Excellence
"In his new blockbuster, Brian Biro reawakens us to the magnificent truth that there is more in each one of us than we've ever dreamed of. We can make every moment count. We can shape our futures, energize our lives and build rich and fulfilling relationships... We are here to shine [and] Brian lights the way for all of us." -- Marci Shimoff, New York Times bestselling author of Happy for No Reason, Love for No Reason and Chicken Soup for the Woman's Soul
"Brian Biro is the genuine article. He has lived every word and exemplifies the underlying truth on every page. There Are No Overachievers will bring out the best in you!" -- John David Mann, bestselling author of The Go-Giver
"Brian is a remarkably engaging storyteller who is truly gifted at helping others realize their own gifts. Read this powerful book and you will feel ready to tackle even the toughest challenges." -- Jim Alling, CEO of TOMS Shoes
"A commonsense guide to living a more meaningful life... A must-read for those who want to unlock the potential for greatness in each of us." -- Ron Sargent, former CEO of Staples
"In an inspiring new motivational book, management consultant and speaking guru Brian Biro describes how we can seize and act upon the Windows of Opportunity that we encounter to transform our lives." * Goodreads *
"Every moment is both a gift and an opportunity. The secret to living life fully is to seize those "windows of opportunity", or WOOS, as Brian Biro calls them in his inspiring new book, There Are No Overachievers. Brian helps all of us to recognize and act upon the WOOs that lead us to lives of joy, fulfillment, and richness, and allow our light to shine!" -- Nido R. Qubein, President of High Point University
"Loss of personal motivation, energy and sense of relevancy can happen to us so easily today. In his new book, There Are No Overachievers Brian Biro provides countless insights to help each of us to live an inspired life. Brian explains the surprising power of treating each day, each moment, as the precious window of opportunity (or WOO) that it is. These pages will help anyone live an inspired life." -- Joey Havens, Executive Partner at HORNE LLP
"Brian Biro brilliantly outlines how to deliver breakthrough results, energize, engage, and motivate your teams to seize key opportunities. I highly recommend There Are No Overachievers for anyone looking to become a more effective leader or manager." -- Johann Fernando, Ph.D., Chief Operating Officer at FUJIFILM Medical Systems USA, Inc
"The answer is YES!, Now what's the question?....This is Brian Biro in one sentence. Positive approaches create trust. I have known and worked with Brian for over 20 years. This extraordinary book provides all the lessons that one needs to be successful and most importantly fulfilled at what they do." -- Keith D. Paglusch, CTO of C Spire
"The energy and pure magic that Brian Biro brings to any situation is life-changing, and he has captured that quality brilliantly in his new book There Are No Overachievers. His motivational messages will impact everyone, from entry-level employees to the upper echelon of management professionals." -- Chris Cicchinelli, President & CEO of Pure Romance
"I've witnessed Brian lead thousands on a journey to self-discovery. He is an amazing coach with a rare talent to channel a person's inner desire to spur positive change in their lives. Now he powers that passion for professional and personal development into There Are No Overachievers. This book, like Brian's presentations in person, is unforgettable!" -- Patty Brisben, Founder & Chairwoman of Pure Romance
"There Are No Overachievers is a book you will want to share with your friends, your peers and most importantly your family. Every lesson and every idea in here is pure gold, and Brian wraps his lessons and insights in beautifully told stories and real life examples that make this book impossible to put down. Brian Biro has created a beautifully written roadmap to opportunity, greater success and fulfillment!" -- Meridith Elliott Powell, Professional Speaker and Author
"You will emerge from this book with more confidence, energy, and passion than you've ever imagined for your career, your family, and your life. In a world so often focused on obstacles and barriers, Brian Biro brings fresh light to our possibilities, strengths, and breakthrough potential!" -- Melissa Brisbois, Executive Vice President of J. Hilburn
"The central thesis behind There Are No Overachievers is that we are all UNDERachievers. Regardless of how great our performance in a particular area, we are all capable of doing and being so much more! I highly recommend it, both as a personal guide for getting more out of your personal and professional life, as well as a teaching aid for managers and leaders who want to bring out the best in their team." -- Keith Challenger, Managing Partner at KCI.media
"Truly inspiring. There Are No Overachievers is filled with stories that moved me, and insights that stuck with me long after reading." -- Prosper Nwankpa, co-founder and CTO of Avanoo
"A masterful presentation of simple, yet transformational principles that can be used immediately to enhance relationships and careers. When you read There Are No Overachievers, you will begin looking at your life through a new lens of passion, gratitude and service." -- John Locke, Master Networker
"Seeing Brian live is always a treat, but reading There Are No Overachievers is like having Brian with me every day. The chapter called "Be Easy to Impress and Hard to Offend" really struck a chord in me. Look for ways to be impressed, and instead of taking offense at criticism you encounter, transform negative feedback into ways to improve, exceed expectations, and generate loyalty. It is at the heart of everything our company is about, and has helped us build the largest global sourcing association in the world. My copy is dog-eared already; I will be referring to for years to come." -- Dawn Tiura, CEO of SIG: The Executive Sourcing Network
"The inspiration and stories in There Are No Overachievers opened my eyes to the many "windows of opportunity" that can help me make a positive difference. It has ignited my own energy and purpose to live this journey called life with more JOY!" -- Dana. L. Stonestreet, Bank Chairman, President and CEO of HomeTrust
"Phenomenal! Brian Biro offers us a clear path to increased personal performance and greater success in every area of our lives. And what we get along the way is the life we've always wanted." -- Dr. John B. Waterhouse, Former President and Field Leader of Centers for Spiritual Living
"The simplicity of Brian Biro's message, and compelling nature of the stories he tells makes this book a win for everyone. Read it, follow Brian's guidance and you are sure to reach the mountain top!" -- Dr. Barbara Waterhouse, Senior Minister at Center for Spiritual Living, Asheville
""What would you do if you knew you could not fail?" It's a question I posed often to our oldest daughter when she was competing internationally. I never thought of it being my own motto - until reading There Are No Overachievers. After nearly 20 years, I am still learning from Brian Biro's life lessons - and I'm now aware of how important they are in the "transition" stage of my life, both personally and professionally. Thanks so much for the reminder, Brian!" -- Suzan O Sweeney, AVP of External Partnerships at The Hartford
"Over the years, I've read hundreds of leadership books, but There Are No Overachievers stands alone. It's an insightful and astute guide on how to be your very best at home and at work. Although I've been fortunate to enjoy great success in my career overall, there are so many times that I missed my window of opportunity to positively impact others' lives. I was too easy to offend and hard to impress. Brian Biro is a life-changer. I enthusiastically recommend this book. It will bring you closer to your colleagues, your friends, and your loved ones." -- Naomi Cramer, SVP and Chief HR Officer at Banner Health
You may also be interested in...
Simply reserve online and pay at the counter when you collect. Available in shop from just two hours, subject to availability.
Thank you for your reservation
Your order is now being processed and we have sent a confirmation email to you at
When will my order be ready to collect?
Following the initial email, you will be contacted by the shop to confirm that your item is available for collection.
Call us on or send us an email at
Unfortunately there has been a problem with your order
Please try again or alternatively you can contact your chosen shop on or send us an email at