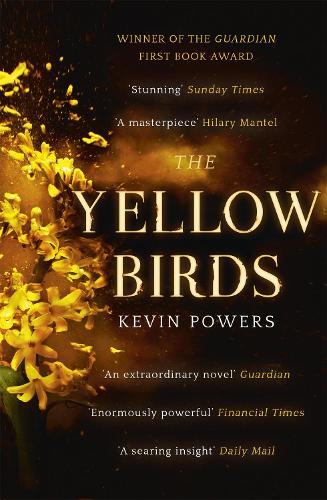 Paperback
256

Pages
Published: 27/06/2013
WINNER OF THE GUARDIAN FIRST BOOK AWARD

NATIONAL BOOK AWARD FINALIST

NEW YORK TIMES BESTSELLER and BOOK OF THE YEAR

'Extraordinary . . . a must-read' Guardian

'A masterpiece . . . a classic' The Times

'A stunning achievement' Sunday Times

'Remarkable . . . every line is a defiant assertion of the power of beauty to revivify' Hilary Mantel

'Harrowing, inexplicably beautiful, and utterly, urgently necessary' Ann Patchett

Everywhere John looks, he sees Murph.

He flinches when cars drive past. His fingers clasp around the rifle he hasn't held for months. Wide-eyed strangers praise him as a hero, but he can feel himself disappearing.

Back home after a year in Iraq, memories swarm around him: bodies burning in the crisp morning air. Sunlight falling through branches; bullets kicking up dust; ripples on a pond wavering like plucked strings. The promise he made, to a young man's mother, that her son would be brought home safely.

Written with profound emotional insight, especially into the effects of a hidden war on families at home, The Yellow Birds is one of the most haunting, true and powerful novels of our time.

A NEW YORK TIMES, INDEPENDENT, TIMES, TLS, EVENING STANDARD, SUNDAY EXPRESS, GUARDIAN, SCOTSMAN, SUNDAY HERALD, IRISH TIMES BOOK OF THE YEAR

Kevin Powers' new literary thriller, A Line in the Sand, will be published by Sceptre in August 2023.
Publisher: Hodder & Stoughton
ISBN: 9781444756142
Number of pages: 256
Weight: 180 g
Dimensions: 197 x 130 x 17 mm
---
MEDIA REVIEWS
Extraordinary . . . beautifully accomplished. The mark of an artist of the first order . . . a must-read book. * Guardian *
A masterpiece . . . a classic. * The Times *
A stunning achievement - visceral [and] poignant. * Sunday Times *
'Remarkable for its intensity of both feeling and expression. In this book about death, every line is a defiant assertion of the power of beauty to revivify, whether beauty shows itself in nature or (later) in art. * Guardian *
The best book I have read this year * Irish Times *
A wonderful, powerful novel that moves and terrifies. * Independent on Sunday *
Harrowing, inexplicably beautiful, and utterly, urgently necessary
An extraordinary novel . . . remarkable . . . stands with Tim O'Brien's enduring Vietnam book, The Things They Carried, as a classic of contemporary war fiction . . . brilliantly observed and deeply affecting. * New York Times *
A stunning read . . . beautiful [and] devastating * BBC Radio 2 Bookclub *
'Kevin Powers has conjured a poetic and devastating account of war's effect on the individual.'
Reaffirms the power of fiction to tell the truth about the unspeakable ... a superb literary achievement. I urge everyone to read it.
Written with an intensity which is deeply compelling
In the great tradition of Hemingway and Tim O'Brien, Kevin Powers's exquisitely written The Yellow Birds draws us in to the combat zones of Iraq: the watch, the wait ("Stay alive, Stay alert"), the bungle, the slaughter and the irreparable aftermath. * Guardian *
This is a novel I've been waiting for. The Yellow Birds is born from experience and rendered with compassion and intelligence. All of us owe Kevin Powers our heartfelt gratitude
One of those books that knocks your perceptions into new alignment permanently
The Yellow Birds is the All Quiet on the Western Front of America's Arab Wars
Thus far the definitive novel of our long wars in the Middle East; this book is certain to be read and taught for generations to come.
Kevin Powers' poetic, grievously sad debut novel captures one young man's experience of the war in Iraq . . . Powers is clear-eyed and dolorous, observing the damage done, but alive to the beauty of the landscape, and the details that cement friendship in a world dominated by violence and fear * Marie Claire *
Extraordinarily well-written . . . brilliant . . . he's just a really, really beautiful writer . . . everyone will be reading it * BBC Radio 2 Arts Show *
Page after page yields unforgettable images . . . undeniably, this is an important novel by a formidable talent. * Daily Mail *
A novel about the war in Iraq might not usually top your reading list, but make an exception for this one . . . it's an intense, brutal and yet lyrical tale . . . Novelists from Ann Pratchett to Colm Toibin have praised its harrowing beauty. It's an elegant literary treat. * Easy Living *
'The most recent war is much like the most ancient, torn bodies, cracked psyches, the emotional roundelay of pride, pain, confusion and sorrow. In The Yellow Birds, Kevin Powers has delivered an exceptional novel from the war in Iraq, written in clean, evocative prose, lyric and graphic, in assured rhythms, a story for today and tomorrow and the next.'
We haven't just been waiting for a great novel to come out of the Iraq War, our 21st century Vietnam; we have also been waiting for something more important, a work of art that illuminates our flawed and complex and striving humanity behind all such wars. At last we have both in Kevin Powers' The Yellow Birds.
The Yellow Birds is a superb novel. Call it a war novel or a first novel or whatever you'd like. Powers has created a powerful work of art that captures the complexity and life altering realities of combat service. This book will endure. Read it and then put it way up on that high rare shelf alongside Ernest Hemingway and Tim O'Brien
Short, taut and eminently readable. With a John Updike-like hypersensitivity in rendering the mundane extraordinary . . . an extremely impressive debut - Kevin Powers is a name to watch. * Time Out *
The Yellow Birds skulks along, detached and undemanding, until all of a sudden you turn a page and find yourself weeping. * GQ *
Elegiac, sober, and haunting. * Time *
Intense, painful, excellent . . . Bartle tries to piece it all together, and his torment, which must be akin to the author's, feels like a gift. * Spectator *
Powers' poetic gifts render the experience of Americans in Iraq with great emotional intensity. War has been a subject of literature ever since The Iliad. The best books transcend their time and circumstances to say something enduring and truthful about war itself. The Yellow Birds belongs in that category
Terrific . . . vivid [and] gripping. A very much needed book.
What happens to soldiers at war? The Yellow Birds delivers answers that should rightfully unnerve us, if we're still willing - ten long years into Iraq and Afghanistan - to contemplate 'our little pest of a war.' The human cost is surely beyond any comprehensible measure, but in this haunting, unflinching crucible of a novel, Kevin Powers gives us the essence, with all comfortable, corrupting illusion and rhetoric burned away.
Beautifully written . . . This is a harrowing and pitiful story of the sad waste of war. * THE LADY *
This book epitomises the power of the written word; the language is at once poetic and brutal, vivid and sparse. A stunning, timely and engrossing novel * Bookseller *
What impresses most here are the mournful and melodious refrains which manage to cultivate beauty and pathos from the smothering chaos and dust. * We Love This Book *
A book that will make you look good on the bus . . . a powerful tale. * Heat *
From an opening that suggests The Wasteland to a closing that echoes The Great Gatsby, Kevin Powers has crafted one of the most beguiling and beautiful war novels of recent times . . . its soul spills out over every poetic page. * RTE Guide *
The Yellow Birds is a wonderful, powerful novel that moves and terrifies. * Independent on Sunday *
Tautly written and unforgiving in its depiction of the human cost of war. * The Times *
I found in The Yellow Birds by Kevin Powers a vivid, poetic account of modern warfare. Powers joined the US Marines at 17, going on to serve as a machine gunner in Iraq, and each line bleeds hard-fought truths. * Evening Standard *
Powers has written a compassionate, poetic evocation of war and its legacy which has already been hailed as a classic of its genre. * Sunday Express *
[Powers] has forged a harrowing, enormously powerful first novel . . . Powers' writing is also attentive to nature and landscape, and he manages to entertain contradictory notions of beauty and horror. Wasn't that Fitzgerald's definition of genius? * Financial Times *
Kevin Powers' lyrical account of war's deep impact on the individual is an important addition to the tradition of American war fiction and perhaps the first great novel to emerge from the long, intractable conflicts in the Middle East. * Literary Review *
An extraordinary novel - honest painful, poetic. Powers's exquisitely drawn portrait of three young soldiers struggling in their own way to make sense of their situation gives you the real human story * Guardian *
It is a novel about the horrors of war made beautiful by the author's poetic language which is like handsome ironmongery, delicately strong but not overwrought . . . At one stage in the book, there's a bravura passage of stream of consciousness that may well be among the most effective lines ever written about a soldier trying to come to terms with what he has seen and done. For that alone Powers deserves a medal. * Scotsman *
The author's status as a veteran of the war, and therefore a curio in the American literary world, provides an unimpeachable veracity to the novel . . . It is quite clear that he is major talent. * Independent *
[An] unforgettable debut novel . . . [Powers has] written fiction that seems more real than the "real" thing. * Newsweek *
That it horrifies with beauty and numbs by way of sensuality is Powers' big achievement * Dublin Sunday Independent *
If you're looking for one of the first great novels of the Iraq war, this may be it. * CNN.com *
It's a sad and deftly written story - and one that can stand tall with the great war novels that preceded it. * Emerald Street *
You may also be interested in...
×
Download the Waterstones App
Would you like to proceed to the App store to download the Waterstones App?
Reserve online, pay on collection


Thank you for your reservation
Your order is now being processed and we have sent a confirmation email to you at
When will my order be ready to collect?
Following the initial email, you will be contacted by the shop to confirm that your item is available for collection.
Call us on or send us an email at
Unfortunately there has been a problem with your order
Please try again or alternatively you can contact your chosen shop on or send us an email at