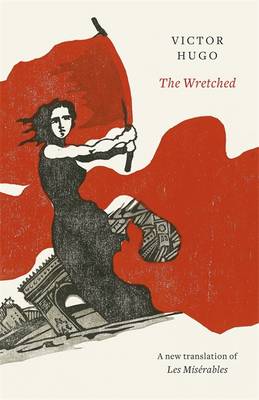 Hardback
Published: 07/11/2013
Check availability
At your local shop
This is a brilliant new translation by Christine Donougher of Victor Hugo's thrilling masterpiece, with an introduction by Robert Tombs. The Wretched ( Les Miserables) is the basis for both the longest running musical on the West End and the highly-acclaimed recent film starring Hugh Jackman and Anne Hathaway. Victor Hugo's tale of injustice, heroism and love follows the fortunes of Jean Valjean, an escaped convict determined to put his criminal past behind him. But his attempts to become a respected member of the community are constantly put under threat: by his own conscience, and by the relentless investigations of the dogged policeman Javert. It is not simply for himself that Valjean must stay free, however, for he has sworn to protect the baby daughter of Fantine, driven to prostitution by poverty. "The year's most interesting publication from Penguin Classics was actually The Wretched [...] a new translation by Christine Donougher of the novel we all know as Les Miserables. You may think that 1,300 pages is a huge investment of time when the story is so familiar, but no adaptation can convey the addictive pleasure afforded by Victor Hugo's narrative voice: by turns chatty, crotchety, buoyant and savagely ironical, it's made to seem so contemporary and fresh in Donougher's rendering that the book has all the resonance of the most topical state-of-the-nation novel". (The Telegraph). "Christine Donougher's seamless and very modern translation of Les Miserables has an astonishing effect in that it reminds readers that Hugo was going further than any Dickensian lament about social conditions...The Wretched touches the soul". (Herald Scotland). Victor Hugo was born in Besancon, France in 1802. In 1822 he published his first collection of poetry and in the same year, he married his childhood friend, Adele Foucher. In 1831 he published his most famous youthful novel, Notre-Dame de Paris. A royalist and conservative as a young man, Hugo later became a committed social democrat and was exiled from France as a result of his political activities. In 1862, he wrote his longest and greatest novel, The Wretched (Les Miserables). After his death in 1885, his body lay in state under the Arc de Triomphe before being buried in the Pantheon. Christine Donougher is a freelance translator and editor. She has translated numerous books from French and Italian, and won the 1992 Scott Moncrieff Translation Prize for her translation of Sylvie Germain's The Book of Nights. Robert Tombs is Professor of History at St John's College, Cambridge. His most recent book is That Sweet Enemy: The French and the British from the Sun King to the Present, co-written with Isabelle Tombs.
Publisher: Penguin Books Ltd
ISBN: 9780141393599
You may also be interested in...
We would love to hear what you think of Waterstones. Why not review Waterstones on Trustpilot?