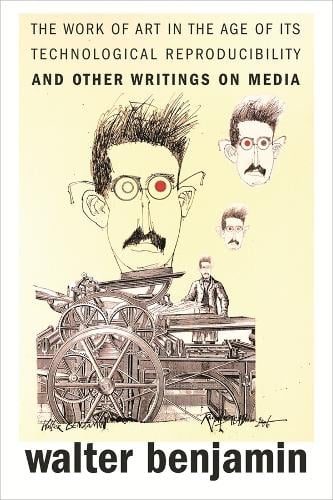 Paperback
448

Pages
Published: 30/06/2008
Benjamin's famous "Work of Art" essay sets out his boldest thoughts-on media and on culture in general-in their most realized form, while retaining an edge that gets under the skin of everyone who reads it. In this essay the visual arts of the machine age morph into literature and theory and then back again to images, gestures, and thought.

This essay, however, is only the beginning of a vast collection of writings that the editors have assembled to demonstrate what was revolutionary about Benjamin's explorations on media. Long before Marshall McLuhan, Benjamin saw that the way a bullet rips into its victim is exactly the way a movie or pop song lodges in the soul.

This book contains the second, and most daring, of the four versions of the "Work of Art" essay-the one that addresses the utopian developments of the modern media. The collection tracks Benjamin's observations on the media as they are revealed in essays on the production and reception of art; on film, radio, and photography; and on the modern transformations of literature and painting. The volume contains some of Benjamin's best-known work alongside fascinating, little-known essays-some appearing for the first time in English. In the context of his passionate engagement with questions of aesthetics, the scope of Benjamin's media theory can be fully appreciated.
Publisher: Harvard University Press
ISBN: 9780674024458
Number of pages: 448
Weight: 652 g
Dimensions: 235 x 156 x 31 mm
---
MEDIA REVIEWS
Until recently, Walter Benjamin's seminal essay, The Work of Art in the Age of Its Technological Reproducibility, was available to English-speaking readers only in the version that appeared in the 1968 collection Illuminations. Harvard's new volume of the German cultural critic's writings on media offers as its title-piece an earlier, edgier incarnation-the second of three composed between 1935 and 1939-in a superior translation... Throughout The Work of Art in the Age of Its Technological Reproducibility, Benjamin's startling, often oblique language reveals his subjects from unexpected angles... This volume amply demonstrates the keenness and ingenuity of Benjamin's intuitions at the dawn of modern media culture. -- Ross Benjamin * Times Literary Supplement *
Freshly translated (it used to be called 'The Work of Art in the Age of Mechanical Reproduction,' which, although more lumberingly Teutonic, has the virtue of evoking an image of robot sex) and newly packaged with an assortment of his other 'writings on media' in a hipster-friendly paperback, Benjamin's best-known work is...well, as they say on Facebook, it's complicated. Man, is it ever complicated. The essay begins by describing the ways film and photography have changed human perception. Benjamin argues that because such exact simulacra of reality can be mass-distributed and mass-consumed, we have a new, more distant relationship to authentic reality-and he concludes that these changes in perception clear a path for fascism. Not exactly cheerleadery, then. And while it's easy to be distracted by Benjamin's dusty examples-Chaplin's films and Picasso's paintings-and therefore lulled into thinking he's describing a different world...well, don't be. Substitute blogs and social-networking platforms and Twitter and YouTube and Wikipedia for film and photography, and the nearly century-old essay becomes a relevant, piercing alarm. -- Emily Gould * Technology Review *
The editors and publisher of this volume deserve credit for organizing its contents thematically rather than chronologically. Such a format encourages readers to approach Benjamin's work discursively, thereby fostering a superior sense of the recurrent ideas, themes, motifs and concepts that Benjamin employed time and again. -- Noah Isenberg * The Nation *
A juicy selection of [Benjamin's] many short pieces on pop culture. -- George Fetherling * Seven Oaks *
The Work of Art in the Age of Its Technological Reproducibility and Other Writings on Media reflects Benjamin's most salient thoughts on media and on culture in general in their most realized form, still maintaining an edge under the skin of everyone who reads it. The visual arts morph into literature and theory and then back to images, gestures and thought. Here the editors have situated this essay as the cornerstone of a vast collection of writings that demonstrates what was revolutionary about Benjamin's explorations on media. He was so prescient, and mind you, Virginia, he was alive only until 1940. We are now talking about 2008 and his work is not just timely, but powerful, important, clairvoyant, and necessary. This is the second and most daring version of the 'Work of Art' essay which tracks Benjamin's observations on the production and reception of art; on film, radio, and photography; on the telephone, on children's books, on Charlie Chaplin and so much more. He was not a critic for the 20th century, he was a theoretician for all time. This volume will probably become a text for some classes, but it is an introduction, a force that must be dealt with by anyone interested in culture, in the media, in the arts, to debates on the digital age. He could explore implications of these themes and be so prescient about what we are experiencing today. Oh, if he were alive today, he would tell us about the future, I am sure. This is a must for anyone who wants to be introduced to Benjamin, or one who wants more and more of what he has to say-and this one is thankfully in English. * Umbrella *
In recent decades, Benjamin's essay on the work of art may have been quoted more often than any other single source in an astonishing range of areas-from new-left media theory to cultural studies, from film and art history to visual culture, from the postmodern art scene to debates on the future of art, especially film, in the digital age. The antinomies and ambivalences in Benjamin's thinking, his efforts to explore the most extreme implications of opposing stances, are still invaluable for illuminating the contradictions in today's media environment. Anyone interested in the fate of art, perception, and culture in the industrialized world must welcome this collection of Benjamin's writings on media. -- Miriam Hansen
In wanting to be a great literary critic [Benjamin] discovered that he could only be the last great literary critic... He explained certain aspects of the modern with an authority that seventy years of unpredictable change have not vitiated. -- Frank Kermode
Walter Benjamin's work, fragmentary and partly esoteric as it is, fully withstands a comparative measure, and surpasses any of its rivals in philosophic consequences. There has been no more original, no more serious critic and reader in our time. -- George Steiner
This one-volume gathering of Benjamin's dialectical writing on media of all kinds, ranging from children's literature to cinema, has at its heart the second, most expansive version of his path-breaking essay 'The Work of Art in the Age of Its Technological Reproducibility.' Readers familiar only with partial versions of this piece, where Benjamin began to record the melancholy loss of aesthetic presence at the turn of the twentieth century, will find their understanding transformed-for this second version, like all the essays and supplemental texts included here, explores a set of latent, utopian possibilities inherent in mechanical means of art-making. Benjamin, the visionary magus of particulars, reveals profoundly, and repeatedly, both the grounds and the consequences of our ever-changing image of the made world. -- Susan Stewart
You may also be interested in...
×
Download the Waterstones App
Would you like to proceed to the App store to download the Waterstones App?
Reserve online, pay on collection


Thank you for your reservation
Your order is now being processed and we have sent a confirmation email to you at
When will my order be ready to collect?
Following the initial email, you will be contacted by the shop to confirm that your item is available for collection.
Call us on or send us an email at
Unfortunately there has been a problem with your order
Please try again or alternatively you can contact your chosen shop on or send us an email at