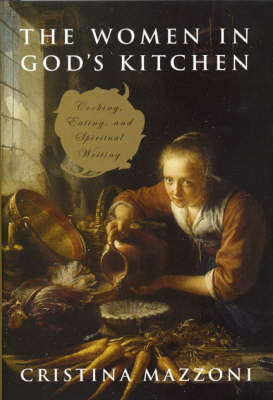 The Women in God's Kitchen: Cooking, Eating, and Spiritual Writing (Paperback)
Cristina Mazzoni
Paperback
Published: 01/02/2007
Can be ordered from our supplier
Jean Anthelme Brillat-Savarin once noted that "nunneries in the old days were veritable storehouses of the most delectable tidbits." Perhaps that is why the much-maligned Lucrezia Borgia is said to have truly felt at home only in the company of pious cloistered nuns. In his landmark study, "Holy Anorexia", Rudolph Bell focused his attention on holy women who survived on nothing but the eucharistic wafer. Cristina Mazzoni, taking the opposite tack, savors the food writings and images of a broad spectrum of Catholic saints and holy women. A native of Italy and a splendid cook herself, Mazzoni accords due attention to her fellow countrywomen, as well she should given the importance of Italian cookery (Catherine of Genoa, Angela of Foligno, Gemma Galgani), but includes numerous other holy women and their cuisines as well: Germany (Hildegard of Bingen, Elisabeth of Schonau, and Margaret Ebner), France (Margaret Mary Alacoque, Therese of Lisieux), Spain (Teresa of Avila), colonial South America (Sor Juana Ines de la Cruz), England (Margery Kempe), and even the United States (Elizabeth Ann Seton, who was the first person born in the United States to be canonized by the Roman Catholic Church). In her Introduction, Mazzoni invites the reader "to seek out and savor with me...the food concocted, dished out, bitten into, tasted, and swallowed in the writings of holy women: food that may be mundane, unexceptional, and commonplace, but food that may also be delicious, nutritious, indulgent, or healthful. Whether in the form of stockfish and stew or chocolate and jam, whether cooked as lasagna with greens or curdled into a fine or bitter cheese, this food - through metaphors and similes, through anecdotes and memories - leads to mystical connections, underlines the presence of meaning even, or especially, in the midst of seeming meaninglessness, and leads us to share in the pleasure of cooking, eating, and learning at a divine table in God's kitchen."
Publisher: Bloomsbury Publishing PLC
ISBN: 9780826419125
You may also be interested in...
We would love to hear what you think of Waterstones. Why not review Waterstones on Trustpilot?