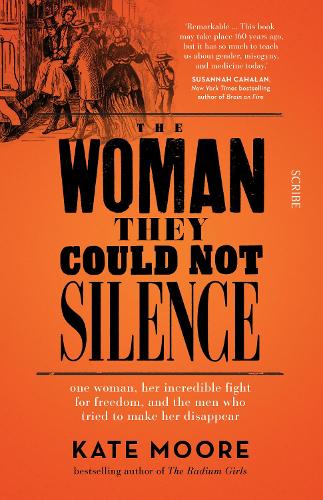 The Woman They Could Not Silence: one woman, her incredible fight for freedom, and the men who tried to make her disappear (Paperback)
Kate Moore
(author)
Paperback
560

Pages
Published: 22/06/2021
From the internationally bestselling author of The Radium Girls comes a dark but ultimately uplifting tale of a woman whose incredible journey still resonates today.
Elizabeth Packard was an ordinary Victorian housewife and mother of six. That was, until the first Woman's Rights Convention was held in 1848, inspiring Elizabeth and many other women to dream of greater freedoms. She began voicing her opinions on politics and religion - opinions that her husband did not share. Incensed and deeply threatened by her growing independence, he had her declared 'slightly insane' and committed to an asylum.
Inside the Illinois State Hospital, Elizabeth found many other perfectly lucid women who, like her, had been betrayed by their husbands and incarcerated for daring to have a voice. But just because you are sane, doesn't mean that you can escape a madhouse ...
Fighting the stigma of her gender and her supposed madness, Elizabeth embarked on a ceaseless quest for justice. It not only challenged the medical science of the day and saved untold others from suffering her fate, it ultimately led to a giant leap forward in human rights the world over.
Publisher: Scribe Publications
ISBN: 9781914484001
Number of pages: 560
Dimensions: 198 x 129 x 33 mm
---
MEDIA REVIEWS
'A fascinating story ... the writing is exquisite.'
* BBC Radio 4's Woman's Hour *
'What an incredible narrative about a singular historical woman. In The Woman They Could Not Silence, Kate Moore once again utilises her astonishing talent in discovering the important, forgotten women of history. In bringing to life the account of Elizabeth Packard, wife and mother of six, Moore shares the stories of many sane women committed to insane asylums simply because they did not abide by the societal expectations about women and the one woman who successfully challenged these practices. Through these pages, Moore enthralls as she ensures that such women will be silent no more.'
-- Marie Benedict, New York Times bestselling author of The Mystery of Mrs. Christie
'I have waited fifty years for this full-length biography of Elizabeth Parsons Ware Packard, and Kate Moore's The Woman They Could Not Silence is simply magnificent. It reads like a suspense novel: one is on the edge of her seat at all times; one cannot believe what happens next - and then after that. History comes alive as does the tragedy of women who were falsely judged "mad" and then incarcerated and tortured in 19th century American Insane Asylums. Moore's research is impeccable. She tells us the whole terrifying and thrilling story: the cost of battle, the triumph of cruel and corrupt misogynists, the nature of feminist victory. It is a complicated story and one brilliantly told. This book reads like a movie and it should be made into one.'
-- Phyllis Chesler, bestselling author and feminist leader
'With path-breaking research and electric prose, Kate Moore reveals just how crazy marriage laws once were - and how one unbeaten heroine helped make them sane.'
-- Elizabeth Cobbs,
New York Times
bestselling author of
The Hello Girls: America's first women soldiers
'What a story - and what a telling! Kate Moore has hit another one out of the park. In the best tradition of The Radium Girls, Moore recounts the stunning true account of a woman who fought back against a tyrannical husband, a complicit doctor, and 19th-century laws that gave men shocking power to silence and confine their wives. By challenging these norms, Elizabeth Packard became a heroine on the scale of the suffragists. In Moore's expert hands, this beautifully-written tale unspools with drama and power, and puts Elizabeth Packard on the map at the most relevant moment imaginable. You will be riveted - and inspired. Bravo!'
-- Liza Mundy, New York Times bestselling author of Code Girls
'The Woman They Could Not Silence tells the captivating story of Elizabeth Packard, a forgotten heroine whose harrowing ordeal in an insane asylum seems straight from the mind of Stephen King - except every word is true. Blending impeccable research with novelistic flair, Kate Moore brings the indomitable Packard to brilliant life, and proves she belongs among our most celebrated women leaders.'
-- Abbott Kahler, author (as Karen Abbott) of The Ghosts of Eden Park
'This book will fill you with rage, despair, and determination. Moore has written a masterpiece of nonfiction, giving voice to the life of Elizabeth Packard, a crusader of humanity, who countless men tried to subdue. With elegant prose, and an epilogue that will leave you reeling, The Woman They Could Not Silence will linger long after the last page is read.'
-- Nathalia Holt, New York Times bestselling author of Rise of the Rocket Girls
'Heartbreaking and devastatingly important - Kate Moore has a rare gift for combining impeccable research and brilliantly mesmerising storytelling. The Woman They Could Not Silence yanks back the curtain on the tragic and once-hidden injustices that ruined women's lives - and gives even more power to the one brave and undaunted voice that refused to be silent. You will cry, and then you will cheer, and then your life will be changed forever.'
-- Hank Phillippi Ryan, USA Today bestselling author of The First to Lie and Her Perfect Life
'Told with the urgency and passion of a novel, Kate Moore's deeply researched and thrilling study of Elizabeth Packard's fight against the power of psychiatric patriarchy in 19th century America will keep you up at night and illuminate women's ongoing battles for authority and respect.'
-- Elaine Showalter, literary critic, Professor Emerita at Princeton University, and author of The Female Malady
'The Woman They Could Not Silence is a remarkable story of perseverance in an unjust and hostile world. This book is rich with detail, powerful, and expertly researched, as Kate Moore describes the near-unbelievable nightmare of an "inconvenient" woman's commitment to a mental hospital and her subsequent fight for freedom against all odds. This book may take place 160 years ago, but it has so much to teach us about gender, misogyny, and medicine today. Thanks to Kate Moore's powerful work, Elizabeth Packard's name will live on in the minds of a new generation of readers.'
-- Susannah Cahalan, New York Times bestselling author of Brain on Fire and The Great Pretender
'Long overdue and completely worth the wait ... This unnerving and inspirational saga from the 19th century still resonates with palpable urgency in the 21st. All credit to Kate Moore's keen research eye and narrative gifts for bringing this ever-relevant story to piercing light, one perfectly suited to this moment in our history.'
-- Denise Kiernan, New York Times bestselling author of We Gather Together
'A thrilling story.'
-- Kathryn Hughes * Mail on Sunday *
'The author of The Radium Girls returns with an inspiring story of the tireless 19th-century woman who fought against gender-based injustices ... a vivid look at the life and times of a little-known pioneer of women's rights.'
* Kirkus Reviews *
'Moore's expert research and impassioned storytelling combine to create an absolutely unputdownable account of Packard's harrowing experience. Readers will be shocked, horrified, and inspired. A veritable tour de force about how far women's rights have come and how far we still have to go ... Put this book in the hands of every young feminist.'
*
Booklist
, starred review *
'In 1860, wife and mother Elizabeth Packard was committed to an insane asylum by her husband, who couldn't tolerate her insistence on speaking her mind. At the Illinois State Hospital, Elizabeth encountered women like her committed strictly as a means of control, and after winning her freedom she became an advocate for such women and for women's rights generally. From the author of the New York Times bestselling Radium Girls.'
* Library Journal *
'A riveting chronicle ... Moore packs in plenty of drama without sacrificing historical fidelity, and paints Elizabeth's fierce intelligence and unflagging ambition with vibrant brushstrokes. Readers will be thrilled to discover this undersung early feminist hero.'
*
Publishers Weekly
, starred review *
'A must-read for anybody interested in women's history or the history of reform in the United States. Like Radium Girls, this volume is a page-turner.'
-- Chad E. Statler *
Library Journal
, starred review *
'As this country waged war against slavery, a quiet heroine fought for the rights of women. A must read for all!'
-- Fran Ziegler, Titcomb's Bookshop
'[A]n inspiring portrait of someone who fought the system and won.'
-- Petra Mayer * NPR Books *
'Moore's extensive research for this book is clear ... she has produced such a compelling and emotional narrative that at times it's easy to forget that you're reading a piece of non-fiction ... Packard's story is a timely must-read.'
* All About History *
'[B]y the end of the book I was completely persuaded by the superhuman resilience and determination of our real-life heroine, who not only fights for her own freedom but for those of her fellow inmates and fellow wives.'
-- Maria Takolander * The Saturday Paper *
'Kate Moore's book is an important one, that deserves to be widely read.'
-- Penelope Cottier * The Canberra Times *
'Harrowing ... fascinating ... I simply adore Kate Moore's writing.'
*
Alpha Reader
, starred reader *
Praise for The Radium Girls:
'Thrilling and carefully crafted.'
* Mail on Sunday *
Praise for The Radium Girls:
'Fascinating social history.'
* The Sunday Times *
Praise for The Radium Girls:
'Heartbreaking.'
* BBC Radio 4 Woman's Hour *
Praise for The Radium Girls:
'Tragic but ultimately uplifting.'
* The Spectator *
Praise for The Radium Girls:
'Powerful.'
* Times Literary Supplement *
Praise for The Radium Girls:
'Heartfelt.'
* Sunday Telegraph *
Praise for The Radium Girls:
'Fascinating yet tragic.'
* The Sun *
You may also be interested in...
×
Download the Waterstones App
Would you like to proceed to the App store to download the Waterstones App?
Reserve online, pay on collection


Thank you for your reservation
Your order is now being processed and we have sent a confirmation email to you at
When will my order be ready to collect?
Following the initial email, you will be contacted by the shop to confirm that your item is available for collection.
Call us on or send us an email at
Unfortunately there has been a problem with your order
Please try again or alternatively you can contact your chosen shop on or send us an email at