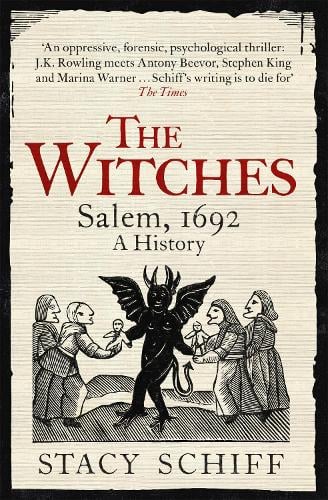 Paperback
512

Pages / Published: 20/10/2016
'An oppressive, forensic, psychological thriller: J.K. Rowling meets Antony Beevor, Stephen King and Marina Warner ... Schiff's writing is to die for' THE TIMES

It began in 1692, over an exceptionally raw Massachusetts winter, when a minister's niece started to scream and convulse. It ended less than a year later, but not before panic had infected the entire colony, nineteen men and women had been hanged, and a band of adolescent girls had brought Massachusetts to its knees.

Vividly capturing the dark, unsettled atmosphere of seventeenth-century America, Stacy Schiff's magisterial history draws us into this anxious time. She shows us how quickly the epidemic of accusations, trials, and executions span out of control. Above all, Schiff's astonishing research reveals details and complexity that few other historians have seen.
Publisher: Orion Publishing Co
ISBN: 9781474602266
Number of pages: 512
Weight: 405 g
Dimensions: 198 x 134 x 32 mm
---
MEDIA REVIEWS
Stacy Schiff's The Witches deals with a horror we assume we know, but don't: the moral panic that tore apart the towns of Massachusetts in the seventeenth century. Adolescent girls, denouncing their neighbours, began a fashion for denunciation; it resulted in nineteen hangings, in torture, in the fracture of families and communities, and in the spectacle of a seven-year-old kept in miniature manacles. Was it like
The Crucible
? No, it was worse. Arthur Miller used the Salem story as a metaphor for the McCarthy era's paranoia. But using the past as stand-in for the present often sells it short, and gives its complexities permission to elude us. Context is everything, and Schiff defines it; she interrogates her sources, makes every detail count, and her style is intriguing - sharp-eyed, discriminating, crisp. You want to understand the subject, and you want to meet the historian. -- Hilary Mantel * TIMES LITERARY SUPPLEMENT *
A riveting and chilling account of the frightening events that took place in 1692 in a small town in Massachusetts when an oppressive, claustrophobic community turned upon itself, superstition fusing with score-settling... Schiff's account of these terrors reads like a nerve-shredding psychological thriller * MAIL ON SUNDAY 'Best of 2015' *
Schiff is a biographer with a transcendent empathy and a sharp eye, a profoundly humane writer able to reanimate the dead, reprising their hopes and dreams, pieties and crimes ... The result is electrifying, an original contribution to our understanding of what happened and how. And in the best tradition of fairytales, picking at the subconscious, her story appeals not just because it allows us to spectate on the miseries of an unenlightened age, but because it deals with "unfulfilled wishes and unexpressed anxieties, rippling sexual undercurrents and raw terror" - universal things that we may suppress, yet which define who we are -- Malcolm Gaskill * BBC HISTORY MAGAZINE *
[Schiff] has assembled a vast array of data and then crunched it down chronogically, enabling her to tell the story day-by-day. This is an impressive and valuable achievement ... telling the story as it might have been understood by an observer at the time, from the first disturbing outbreaks in the Parris parsonage to the final hangings and the soul-searching that followed them ... this makes her story vivid and disorientating, giving us insight into how the world might look if indeed there were witches abroad in it -- Richard Francis * THE SPECTATOR *
Masterfully she has re-created history as an oppressive, forensic, psychological thriller: JK Rowling meets Antony Beevor, Stephen King and Marina Warner... Schiff's writing is to die for; clever and lyrical. Grace and gravitas make a potent brew, and there were places where her language was so good I simply noted "Wow" in the margin. So too her dry wit -- Melanie Reid * THE TIMES *
Schiff writes movingly as well as wittily; this is a work of riveting storytelling as well as an authoritative history -- Lara Feigel * THE OBSERVER *
[Schiff] paints a vivid, engrossing picture of a squabbling, fearful society in which prevailing superstition fused with score-settling and self-interest -- Jenny McCartney * THE MAIL ON SUNDAY *
Schiff's is a feat of historical excavation and also of colourful reconstruction of the defendants, the husbands (never wives) who informed on them, the prosecutors and their grudges and the few rare
folk who evaded the hangman's noose. We are given these people's family contexts, their appearances and court dialogue is vividly captured. Much of it is moving
-- Arifa Akbar * THE INDEPENDENT *
Using feminist theory, ideas about power and representation and the legal issues of the time, Schiff draws some interesting parallels with modern times * CATHOLIC HERALD *
Masterly... Alternately absurd and heart-rending * ECONOMIST *
Schiff sets scenes brilliantly, evoking the bite of cold so deep that "bread froze in communion plates, ink in pens, sap in the fireplace." Her prose swelters with the stifling heat of a summer during which the region's crowded jails grew noisome, and bodies swung, several at a clip, from a gallows hastily erected in a pasture. "It was not a summer when you wanted to appear in your neighbor's dreams," she writes, in a muted Gothic that raises the hair on your neck. The book crackles with sonic detail, from the pitiful sound of Giles Corey's groans as his inquisitors heaped stones upon him to the "rustle of doubt" too quiet to make a difference. And everywhere there is darkness -- Jane Kamensky * NEW YORK TIMES (USA) *
THE WITCHES
is the fullest and finest story ever told about Salem in 1692, and no one else could tell it with the otherworldly flair of Stacy Schiff -- Joseph J. Ellis * Pulitzer Prize-winning author of THE QUARTET *
From Cleopatra to the Salem coven. From intelligent rule to hysteria, mayhem, and murder. The Salem witch trials offer Stacy Schiff an out-sized drama that seized Americans' imaginations more than 300 years ago. All of Schiff's books demonstrate her rigor as a historian and her dexterity as a stylist. THE WITCHES
proves she has something else: the instincts of a thriller writer. This book needs a seat belt -- Kathryn Harrison * author of JOAN OF ARC *
This brilliant, compelling book is the most meticulously researched, effectively constructed, and beautifully written work I have read in a very long time. It is dramatic history and also a timeless thriller: who - or what - drove a New England town to madness three centuries ago, resulting in the deaths of nineteen men and women for 'witchcraft?' The answers are astonishing -- Robert K. Massie * Pulitzer Prize-winning author of CATHERINE THE GREAT *
Once again Stacy Schiff dazzles us. THE WITCHES is a must read for anyone intrigued by this baffling and horrifying chapter from America's Puritan past. What Schiff uncovers is mesmerizing and shocking. Her meticulous research and lyrical writing lay bare an injustice that we should never forget - lest we repeat it -- Patricia Cornwell * author of DEPRAVED HEART *
Stacy Schiff has beautifully combined remarkable story telling with historical accuracy and insight. She
has opened up important new avenues for Salem scholarship -- Bernard Rosenthal * editor of RECORDS OF THE SALEM WITCH-HUNT *
Stacy Schiff's THE WITCHES is an indelibly etched morality fable, the best recounting of the Salem hysteria in modern times. Clear-eyed and sympathetic, Schiff makes the complex seem simple, crafting a taut narrative that takes in religion, politics, folklore, and the intricate texture of daily life in Massachusetts Bay, with particular attention to those 'wonder-working' women and girls who chose this moment to blow apart the Puritan utopia they'd helped to found. It's all here in one devilish, oracular book -- Megan Marshall * Pulitzer Prize-winning author of MARGARET FULLER *
Enchanting. Out of the shadows of the past come excitable young girls, pompous ministers, abusive judges, grieving parents, and angry neighbours, all of them caught up in a terrifying process that seemed to have no end: discovering who among them deserved death for being in league with Satan. THE WITCHES is as close as we will ever come to understanding what happened in and around Salem in 1692. Courtrooms, streets, churches, farmyards, taverns, bedrooms - all became theatre-like places where anger, anxiety, sorrow, and tragedy are entangled. An astonishing achievement -- David D. Hall, Bartlett Research Professor of New England Church History, Harvard University
Stacy Schiff has brought her extraordinary gifts as researcher and writer to revivify the old but endlessly compelling story of the 1692 Salem witch hunt. Her mastery of detail, her ingenuity in spotting connections and trend lines, and her intuitive feel for the people involved combine in a brilliant portrayal of cascading human tragedy. It is sharply etched. It is ground level. It is emotionally powerful. It is full of surprising twists and turns. If history is time travel, this is a journey readers will never forget -- John Demos * author of ENTERTAINING SALEM *
Schiff's exhaustive trawl through the sources sheds fresh light on this grisly episode -- Simon Shaw * MAIL ON SUNDAY *
You may also be interested in...
"An engrossing account of the witch-mania that afflicted New England"
This reads almost like a thriller as opposed to a history book; except this thriller actually happened! The story is told from the point of view of the villagers and magistrates, with contextual explanations mixed in... More
×
Download the Waterstones App
Would you like to proceed to the App store to download the Waterstones App?
Reserve online, pay on collection
Alternatively, for multiple items you may find it easier to
add to basket
, then pay online and collect in as little as 2 hours, subject to availability.
Thank you for your reservation
Your order is now being processed and we have sent a confirmation email to you at
When will my order be ready to collect?
Following the initial email, you will be contacted by the shop to confirm that your item is available for collection.
Call us on or send us an email at
Unfortunately there has been a problem with your order
Please try again or alternatively you can contact your chosen shop on or send us an email at