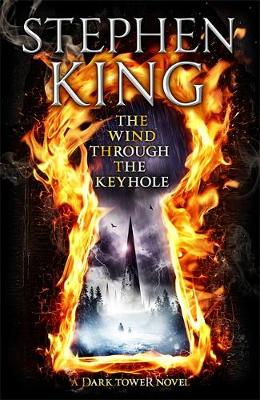 Hardback
Published: 24/04/2012
THE NUMBER ONE INTERNATIONAL BESTSELLER. For readers new to The Dark Tower, THE WIND THROUGH THE KEYHOLE is a stand-alone novel, and a wonderful introduction to the series. It is a story within a story, which features both the younger and older gunslinger Roland on his quest to find the Dark Tower. Fans of the existing seven books in the series will also delight in discovering what happened to Roland and his ka tet between the time they leave the Emerald City and arrive at the outskirts of Calla Bryn Sturgis. This Russian Doll of a novel, a story within a story, within a story, visits Mid-World's last gunslinger, Roland Deschain, and his ka-tet as a ferocious storm halts their progress along the Path of the Beam. (The novel can be placed between Dark Tower IV and Dark Tower V.) Roland tells a tale from his early days as a gunslinger, in the guilt ridden year following his mother's death. Sent by his father to investigate evidence of a murderous shape shifter, a 'skin man,' Roland takes charge of Bill Streeter, a brave but terrified boy who is the sole surviving witness to the beast's most recent slaughter. Roland, himself only a teenager, calms the boy by reciting a story from the Magic Tales of the Eld that his mother used to read to him at bedtime, 'The Wind through the Keyhole'. 'A person's never too old for stories,' he says to Bill. 'Man and boy, girl and woman, we live for them.' And stories like these, they live for us. The back cover of the UK hardcover edition features some 8,000 faces of those who entered the StephenKingFaces competition. These faces are indiscernible to the naked eye on the actual covers but they can be found and identified with the zoom mechanism on http://www.stephenkingfaces.com/
Publisher: Hodder & Stoughton General Division
ISBN: 9781444731705
You may also be interested in...
"Beautiful and Exciting"
This book is a fantastic addition to the Dark Tower series but it can also be read as a single story. It was lovely to be reunited with Roland and the gang (albeit for a little while). The two stories told in the book... More
"ABSOLUTELY BRILLIANT"
I thought this book was absolutely fantastic! I have read all the Dark Tower Novels and thoroughly enjoyed this as well. Even if you hadn't read the other novels you will enjoy this! GET OUT AND BUY THIS NOW!!
"the wind through the keyhole"
i thoroughly enjoed the book as i did the whole series of the dark tower,i cant wait for stephen king to write another great series.
We would love to hear what you think of Waterstones. Why not review Waterstones on Trustpilot?