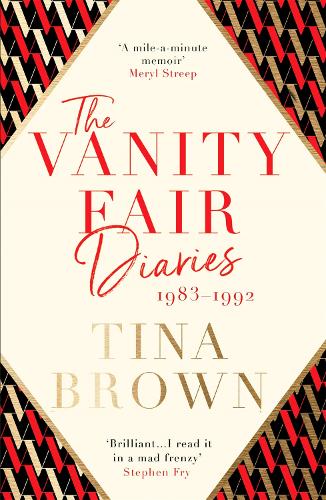 The Vanity Fair Diaries: 1983-1992 (Paperback)
Tina Brown
(author)
Paperback
448

Pages / Published: 28/06/2018
The sizzling diaries of Tina Brown's eight spectacular years as editor in chief of Vanity Fair paint a riveting portrait of the flash, dash and follies of the eighties in New York and Hollywood.
The Vanity Fair Diaries is the story of an Englishwoman barely out of her twenties who arrives in Manhattan on a mission.
Summoned from London in hopes that she can save Conde Nast's troubled new flagship Vanity Fair, Tina Brown is immediately plunged into the maelstrom of the competitive New York media world and the backstabbing rivalries at the court of the planet's slickest, most glamour-focused magazine company.
She survives the politics, the intrigue and the attempts to derail her by a simple stratagem: succeeding. In the face of rampant scepticism, she triumphantly reinvents a failing magazine.
Here are the inside stories of Vanity Fair scoops and covers that sold millions: the Reagan kiss, the meltdown of Princess Diana's marriage to Prince Charles, the sensational Annie Leibovitz cover of a gloriously pregnant, naked Demi Moore.
In the diary's cinematic pages, the drama, comedy and struggle of running an 'it' magazine come to life. Brown's Vanity Fair Diaries is also a woman's journey, of making a home in a new country and of the deep bonds with her husband, their prematurely born son and their daughter.
Astute, open-hearted, often riotously funny, Tina Brown's The Vanity Fair Diaries is a compulsively fascinating and intimate chronicle of a woman's life in a glittering era.
Publisher: Orion Publishing Co
ISBN: 9781474608411
Number of pages: 448
Weight: 360 g
Dimensions: 132 x 201 x 25 mm
---
MEDIA REVIEWS
'A mile-a-minute memoir I read like a parrot with my nails embedded in Pirate Tina's shoulder, yelling 'What??!!' 'What!?!!' 'WOWZA!' as she swashbuckles through the eighties, her sword slicing up the staid shibboleths of New York. I remembered why I was afraid of her in those days. And why that energy and imagination, turned to making the world better, has galvanized so many of us now. A cultural catalyst, she makes things happen. Thank god she wrote it all down. Hang on - it's a wild ride' - Meryl Streep
'It's brilliant, concretely realised social history as much as a fabulous odyssey, and I read it in a mad frenzy' - Stephen Fry
'Full of creative glee, passion and wild-ride excitement, The Vanity Fair Diaries features a cast of characters like Mad Men (and women) on speed; an epic of a legendary magazine's dazzling re-creation; moments of laugh-out-loud comic asides, juicy gossip and sketches of Austen-like sharpness, all put together by an editor of high-octane genius who pauses only to reflect that however good she might be, it's never quite good enough. Oh yes it is. Read the diaries and feel better about everything. The word lives!' - Simon Schama
'There has been fevered speculation about Tina Brown's diaries for decades ... Well, here they finally are - and I read them in one six-hour sprint of pure pleasure and joy. These are the most compelling media diaries since Piers Morgan's The Insider but with a tonier cast of characters, indiscreet, brilliantly observed, frequently hilarious ... Her turnaround of the relaunched Vanity Fair in the mid-Eighties is the stuff of journalistic legend - an electrifying, glitzy, gritty triumph - and these are the years covered by these diaries. And it's all here: the Demi Moore naked and pregnant front cover, Claus von Bulow photographed in black leather, Donald and Ivana Trump, the whole sweep of Eighties Manhattan reported at first hand in Tina's fresh, beady, borderline-paranoid style ... As a primer for how to edit a hot magazine, there is much to learn here ... Tina encounters it all, and deals with it' - Nicholas Coleridge, The Evening Standard
'Who could resist Tina Brown, that then 30-year-old blonde Brit who stormed New York in the Eighties, reading her memoir of how she did it? Not me ... Her voice is taut, her eye is everywhere. She doesn't bring us into her circle but tells us, firmly, proudly, sometimes wickedly, what it was like ... Listening to her is as delightful as eating a whole box of chocolates, without a trace of weight gain ... She's irresistible' - Gillian Reynolds, The Daily Telegraph
'The party-by-party, cover-by-cover story of how a Brit conquered New York publishing. As a novice editor, I can tell you it is packed with priceless advice from one of the greatest of them all' - George Osborne, New Statesman
'Right there. That's what makes Brown such a fabulous diarist. It's not just that she's a wonderful writer (although she is: fluent, funny, fierce). It's more that, even after taking her seat at America's top table, she never stops noticing. Amid the narcotic stupefaction of great wealth, Brown is invariably alert and on the money' - Allison Pearson, The Sunday Telegraph
'Because you can never have too many books - and this one will be the juiciest of the year' - Cosmopolitan
'Brown is brilliant at these gleeful little character descriptions ... She has the knack of making people instantly interesting ... [The Vanity Fair Diaries] make for a fast-paced and head-spinningly hectic read' - Eithne Farry, Sunday Express
'Within a couple of years she had turned it into the house magazine of a resurgent celebrity beau monde and gained an untouchable star quality of her own. Her diaries recount this will to power with caustic drollery and dash' - Anthony Quinn, Financial Times
'One of Brown's most appealing qualities is her frankness. She speaks as openly about big issues as she has expected the celebrities who've appeared in her magazines to do. And it's why her book is such a juicy read. She's honest about every interaction, no matter how big the star: every success and every mistake' - Natasha Perlman, Grazia
'These diaries are a great deal of fun ... Ultimately, though, this is a perfect primer to the gaudy excesses of 1980s culture. "This is what I appreciate most about the city at night, the life force of New York aspiration, wanting, wanting to be seen," Brown writes in September 1985. The same could be said about the author: it is her joy in her job, her delight at being ringside in this moment, and, most of all, her sheet chutzpah, which keeps you turning the pages -- Sarah Hughes, i Newspaper
'Tina Brown's account of her years as editor of Vanity Fair is enthralling - and terrifying' - Peter Conrad, The Observer
'Heaven' - India Knight, The Sunday Times
'A great portrait of the greed, the glitter, the fatal superficiality of that decade ... her witty skewerings are first-class' - Roger Lewis, The Times
'A brilliant portrait of New York in an age of shoulder-padded excess by a British editor who can pass as American, but never lost her merciless gift for a great story' - Allison Pearson, The Sunday Telegraph
'In this fascinating memoir from a publishing legend, Tina Brown offers insights into the life of a glossy magazine editor' - Hello!
'Gripping, funny ... Her enthusiasm for New York, and magazines, is infectious. "There's no fun in the world greater than the frenzy of closing a magazine on deadline," she says in her introduction. And you believe her when she squeals on 10 January 1984, "I have loved my first week!' - Markie Robson-Scott, The Arts Desk
'No matter how much you might hate yourself for wanting to read the British journalist's account of her wonder years at the helm of the US's pre-eminent glossy, the troubling fact is that it is addictive' - Kathryn Hughes, The Guardian
'The Vanity Fair Diaries has a Gone with the Wind-like feel: it's a chronicle of a lost age, before the internet, when 'to be the editor of Time or Newsweek was to be a demigod'. Yeah, and to be Tina Brown was very heaven' - Cosmo Landesman, The Literary Review
'A journalism masterclass' - Janice Turner, New Statesman
'One is left with huge admiration for Brown's wit, talent and determination' - Lynn Barber, The Sunday Times
'Fun and often funny' - Hadley Freeman, The Guardian
'Tina Brown, editor-in-chief of Vanity Fair during the 1980s, covers her time in Manhattan with wit and wisdom, as she unwraps the stories behind the famous covers and tells of how she fought her corner, raised a family and strove to make the magazine a success' - Kerry Fowler, Sainsbury's Magazine
'That's what makes Tina Brown such a fabulous diarist. It's not just that she's a wonderful writer (although she is fluent, funny, fierce). It's more that, even after taking her seat at America's top table, she never stops noticing. Amid the narcotic stupefaction of great wealth, Brown is invariably alert and on the money' - Irish Independent
'She makes you glad that someone was taking notes' - Jamie Fisher, Times Literary Supplement
'Anyone who was anyone in Eighties New York can be found in Brown's polished account of her time editing US magazine Vanity Fair. The result is a page-turning hymn to a vanished media age' - i
You may also be interested in...
"Interesting Read "
I really enjoyed reading Tina Brown 's Diaries.It was lovely to revisit the 1980's again .I loved the gossip Tina Brown writes very well and I found her diaries an amusing and interesting insight into her... More
"A must-read"
The diaries of legendary editor, Tina Brown, are an amazing journey through the glamorous and rollercoaster world of glossy magazine publishing in New York in the 1980s and early 1990s. Tina's journal takes us from... More
×
Download the Waterstones App
Would you like to proceed to the App store to download the Waterstones App?
Reserve online, pay on collection
Alternatively, for multiple items you may find it easier to
add to basket
, then pay online and collect in as little as 2 hours, subject to availability.
Thank you for your reservation
Your order is now being processed and we have sent a confirmation email to you at
When will my order be ready to collect?
Following the initial email, you will be contacted by the shop to confirm that your item is available for collection.
Call us on or send us an email at
Unfortunately there has been a problem with your order
Please try again or alternatively you can contact your chosen shop on or send us an email at