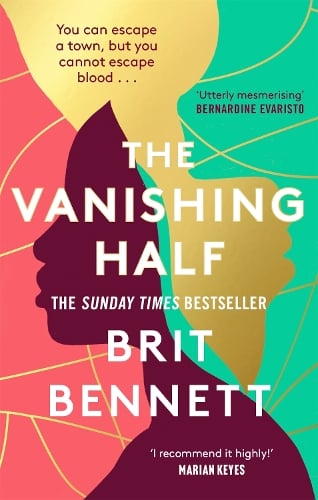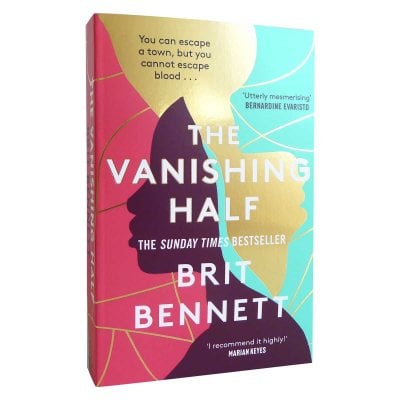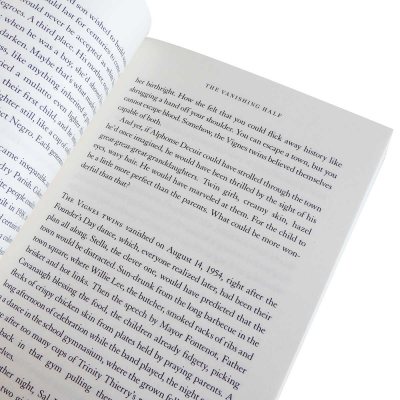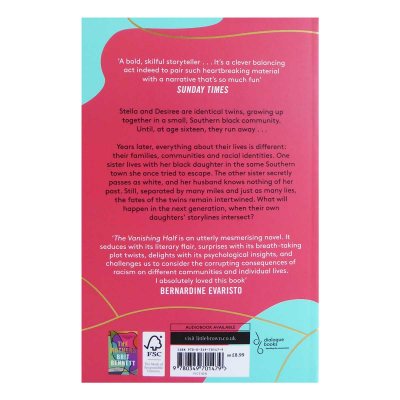 Paperback
384

Pages
Published: 29/04/2021
Spanning the 1950s to the 1990s and from the Deep South to California, Bennett's stunning novel follows the journeys of two estranged twin sisters leading very different lives – to the extent of adopting different racial identities.
Waterstones Fiction Book of the Month for May 2021
Shortlisted for the Orwell Prize for Political Fiction 2021
Shortlisted for the Women's Prize for Fiction 2021
Shortlisted for the Waterstones Book of the Year 2020
Shortlisted for the British Book Awards Fiction Book of the Year 2021
The Vignes twin sisters will always be identical. But after growing up together in a small, southern black community and running away at age sixteen, it's not just the shape of their daily lives that is different as adults, it's everything: their families, their communities, their racial identities. Ten years later, one sister lives with her black daughter in the same southern town she once tried to escape. The other secretly passes for white, and her white husband knows nothing of her past. Still, even separated by so many miles and just as many lies, the fates of the twins remain intertwined. What will happen to the next generation, when their own daughters' story lines intersect?
Weaving together multiple strands and generations of this family, from the Deep South to California, from the 1950s to the 1990s, Brit Bennett produces a story that is at once a riveting, emotional family story and a brilliant exploration of the American history of passing. Looking well beyond issues of race, The Vanishing Half considers the lasting influence of the past as it shapes a person's decisions, desires, and expectations, and explores some of the multiple reasons and realms in which people sometimes feel pulled to live as something other than their origins.
Publisher: Dialogue
ISBN: 9780349701479
Number of pages: 384
Weight: 300 g
Dimensions: 198 x 126 x 28 mm
---
MEDIA REVIEWS
'Bennett's gorgeously written second novel, an ambitious meditation on race and identity, considers the divergent fates of twin sisters, born in the Jim Crow South, after one decides to pass for white. Bennett balances the literary demands of dynamic characterization with the historical and social realities of her subject matter.' - New York Times
'Bennett balances the literary demands of dynamic characterization with the historical and social realities of her subject matter. . . there is such depth, possibility and dramatic propulsion . . a brave foray into vast and difficult terrain. . . .The novel raises thorny questions about the cost of blackness. The answers are complicated.' - New York Times Book Review
'Stunning . . . Bennett pulls it off brilliantly . . . Few novels manage to remain interesting from start to finish, even - maybe especially - the brilliant ones. But . . . Bennett locks readers in and never lets them go.' - Los Angeles Times
'Deeply compelling . . . brilliantly creates a network of characters - singular and vivid . . . There are moments . . . that stun with quiet power . . . The Vanishing Half more than succeeds as a beautifully imagined story about an American family.' - USA Today
'As thought-provoking as it is engrossing.' - Oprah magazine
'Brit Bennett has learned a lot from Toni Morrison - the use of uncanny rural communities in the South/Midwest; twins/doppelgangers to explore the extreme edges of the American Dream; whip-smart dialogue - but her exquisite slowness and patience of tone are unique. A wonderful, cosseting read.' - Paul Mendez, author of Rainbow Milk
'The Vanishing Half is an utterly mesmerising novel. It seduces with its literary flair, surprises with its breath-taking plot twists, delights with its psychological insights, and challenges us to consider the corrupting consequences of racism on different communities and individual lives. I absolutely loved this book.' - Bernardine Evaristo, winner of the Booker Prize
'A novel of immense, shining, powerful intelligence.' - Deborah Levy
'The Vanishing Half should mark the induction of Brit Bennett into the small group of likely successors to Toni Morrison, Zora Neale Hurston and Nella Larsen. I read it torn between competing urges: I wanted to greedily turn the pages, yet I also wanted to savour every word, lingering as long as I could with the delicious feeling of being sunk so deep into the story that every time I set the book aside it felt like coming up for air. Compelling, compassionate and astonishingly good.' - Sara Collins
'A potent, generous, and masterful novel. Bennett is a humane and supple story-teller we are lucky to have.' - Olivia Sudjic
'An impressive and arresting novel. Perceptive in its insights and poised in execution, this is an important, timely examination of the impact of race on personality, experience and relationships.' - Diana Evans
'Superb. A gorgeously immersive novel. It deftly explores the dichotomies of twinship, passing and class in America.' - Irenosen Okojie
'The detail and the feeling showcased in every sentence Brit Bennett writes is breathtaking. The Vanishing Half is a novel that shows just how human emotion, uncertainty and longing can be captured and put on paper.' - Candice Carty-Williams
'The Vanishing Half does exactly what a great novel is meant to do. It fills you with questions, exposes you to realities you may never have thought of and of course keeps you up into the night reading. The characters in this book are so real, so warm and so very complicated. I loved every part of it, even when it was making me sad or angry. It's just such a beautiful story.' - Luan Goldie
'Brit Bennett is a tremendous talent.' - Imbolo Mbue
'A powerful, tender family epic which reminds us directly and poignantly that things are not black and white.' - Louisa Young
'Bennett's mesmerising gem is a masterclass of moving storytelling. The Vanishing Half is also a thought provoking assessment of race and social politics in post-war America .. . The powerful plot twists will keep you gripped until the end.' - The Independent
'The Vanishing Half is an immersive story about family, identity and belonging.' - Red
'A novel about motherhood and race, incredibly clever and interrogates race with nuance . . . Compulsively readable . . . An incredible talent . . . a book to look forward to.' - The High Low podcast
'A lyrical mediation on identity, race and gender. Bennett explores the selves we choose to be, as well as the selves we have imposed on us with great empathy and precision. The Vanishing Half is a gorgeous, generous novel and written with true heart.' - Elizabeth Day
'Stunning . . . seamless and suspenseful . . . engrossing and surprisingly apolitical . . . The result is a novel that reads effortlessly . . . There is tremendous, timeless wisdom here.' - AV Club
'This ticks all the boxes for me - enticing plot, memorable characters, all wrapped up in beautiful writing . . . an astounding book.' - Nina Pottell, Prima
'The Vanishing Half is one of this year's most anticipated books . . . Sweeping and ambitious . . . Combining an addictive story (it's perfect for book clubs ) with serious questions of racism, social expectations, lies, love and compassion - this is an unforgettable read.' - Stylist
'Bennett is a gifted storyteller. This generous, humane novel has many merits, not least its engrossing plot and richly detailed settings.' - Michael Donkor, The Guardian
'A thought-provoking read.' - Woman & Home
'Fascinating and beautifully written.' - Good Housekeeping
'An entirely mesmerising novel.' - Psychologies
'A bold, skilful storyteller . . . a novel that deftly rehearses the history of prejudice and suffering leading up to the present moment. It's a clever balancing act indeed to pair such heartbreaking material with a narrative that's so much fun.' - Claire Lowdon, Sunday Times
'Deft, dazzling, many-layered, highly detailed and emotionally absorbing . . . [Bennett] unpicks the terrible, wonderful, inescapable threads that bind sisters across time, place and lies, and does so with poise, grace and breathtaking prose. A beautiful, important and timely book.' - Ella Walker, Scotsman
'A must-read . . . A tender story about race, family and identity.' - Best
'Fluent and openhearted . . . In a style as easy and candid as a detective story, Bennett scatters clues for us to gather just as, crucially, the twins' contrasting daughters, Jude and Kennedy, piece together fragments of their painful heritage.' - Maria Crawford, Financial Times
'Bennett explores the multiple ways in which race and gender can be authentic, permeable and socially constructed all at once, without ever passing judgment on her characters. Combining a mythic structure with emotionally rich social realism, this is a truly excellent novel.' - Claire Allfree, Daily Mail
'Bennett's second novel is an expertly plotted and empathetic exploration of race, identity and colourism in the tradition of Toni Morrison.' - The Guardian
'Bennett's wonderful novel tackles race and identity in the US, as the Vignes twins, Desiree and Stella, who choose very different paths through life.' - The i
'The omniscient authorial voice is gentle and compassionate in a tale that inverts and confounds expectations . . . cleverly constructed to both match and critique the conservativism of the 1950s and 60s : the attenuated tone chimes with the restrained language and style of the period. Ultimately, it's a quietly damning account of acquiescing to an imitation of life and the delusion of the American dream.' - Colin Grant, The Observer
'It's intensely emotional and gorgeously written, with timely insights into the poison of racism.' - Sunday Mirror
'Beautifully written.' - Bella
'Epic and unforgettable.' - Hello!
'A triumph of empathetic storytelling . . . A terrific novel.' - Claire Allfree, Daily Mail
'An absorbing read that stays with you long after you've closed its pages.' - Herald
'Bennett has been described as a successor to the likes of Toni Morrison and Zora Neale Hurston, and The Vanishing Half promises an absorbing exploration of race, family and the American history of "passing".' - Refinery29
'A gorgeously rich, sweeping saga.' - Evening Standard
'A thought-provoking read about identity and gender.' - Zoe West, Women's Weekly
'The intricacies of identity, of "shadeism" between differently skin-toned African-Americans, of white privilege are skilfully pursued in this poignant and clever multigenerational saga about race in America.' - The Times
'Bennett imbues her characters with immense heart, and does a great job of depicting their lives through the years. Even better, she works hard to draw resonances throughout her thoughtful and compassionate tale, looking at the dubious history of the Vignes girls' lineage, as well as the difficulties and struggles of their children as they stride forward into the world. There is a simple lyrical quality to Bennett's prose that evokes an entire place and time in just a few well-balanced sentences, and the way she treats all her characters with respect and care makes The Vanishing Half an engaging and thought-provoking read on every level.' - Big Issue
'Arguably the book of the summer, Bennett's second novel is a page-turning saga of race and family.' - The i
'Bennett tells the story of the girls' diverging trajectories in rich, elegant prose; you can literally swirl the words in your mouth.' - Evening Standard
'I loved how Bennett explores the concepts of belonging and family.' - Cosmopolitan
'Moving back and forth over three decades, and the course of an intricately detailed plot, Bennett's superb novel takes the issue of race as the starting point for a deep exploration of identity.' - Financial Times
'One of the most engaging books of the year.' - The i
'Old-fashioned epic meets modern identity politics in this excellent novel about the mixed fortunes of light-skinned black twins born in 1950s Louisiana.' - The Telegraph
'A stunning family saga about passing for white and the hollowness of the American dream that won her comparisons to Toni Morrison.' - The Guardian
'It has the ideal mix of social commentary and a pacy plot - I tore through it in a couple of days.' - The i
'The year's most addictive novel.' - Metro
'I loved Bennett's rich elegant prose.' - Evening Standard
'Mesmerising . . . the powerful plot twists in the novel, which concludes in 1986, will keep you gripped until the end.' - The Independent
'An engrossing, provocative read exploring themes of family, relationships and race.' - Books of the Year, Express
'This book has everything: enticing plot, memorable characters and beautiful, melodic writing.' - Books of the Year, Prima
You may also be interested in...
×
Download the Waterstones App
Would you like to proceed to the App store to download the Waterstones App?
Reserve online, pay on collection


Thank you for your reservation
Your order is now being processed and we have sent a confirmation email to you at
When will my order be ready to collect?
Following the initial email, you will be contacted by the shop to confirm that your item is available for collection.
Call us on or send us an email at
Unfortunately there has been a problem with your order
Please try again or alternatively you can contact your chosen shop on or send us an email at