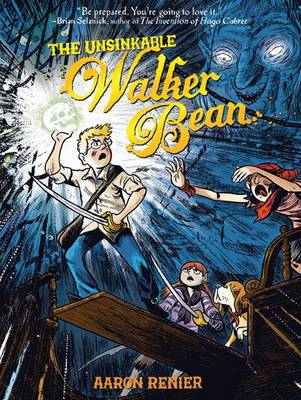 The Unsinkable Walker Bean (Paperback)
Aaron Renier
(author)
Paperback
208

Pages / Published: 03/09/2010
Walker Bean never wanted to be a high-seas pirate waging a pitched battle against the forces of the deep. It just worked out that way.
Mild, meek, and a little geeky, Walker is always happiest in his grandfather's workshop, messing around with his inventions. But when his beloved grandfather is struck by an ancient curse, it falls on Walker to return an accursed pearl skull to the witches who created it--and his path will be strewn with pirates, magical machines, ancient lore, and deadly peril.
Author/illustrator Aaron Renier brings everything he has to this swashbuckling adventure story. Drawing from sources as disparate as Tintin, Treasure Island, and Harry Potter, Renier has woven together a breathless tale that will leave readers' ears ringing from the cannon-shot and their eyes dazzled from the glowing stares of sea-witches.
Publisher: Roaring Brook Press
ISBN: 9781596434530
Number of pages: 208
Weight: 572 g
Dimensions: 253 x 194 x 11 mm
---
MEDIA REVIEWS
"Be prepared. You're going to love it." --Brian Selznick
"Aaron's work makes me feel ten years old again. " --Lane Smith
"Outrageous and wonderful!" --Jeff Smith
"At first glance, this graphic novel looks like a mishmash of time-honored seafaring fantasy-adventure tropes: ancient curses with vague hints of Atlantis and a lost treasure; pirates more loveable than rascally pitted against greedy starched-shirt colonial naval types; and of course the outwardly meek but plucky-under-fire boy hero. But while Renier certainly hits all of those notes, he isn't content to simply let the story coast once under way--which takes only a panel or two to get cracking. Instead, he keeps throwing newer and neater elements into the fray. The excitement centers around a cursed skull stolen from the lair of two deep-sea crustacean witches. Like all who look upon the skull, Walker's beloved Grandpa falls deathly ill when he finds it, and the boy sets out to return the skull from whence it came. In two of the more impressively clever feats, the inventive lad turns a pirate ship into a proto-all-terrain vehicle and uses an enormous blank canvas to recreate the night sky, subverting the navigational course of the ship. The generous page size lets readers dive into Renier's quavery and painstakingly detailed cartooning, and he really shows off his stuff with a bounty of full-splash dazzlers. Though a smidge light on characterization, this comic really is just about everything you want from a rip-roaring adventure: exciting, deep, funny, and scary, with tremendous villains and valor galore." --Booklist, Starred Review
"Anyone who has said that pirates are an overused motif in youth literature has not yet met Walker Bean. Legends of Atlantis, merwitches and pirates abound in this stunningly swashbuckling graphic novel. Young Walker Bean, overlooked by his father, adores his fanciful grandfather and the yarns he spins about his adventures on the high seas. On his deathbed, his grandfather asks him to return an enchanted skull to a remote island. A fantastic adventure ensues, replete with pirates, naval officers and horrifying lobster merwitches out to apprehend Walker and the skull. A lushly eye-catching palette strides in easy harmony with this whimsical--though substantial--narrative. Renier and colorist Alec Longstreth work within a contained 75-color palette, achieving their goal of a unified feel throughout. In lesser hands this could have easily been labeled another trite "chosen one" adventure tale, but the masterful writing and art flawlessly transcend any predictable genre constraints. An easy crowd pleaser, this book has something sure to enchant every reader. Three cheers for Walker Bean...long may he sail!" --Kirkus, Starred Review
"Throughout his childhood, pudgy, bespectacled Walker Bean has listened to his grandfather's tales of adventure on the open seas. Now Walker finds himself smack-dab in the middle of his own thrilling escapade when his ailing grandfather asks him to return a human skull to a trench deep in the ocean floor. Once part of a skeleton of a witch's enemy, this skull has now been transformed into pearl. Armed with his grandfather's journal, an amazing message bottle, assistance from a few trusted friends, and his own clever and inventive mind, Walker braves pirates, evil witches, and his own fears in this tale of derring-do and skullduggery. Renier's tale is a youngster's dream: adventure with a capital A. The graphic art moves the story along with excellent page layout and a brilliant color palette that serve as fireworks, lighting up the pages with cannon muzzle blasts and ships ablaze. Clever writing, though sometimes a little convoluted for young readers, is filled with humor and puns. Readers should be prepared to suspend all logic and ties to reality. They will find a ship with a garden complete with large fruit trees and a gardener who practices composting onboard. The crew uses matches and employs phrases such as "Holy Guacamole." But for those who are ready to lay aside these concerns for a while and take off with Walker in an adventure of a lifetime, this is an exciting choice." --School Library Journal, Starred Review
"This rip-roaring tale of swashbuckling adventure from the Eisner Award-winning Renier offers up a story line and art of equally intriguing depth. It is colonial times, and Walker Bean must help his grandfather, who's been cursed by a pair of witchy undersea lobster-women named Tartessa and Remora, by returning a magical skull to the mysterious Mango Islands. Stowing away on a ship, Walker teams up with a dog named Perrogi (obviously drawn with the affection of a dog lover), a boy named Shiv, and a tough-talking girl named Genoa. Renier's dynamic drawings are rich in detail; readers will get lost in the winding streets of colonial towns, island hideaways, natural history collections, exuberant panoramas of action. Renier lets his imagination lead the way, throwing maps and illustrated clues throughout this seafaring world, and setting up all manner of surprises and danger for Walker." --Publisher's Weekly, starred review
"Walker's grandfather falls ill after returning from sea with a cursed skull belonging to the merwitch sisters, Tartessa and Remora. Walker's father is determined to sell the rare skull because he does not believe his father's story about how the sisters destroyed the city of Atlantis. Walker's grandfather convinces Walker that he must take the skull aboard his father's ship and direct the ship towards the Mango Islands where the skull can be returned to the sisters. Walker, a timid and anxious young man, is an unlikely nominee for this job, but he is determined to save his beloved grandfather and has his grandfather's flair for invention. Pirates seize the skull at the outset of the assignment and Walker finds himself aboard another ship where he meets Genoa and Shiv who vow to help him complete his mission. After the monstrous sisters attack the ship, the three young adventurers decide they must outsmart the corrupt pirates. Walker creates the plans to reset the ship's course in the evenings in the direction of the Mango Islands.
Although this graphic novel may be more likely to attract male readers, Genoa has enough gumption to engage female teens that give this book a try. Readers will find themselves stopping to closely examine the detailed drawings that illustrate the action aboard the ship, especially the full-page illustrations. The palette used by colorist Alec Longstreth beautifully complements the setting and tone of this suspense-filled high seas adventure. This magical tale invites readers aboard the ship with the heroes, allowing readers to share in their triumph." --VOYA
"If you think deep-water oil spills are scary, wait 'til you see the soul-entrapping skulls and lobster-like merwitches lurking near the Atlantic Ocean vents in this graphic novel. Admiral Bean, wasting away with an unnamed illness, is currently in possession of one of these skulls, and he commands his son, captain of the Ticonderoga, to commit it to the trench where it belongs. He has good reason, though, to mistrust his son, who's in cahoots with mysterious Dr. Patches and a host of drunken naval officers to sell the skull, so Admiral Bean charges his pudgy, bespectacled grandson Walker to go along and oversee the task. The bagged skull rapidly changes hands as Walker, his father, Dr. Patches, a shipful of pirates, an obese antiquities dealer, and the merwitches themselves chase each other around the ocean, one-upping one another with their dastardly ploys and cunning counter-strategies. Renier concocts a frenetic adventure story and a visual feast, with a Tintin-esque look to the cast, Where's Waldo? detailing in the splash pages, a complete refit of political geography, inventions that straddle Disney and steampunk, marine creatures from a Seussian nightmare, and a wry propensity for anachronism and wordplay. By story's end the merwitches have been appeased, but there's still a lost family to be found, Dr. Patches is probably on the loose (now with eight legs instead of two), and Walker is far away from home. Let's hope we're not stranded in port too long before Volume Two sets sail." --BCCB
You may also be interested in...
Simply reserve online and pay at the counter when you collect. Available in shop from just two hours, subject to availability.
Thank you for your reservation
Your order is now being processed and we have sent a confirmation email to you at
When will my order be ready to collect?
Following the initial email, you will be contacted by the shop to confirm that your item is available for collection.
Call us on or send us an email at
Unfortunately there has been a problem with your order
Please try again or alternatively you can contact your chosen shop on or send us an email at