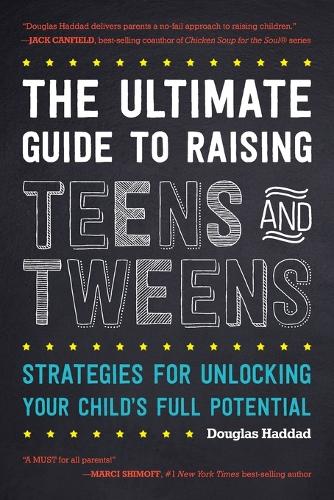 The Ultimate Guide to Raising Teens and Tweens: Strategies for Unlocking Your Child's Full Potential (Paperback)
Douglas Haddad
(author)
Paperback
286

Pages / Published: 16/02/2017
Are you concerned or frustrated with the choices your child makes when it comes to their peer groups, study habits, and use of social media? Do you feel your child is pushing you away and your connection is weakening? Are you unsure of the next steps you should take to help your child succeed? A whole new set of parenting concerns arise during tween and teenhood that can be overwhelming for any parent. The Ultimate Guide to Raising Teens and Tweens offers a step-by-step plan for raising your adolescent through this tumultuous time. Douglas Haddad provides specific, proven tools for you to help your child become a problem solver and grow to be smart, successful, and self-disciplined. In The Ultimate Guide to Raising Teens and Tweens, you will: *Discover the secrets of effective communication with your child *Learn the techniques to stop behavior problems right in their tracks when they happen *Know the strategies to best motivate your child and unlock their potential *Find out how to set appropriate limits and hold your child accountable for their actions *Understand today's "child-limiting challenges" and the solutions for handling them with your child Every parent wants the best for their child, and these years can be fraught with challenges: bullying, violence, gambling, sex, smoking, alcohol, substance use, eating disorders, depression, suicide, unhealthy eating, lack of physical activity, etc. Making sense of these challenges, this book offers exercises for incorporating the ten child unlimited tools into your parenting style and anecdotes to illustrate strategies and techniques. Supported by current research, the tools found in these pages will serve as a guide for any family with tweens or teens.
Publisher: Rowman & Littlefield
ISBN: 9781442256958
Number of pages: 286
Weight: 435 g
Dimensions: 227 x 153 x 21 mm
---
MEDIA REVIEWS
Supported by current research, the tools presented in The Ultimate Guide to Raising Teens and Tweens will serve as a guide for any family with tweens or teens. One of the most 'parent friendly' instruction guides ever written for anyone charged with the responsibility of raising teenagers in our contemporary world, The Ultimate Guide to Raising Teens and Tweens clearly lives up to its title and is extraordinarily informative and exceptionally accessible in both organization and presentation. While very highly recommended, especially for community and academic library Parenting Studies instructional reference collections, it should be noted for personal reading lists that [the book is also available in a Kindle format. * Midwest Book Review *
The Ultimate Guide to Raising Teens and Tweens is described as 'an insightful and inspiring book to help parents raise children in today's world,' and it certainly delivers on that promise.... A book like this is useful for any parent in this day and age. * Girl Who Reads *
Douglas Haddad delivers parents a no fail approach to raising children. If you could read only one book to help children become successful and reach their unlimited potential, Ultimate Guide to Raising Teens and Tweens has everything you need and is the one to get! -- Jack Canfield, multiple #1 New York Times and USA Today bestselling co-author of Chicken Soup for the Soul (R) series, success coach, and human potential thought leader
Doug's tools for the 3 S's are a MUST for all parents! There are so many challenges that children deal with these days, and Doug truly gets it! His advice will help you gain the confidence you need to handle problems effectively and make the right choices so you can help your child succeed in every way. -- Marci Shimoff, #1 New York Times best-selling author, Happy For No Reason, Love for No Reason, Chicken Soup for the Woman's Soul
Kudos to Douglas Haddad for helpful, meaningful tools for bettering our parenting skills. Nothing is a more important service today to both our children and to us. There are treasures here for every parent seeking a better relationship with their tween or teen. -- Marianne Williamson, multiple #1 New York Times bestselling author, spiritual teacher, and lecturer
If creating a more fulfilling relationship with your children and seeing them grow into inspired and empowered individuals where they are living a productive and meaningful life in highest accordance with their highest values are your goals, then applying the tools found within Ultimate Guide to Raising Teens and Tweens can certainly bring you those results. -- John Demartini, DC, international bestselling author of The Values Factor, educator, and human behavioral specialist
For parents who care about the kind of children they raise, this book is an excellent and practical comprehensive resource. It addresses what a parent needs to know in order to raise a healthy and well adjusted child in a fast-paced, technologically driven world. -- Bernie Siegel, MD, author of A Book of Miracles and Faith: Hope and Healing
Haddad's generous, highly-readable new book Ultimate Guide to Raising Teens and Tweens could not be more appropriately titled. Through anecdotes and research, Doug thoroughly walks parents through the importance of empathy and strength in parenting in order to foster a 'smart, successful, self-disciplined' child. He then comprehensively takes on each of the critical challenges and pitfalls faced by today's tweens and teens from drug use to sexuality and beyond. I cannot recommend Ultimate Guide to Raising Teens and Tweens enough. You will find it to be an invaluable and urgent read today, as well as an important reference for many years to come. -- John Duffy, PhD, #1 bestselling author of The Available Parent as featured on Steve Harvey
Eye opening and thought provoking! Haddad offers practical and insightful solutions to some of the most challenging problems parents face raising children in our modern era. -- Robert MacKenzie, EdD, Author of the Setting Limits series
Douglas Haddad has been an instrumental contributor to Parenting Special Needs Magazine for over six years. He is an exceptional writer who never fails to deliver positive, extremely well-written articles that contain information, knowledge and experience that benefit parents and their children. He is a valued and valuable member of this special needs community. -- Chantai Snellgrove, Founder/Editorial Director, Parenting Special Needs Magazine
Thanks to Douglas Haddad's vision, advice, and knowledge in educational technology and understanding the market, our company has been able to successfully introduce and market the Forbrain product at a global level. Haddad has been a great education ambassador for us and has been instrumental in helping our company grow. -- Gregoire Tomatis, co-founder of Sound for Life, Ltd. and director at Tomatis Developpement S.A.
Today's parents have a good idea of the challenges they face in trying to guide their children through the hazardous tween-teen years. From cyberspace to drugs, from sexuality to motivation, from eating disorders to depression-successfully negotiating these years so as to emerge a physically, emotionally, and psychologically healthy adult is a daunting tasks for these children and their parents. Doug Haddad provides parents with a road map for facing those tasks. Practical advice is what these parents seek, and practical advice is what they will find here. In a veritable tour of these crucial years, parents learn valuable information, presented concisely in plain language, as well as crucial advice-the do's and don'ts that can make the difference between success and failure. -- Joseph Nowinski, PhD, author, The Divorced Child: Strengthening Your Family through the First Three Years of Separation
A thoughtful, authoritative and practical guide that will help parents guide their children through the tween and teenage years. -- Carl Honore, author of Under Pressure: Putting the Child Back in Childhood
This book is a window into Haddad's world of practical insights, methods and tools that have made him a highly effective teacher. As Simsbury's 2016 Teacher of the Year, Haddad's passion for science, his fun and engaging teaching style, and his results in the classroom make him stand out among the best. -- Matthew Curtis, superintendent of Simsbury Public Schools in Connecticut
Douglas Haddad has written a comprehensive "how-to" for parents - specifically for those whose children are in or nearing the "tweens and teens." Because these are such formative and potentially difficult years for parents, Haddad presents very practical and workable solutions to the parenting issues of our day in a manner that can be assimilated into virtually any family scenario. This is a "manual" that can soften some of the harsh blows of these ages when families are committed to developing successful and contributing adults to America's future. -- Tom Ziglar, CEO, Ziglar, Inc.
Douglas Haddad, affectionately known as Doug, brings his years of experience to one of the most critical challenges facing parents: how to raise smart, successful, and self-disciplined children. Our children's worlds are full of amazing opportunity and daunting dangers. Hazards like drugs or bullying, violence or despair, may cause a premature exit on this path to a fulfilling and productive life for our children. Helping to navigate this developmental highway is the privilege of the parent. Focusing on tweens and teens, Doug provides concise and practical strategies and exercises that engage parents and their children, building relationships, and paving the path to a productive future. -- Joseph Shrand, MD, Chief of Adolescent Psychiatry, High Point Treatment Centers; Medical Director, CASTLE
In Ultimate Guide to Raising Teens and Tweens, Haddad asks the important questions that we need to be asking both ourselves as parents, as well as ourselves as a society in how we raise the next generation. Navigating parenthood without a manual is a mix of trial and error, underscored by our own fears & patterning. Ultimate Guide to Raising Teens and Tweens acts as that guide. With sound research, questions that get us to challenge our current ways of raising kids & straight forward steps and solutions. I highly, highly recommend all parents read this. This is my new parenting handbook. -- Kate O'Brien, Voice for Empowered Feminine Leadership; Creator of GameChanger & Founder of GameChanger Global Summit
I've seen Doug on television discussing different educational tools to engage learning, motivation and keeping a child's mind active. He understands the child and realizes how important interactive technology is both at home and in the classroom. -- Stephanie Jimenez, Senior Account Executive, SSPR Public Relations Agency
You may also be interested in...
Simply reserve online and pay at the counter when you collect. Available in shop from just two hours, subject to availability.
Thank you for your reservation
Your order is now being processed and we have sent a confirmation email to you at
When will my order be ready to collect?
Following the initial email, you will be contacted by the shop to confirm that your item is available for collection.
Call us on or send us an email at
Unfortunately there has been a problem with your order
Please try again or alternatively you can contact your chosen shop on or send us an email at