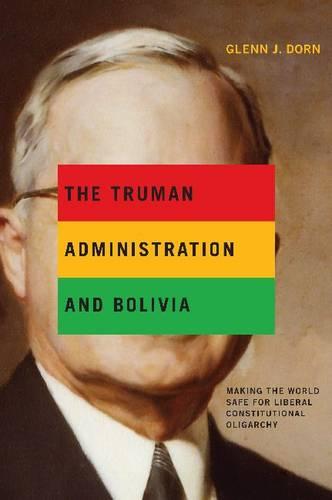 The Truman Administration and Bolivia: Making the World Safe for Liberal Constitutional Oligarchy (Hardback)
Glenn J. Dorn
(author)
Hardback
264

Pages / Published: 20/12/2011
The United States emerged from World War II with generally good relations with the countries of Latin America and with the traditional Good Neighbor policy still largely intact. But it wasn't too long before various overarching strategic and ideological priorities began to undermine those good relations as the Cold War came to exert its grip on U.S. policy formation and implementation. In The Truman Administration and Bolivia, Glenn Dorn tells the story of how the Truman administration allowed its strategic concerns for cheap and ready access to a crucial mineral resource, tin, to take precedence over further developing a positive relationship with Bolivia. This ultimately led to the economic conflict that provided a major impetus for the resistance that culminated in the Revolution of 1952--the most important revolutionary event in Latin America since the Mexican Revolution of 1910. The emergence of another revolutionary movement in Bolivia early in the millennium under Evo Morales makes this study of its Cold War predecessor an illuminating and timely exploration of the recurrent tensions between U.S. efforts to establish and dominate a liberal capitalist world order and the counterefforts of Latin American countries like Bolivia to forge their own destinies in the shadow of the "colossus of the north."
Publisher: Pennsylvania State University Press
ISBN: 9780271050157
Number of pages: 264
Weight: 544 g
Dimensions: 229 x 152 x 25 mm
---
MEDIA REVIEWS
"Glenn Dorn's new book is an important breakthrough for scholars of inter-American relations. In the late 1940s, worker and middle-class demands for better economic well-being, as well as democracy, in Bolivia clashed with the U.S. conclusion that only a 'liberal constitutional oligarchy' would provide for crucially important, pro-U.S. stability in the centrally located Andean nation. Employing underutilized, multilingual, multi-archival sources, Dorn's book will be instrumental in helping scholars understand why the 1940s proved especially important for Bolivia (which would erupt in revolution in 1952) and how and why the United States attempted to secure its hegemony over Latin America in the early Cold War."
--James F. Siekmeier, West Virginia University
"With due attention to the intrigues of Bolivian politics and the tricky diplomacy of tin, Glenn Dorn, packing a justified moral outrage, tackles the limits of 'good neighborliness' in inter-American affairs when greed is in the mix. This crisply written study should stand as a warning to those who bleed natural resources from poor countries without a care for the consequences."
--Alan McPherson, University of Oklahoma
"The sexenio--the six years between the violent overthrow of populist military president Gualberto Villarroel in 1946 and the rise of the Movimiento Nacionalista Revolucionario (MNR) in 1952--has been examined by many studies as a backdrop to Bolivia's national revolution, but no published treatment of the period in English or Spanish is as thorough as this one. Glenn Dorn makes a valuable contribution to the historiographies of Bolivia, of Truman foreign policy, and of Latin American-U.S. relations in the early Cold War. His book adds several important new archival sources to the study of the period, balancing them nicely, and tells the story with exceptional organizational clarity. Each chapter clearly develops Bolivia's domestic dynamics during the period and looks at how a conflict-ridden bureaucracy in Washington generally worsened the situation. The lack of a coherent overriding policy meant that Truman turned over a complete mess to Eisenhower. Dorn says it well: 'In the end, the Truman administration's dealings with Bolivia must be considered a failure on almost every level. They were, however, an instructive failure, exposing many of the flaws of the early Cold War policies of the United States in South America.'"
--Kenneth Lehman, Hampden-Sydney College
"Glenn Dorn's new book . . . represents a major contribution to the study of . . . two interlocking aspects of pre-revolutionary Bolivian history. His authoritative analysis, moreover, is undergirded by the exhaustive research that he has conducted in the US, Bolivian and Argentine diplomatic archives; indeed, almost all the source citations refer to primary documents.
In sum, Glenn Dorn's work makes a singular contribution to the study of US-Bolivian relations during the sexenio, a crucial means to gaining a fuller understanding of the paradoxical post-1952 US-MNR rapprochement that has been the subject of much scholarly debate; it also broadens our perspective on the Truman administration's overall policy towards the region at a time when the vaunted principles of the Good Neighbor Policy were fast giving way to the exigencies of the Cold War.
"
--Philip Chrimes, International Affairs
"Deeply researched, deftly written, and replete with insight, The Truman Administration and Bolivia is an exemplary study in several respects. Glenn Dorn is as comfortable explaining the intricacies of Bolivian politics and society as he is analyzing the contradictory goals of U.S. foreign policy in the early Cold War. In so doing, he makes a significant contribution to our understanding of Truman as leader of the Free World. Moreover, he establishes himself as one of the leading scholars of inter-American relations of his generation."
--William O. Walker III, author of National Security and Core Values in American History
"Having conducted comprehensive multi-archival, multinational research, Glenn Dorn provides a fascinating account of the maddening complexities of inter-American relations during the early Cold War. The Truman administration opposed economic nationalism and communism and wanted democracy and development for Latin Americans. But as Dorn deftly demonstrates, the administration proved to be confused and vacillating, unable to choose between these often conflicting goals. The administration further permitted congressional committees and independent government agencies to undermine its policies for Bolivia. The 'tin war' undermined U.S. allies and helped precipitate the Bolivian revolution that the Truman administration dreaded. This is a model case study written with empathy for U.S. and Bolivian political actors and long-suffering Bolivian miners."
--Stephen G. Rabe, University of Texas at Dallas
"Glenn Dorn has provided us with an important and insightful study based on extensive archival research. . . . The book is warmly recommended for any scholar working on Bolivia, the Truman Administration, or the international tin industry, and is a must-read for those of us fortunate enough to be interested in all three."
--Mats Ingulstad, Journal of American Culture
You may also be interested in...
Simply reserve online and pay at the counter when you collect. Available in shop from just two hours, subject to availability.
Thank you for your reservation
Your order is now being processed and we have sent a confirmation email to you at
When will my order be ready to collect?
Following the initial email, you will be contacted by the shop to confirm that your item is available for collection.
Call us on or send us an email at
Unfortunately there has been a problem with your order
Please try again or alternatively you can contact your chosen shop on or send us an email at