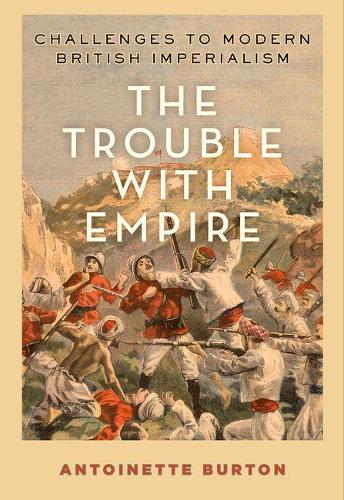 The Trouble with Empire: Challenges to Modern British Imperialism (Paperback)
Antoinette Burton
(author)
Paperback
336

Pages / Published: 16/11/2017
The Trouble with Empire contends that dissent and disruption were constant features of imperial experience and that they should, therefore, drive narratives of the modern British imperial past. Moving across the one hundred years between the first Anglo-Afghan war and Gandhi's salt marches, the book tracks commonalities between different forms of resistance in order to understand how regimes of imperial security worked in practice. This emphasis on protest and struggle is intended not only to reveal indigenous agency but to illuminate the limits of imperial power, official and unofficial, as well. "Pax Britannica"-the conviction that peace was the dominant feature of modern British imperialism-remains the working presumption of most empire histories in the twenty-first century. The Trouble with Empire, in contrast, originates from skepticism about the ability of hegemons to rule unchallenged and about the capacity of imperial rule to finally and fully subdue those who contested it. The book follows various forms of dissent and disruption, both large and small, in three domains: the theater of war, the arena of market relations, and the realm of political order. Tracking how empire did and did not work via those who struggled against it recasts ways of measuring not simply imperial success or failure, but its very viability across the uneven terrain of daily power. The Trouble with Empire argues that empires are never finally or fully accomplished but are always in motion, subject to pressures from below as well as above. In an age of spectacular insurgency and counterinsurgency across many of the former possessions of Britain's global empire, such a genealogy of the forces that troubled imperial hegemony are needed now more than ever.
Publisher: Oxford University Press Inc
ISBN: 9780190858551
Number of pages: 336
Weight: 334 g
Dimensions: 207 x 133 x 22 mm
---
MEDIA REVIEWS
It is rare to encounter a book that directly and effectively challenges the central paradigms of its field, and rarer still for one to do so successfully. In this book, Antoinette Burton ... takes up this task with her characteristic verve ... The implications of this argument are profound. Not only should the narrative history of the British Empire be reinterpreted as one of constant instability and challenge, but the fundamental precepts of so much imperial historiography must also be re-examined ... Burton has brought trouble, and those who caused it, to the centre of imperial history, and presented a powerful argument against any who would view the sunrise and sunset of Britain's empire without careful consideration of the long, fraught and turbulent day that lay between them. * Sascha Auerbach, English Historical Review *
Antoinette Burton has argued influentially for a new imperial history that draws insights from cultural, social, economic, political, and gender studies and merges domestic British history with that of the British Empire. The Trouble with Empire is a stirring call to advance that historiography by centering it on challenges to empire, rather than taking for granted British strength and the traditional narrative arc of imperial rise and fall... Written clearly and vigorously with admirable lack of jargon, The Trouble with Empire will be crucial for graduate courses on empire and extremely valuable for scholars working on empire, decolonization, and colonialism's legacies for the world today. Advanced undergraduate researchers will also find it helpful. It is simultaneously a satisfying read and a stimulating one, which will inspire scholars to continue along the paths Burton has marked out. * Lucy P. Chester, Journal of Modern History *
[A]n exciting read for historians who have engaged with histories of dissent, and it should be required reading for historians of the British Empire more generally....[I]deal for undergraduate students in particular. It is eloquently written and forcefully argued. * Kate O'Malley, Victorian Studies *
Antoinette Burton provides an entertaining overview of resistance. * Peter Robb, The Historian *
The Trouble with Empire is an important corrective to a number of long-running assumptions within imperial historiography. Accessibly written and reasonably priced, it should become required reading for graduate and undergraduate students of European imperialism and of modern Britain. It will also appeal to anyone interested in the lasting impact of empire on our contemporary world. * Ellen Boucher, History *
At a time when voices increasingly suggest that the imperial turn is over, this fine essay by Antoinette Burton comes as a salutary reminder that even in the case of Britain, much work remains to be done before we have anything like a complete account of the imperial experience What Burton does so well is to demonstrate that such incidences, far from being sporadic and isolated, were part of the quotidian reality of colonial rule, and unless and until they are integrated fully into narratives of empire, our grasp of the imperial experience as a whole remains impoverished. * John Marriott, Journal of British Studies *
A brilliant work of synthesis ... [with] a convincing and provocative overarching argument The Trouble with Empire effectively demolishes the rise-and-fall narrative of imperial history, exposing its baseless foundational assumptions. It succeeds in bringing the rebellious actions of colonized populations to the fore in all of their diversity. While The Trouble with Empire will reinvigorate debates about imperial history and take those debates to a wider audience, it should also be troubling for imperial historians as they continue to confront the challenges facing the field. * Jonathan Saha, American Historical Review *
Provocative and relevant ... Make[s] a plausible case that even at its apex, 'the empire on which the sun never set' contained the seeds of its own destruction. * Andrew Moravcsik, Foreign Affairs *
The multiple tensions that characterized the empire are thoroughly familiar to historians who work in the local archives of empire. But they are only now beginning to be taken seriously by imperial historians. How to integrate them into a history of empire is a challenging and important task. Antoinette Burton has taken a first shot at how we may do this from an imperial history perspective, and for that we should be thankful. * Richard N. Price, H-Empire *
[Burton] makes her complex and usefully provocative case easily accessible to a broad range of readers, as she challenges them to restore agency to colonial subjects, who are all too often in works of British imperial history largely invisible except as a passive collectivity [Burton] bolsters the construction of a multicultural British history - and by extension society - by giving colonial subjects a central role. * Stephanie Barczewski, Times Literary Supplement *
Bringing her signature independence of mind and sense of moral purpose to this work, Antoinette Burton challenges us to think of the British Empire less as a site of power than as a source of continuous struggle and instability. Provocative in purpose and sweeping in scope, The Trouble with Empire demands the attention of everyone interested in the history of empires. * Dane Kennedy, George Washington University *
Unmasking what she calls the 'methodological imperialism' that has taken empire as a given, Antoinette Burton manages to upend stubborn scholarly and commonplace perceptions that underlie much of imperial history. Her focus on the routine and everyday 'trouble' at the heart of empire exposes an inherently unstable, messy, and markedly less-assured enterprise. This brilliant, passionate, and iconoclastic book will change how we think about imperial history. * Mrinalini Sinha, University of Michigan *
Burton brings together trends in feminist and subaltern histories in order to complicate the historiographical narratives of British imperialism. Burton aims to provide a counter-narrative to histories such as Niall Ferguson's Empire: How Britain Made the Modern World. In doing so, she is bridging the gap between these more populist histories and scholarly works. New students of imperialism at the undergraduate level will enjoy this book as an introduction to British imperialism, while her nuancing of the narratives will appeal to a wider audience who may be interested in histories of empire. * Denis Gonyo, Reviews in History *
You may also be interested in...
×
Download the Waterstones App
Would you like to proceed to the App store to download the Waterstones App?
Reserve online, pay on collection.
Or,
add to basket
, pay online, collect in as little as 2 hours, subject to availability.
Thank you for your reservation
Your order is now being processed and we have sent a confirmation email to you at
When will my order be ready to collect?
Following the initial email, you will be contacted by the shop to confirm that your item is available for collection.
Call us on or send us an email at
Unfortunately there has been a problem with your order
Please try again or alternatively you can contact your chosen shop on or send us an email at