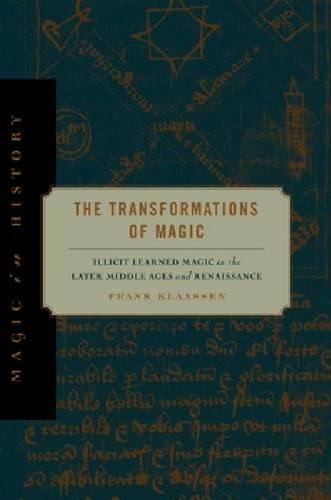 The Transformations of Magic: Illicit Learned Magic in the Later Middle Ages and Renaissance - Magic in History (Hardback)
Frank Klaassen
(author)
Hardback
280

Pages / Published: 02/01/2013
In this original, provocative, well-reasoned, and thoroughly documented book, Frank Klaassen proposes that two principal genres of illicit learned magic occur in late medieval manuscripts: image magic, which could be interpreted and justified in scholastic terms, and ritual magic (in its extreme form, overt necromancy), which could not. Image magic tended to be recopied faithfully; ritual magic tended to be adapted and reworked. These two forms of magic did not usually become intermingled in the manuscripts, but were presented separately. While image magic was often copied in the fourteenth and fifteenth centuries, The Transformations of Magic demonstrates that interest in it as an independent genre declined precipitously around 1500. Instead, what persisted was the other, more problematic form of magic: ritual magic. Klaassen shows that texts of medieval ritual magic were cherished in the sixteenth century, and writers of new magical treatises, such as Agrippa von Nettesheim and John Dee, were far more deeply indebted to medieval tradition--and specifically to the medieval tradition of ritual magic--than previous scholars have thought them to be.
Publisher: Pennsylvania State University Press
ISBN: 9780271056265
Number of pages: 280
Weight: 544 g
Dimensions: 229 x 152 x 26 mm
---
MEDIA REVIEWS
"Well argued and well researched, [The Transformations of Magic] represents a thorough and scholarly treatment of medieval magical texts, as well as an engrossing read."
--Michael Heyes, Religious Studies Review
"Klaassen's elegantly written monograph is an incisive analysis of an understudied body of evidence. His argument that two types of 'illicit learned magic' characterized the period between 1300 and 1600 brings coherence and clarity to an intellectual tradition that has too often been overlooked. By locating magical texts within broad theological, philosophical, and scholarly traditions and by emphasizing the continuities between medieval ritual magic and Renaissance texts, Klaassen challenges his readers to see medieval and Renaissance intellectual culture in new ways. His work thus not only makes a valuable contribution to the history of magic in the premodern era, but it also participates in conversations about the periodization of the Middle Ages and the Renaissance. His study stood out in a year in which there were several strong contenders for the Labarge prize."
--2014 Margaret Wade Labarge Prize Committee, Canadian Society of Medievalists
"[Klaassen's book] is a fine contribution to the field and his careful codicological analyses are highly convincing in supporting his argument."
--John A. Geck, Sixteenth Century Journal
"Historians of magic are good at stifling conversation. Where they are expected to trade in 'eye of newt, ' they offer dusty books. Where one expects witches, one finds monks. Scary spells become scholastic disputes about words and images and the typologies of magic. This means that historians of magic are good at talking to each other, but all too often alienate fellow historians of science, medicine, and religion who are their natural interlocutors. Frank Klaassen's The Transformations of Magic: Illicit Learned Magic in the Later Middle Ages and Renaissance avoids this and is the most important history of magic in the last decade. Klaassen makes a serious intellectual contribution, and engages the concerns of historians who study all things natural and supernatural. Fitting to the history it tells, the book ranges from the thirteenth century through the seventeenth, traversing the medieval and early modern divide. . . . Like the best historians of magic, [Klaassen] spent many hours locating, reading, and classifying the documents, genres, codices--and the practices of producing them--that are fundamental to the transformations of magic. Klaassen's tremendous sensibility for and attentiveness to the texts as artifacts is what makes this book so engaging and enduringly important. We meet the men--they were almost all men--who wrote, copied, and collected magic sources. They include people infamous and anonymous. We see these greedy monks, frustrated medical students, and ambitious natural philosophers sitting and writing, sometimes in a quick scrawl, sometimes in fine script and lavish colors. This is not about the history of books and readers. It is about understanding the motley corpus of extant magic texts now scattered across Europe's libraries, most of it in sixteenth-century script and little studied by historians."
--Lauren Kassell, American Historical Review
"Frank Klaassen has written a thorough and well-researched study of selected magical texts in the Middle Ages and Renaissance. It should be of interest to scholars and serious readers of magic and related fields.
"Concentrating primarily on texts in manuscripts, Klaassen has performed a valuable service in aggregating texts from archives throughout Europe and North America. Though he focuses on British manuscripts, Klaassen casts a wider net in the themes and arguments he explores. . . . Klassen's decision to explore the collections of magic texts in manuscripts is especially fruitful. He looks not only at the contents of his texts, but at how they were transmitted, the other texts with which they were collected, who copied them and why, and how the choices they made affected the presentation of the text. This wide-spectrum approach yields diverse textual and cultural information and provides a complementary perspective to the usual authorial study of magical texts."
--Dorian Gieseler Greenbaum, Nova Religio: The Journal of Alternative and Emergent Religions
"[The Transformations of Magic] draws the reader very effectively into the murky world of semi- and fully anonymous characters out of which the luminary figures emerged and which encouraged the luminary characters to arise. We are introduced to a range of manuscripts the simple listing and indexing of which deserves mention as a great service. . . . [This] is a very good book based on a use of sources that is both careful and creative. The author's central conclusions are clearly expressed, meticulously researched, and convincingly argued. It is exemplary in its subtle attentiveness to the relationship of ideas to the modes and details of their transmission, and it is compelling in its challenge to reconsider how certain kinds of magic's place in Western society developed from the High Middle Ages to the early modern period. The Transformations of Magic is a richer piece of scholarship than its modest length might suggest."
--David J. Collins, S.J., The Medieval Review
"In The Transformations of Magic, Frank Klaassen approaches the complex and important project of defining the intellectual context of medieval and sixteenth-century magical manuscripts and books. The strength of the book lies in his close reading of medieval magical manuscripts, which effectively locates them in the theological and natural philosophical milieu of the period. The second area of strength in this monograph, well supported by the evidence Klaassen provides, is his claim that early Renaissance magical authors owed a great debt to their medieval predecessors. . . . [Klaassen] deserves credit for writing an excellent analysis of the medieval material and providing the groundwork for more nuanced and careful thinking about the relationship between medieval and Renaissance magical thought and the evolving character of magic during this period."
--Allison Kavey, Isis--Journal of the History of Science Society
"The Transformations of Magic is an inspiring and innovative work of scholarship on illicit learned magic. It sheds new light on problems with the transmission and transformation of magical traditions in a systematic manner. But more than this, it opens up important new vistas of inquiry for scholars interested in the longue dur e of ritual magical texts, and suggests that more work is required on the complex, culturally productive relationship between experience, discernment, ritual technique, and textuality in Western magic."
--Egil Asprem, Correspondences
You may also be interested in...
Simply reserve online and pay at the counter when you collect. Available in shop from just two hours, subject to availability.
Thank you for your reservation
Your order is now being processed and we have sent a confirmation email to you at
When will my order be ready to collect?
Following the initial email, you will be contacted by the shop to confirm that your item is available for collection.
Call us on or send us an email at
Unfortunately there has been a problem with your order
Please try again or alternatively you can contact your chosen shop on or send us an email at