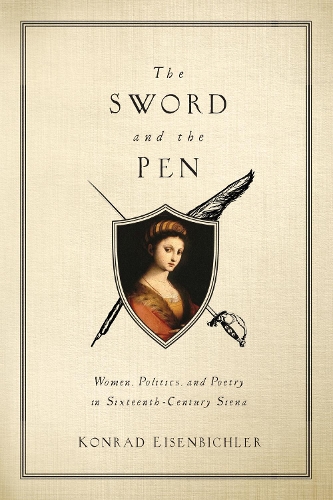 The Sword and the Pen: Women, Politics, and Poetry in Sixteenth-Century Siena (Paperback)
Konrad Eisenbichler
(author)
Paperback
400

Pages / Published: 30/11/2012
In stock online

Free UK delivery
In The Sword and the Pen: Women, Politics, and Poetry in Sixteenth-Century Siena, Konrad Eisenbichler analyzes the work of Sienese women poets, in particular, Aurelia Petrucci, Laudomia Forteguerri, and Virginia Salvi, during the first half of the sixteenth century up to the fall of Siena in 1555. Eisenbichler sets forth a complex and original interpretation of the experiences of these three educated noblewomen and their contributions to contemporary culture in Siena by looking at the emergence of a new lyric tradition and the sonnets they exchanged among themselves and with their male contemporaries. Through the analysis of their poems and various book dedications to them, Eisenbichler reveals the intersection of poetry, politics, and sexuality, as well as the gendered dialogue that characterised Siena's literary environment during the late Renaissance. Eisenbichler also examines other little-known women poets and their relationship to the cultural environment of Siena, underlining the exceptional role of the city of Siena as the most important centre of women's writing in the first half of the sixteenth century in Italy, and probably in all of Europe. This innovative contribution to the field of late Renaissance and early modern Italian and women's studies rescues from near oblivion a group of literate women who were celebrated by contemporary scholars but who have been largely ignored today, both because of a dearth of biographical information about them and because of a narrow evaluation of their poetry. Eisenbichler's analysis and reproduction of many of their poems in Italian and modern English translation are an invaluable contribution not only to Italian cultural studies but also to women's studies.
Publisher: University of Notre Dame Press
ISBN: 9780268027766
Number of pages: 400
Weight: 544 g
Dimensions: 229 x 152 x 23 mm
---
MEDIA REVIEWS
"This is the first book to reconstruct an entire generation of women poets of Siena. It presents a timely and important contribution to the history of Italian literature and culture; among other merits it shows how women's contribution to the literary environment of the time was not a separate enterprise. The goal of the book is not only to 'recover' these protagonists of Italian literature but to show how they participated, actively and passively, in the culture of their time, and it is convincing in doing so." --
Laura Giannetti, University of Miami
"Konrad Eisenbichler's succinct, scholarly, and highly readable introduction to Sienese politics and culture in the 1530s-50s opens this field up for the first time to the nonspecialist reader, while at the same time providing much fresh material of value to specialists. Rich in biographical detail and centered on three of the most remarkable Sienese female protagonists of the period, it makes compelling reading for anyone with an interest in early modern women and their social and cultural worlds." --
Virginia Cox, New York University
"At one level this is a rich and exhaustive study of three fascinating Sienese women poets, their poetry, their lives, and the lively intellectual circles they moved in and fostered. But at the same time it is an intriguing historical and literary detective story that ranges widely and deeply through archives and largely forgotten texts to rediscover a group of important women writers who, for the most part, have been ignored by history and the literary canon. As such, it stands as a powerful model and as a call for future studies that would recover the lost treasures of a powerful tradition that has been virtually deleted from our literary past." --
Guido Ruggiero, University of Miami
"Combining expert research, informative analysis, and fine storytelling, Konrad Eisenbichler's
The Sword and the Pen
shows readers what was so remarkable about the women who chose lyric poetry as a medium for expressing their friendship and political views in war-torn sixteenth-century Siena. In the process, he reveals a Sienese community alive with literary conversations among men and women. The translations at the end of the book are more than icing on the cake; they are the means by which we can now bring these poets into our classrooms." --
Deanna Shemek, University of California, Santa Cruz
"Eisenbichler not only provides an analysis of the poetry of these women [Aurelia Petrucci, Laudomia Forteguerri, and Virginia Salvi] but also book dedications to them, revealing an intersection of poetry, politics, and sexuality. He has rescued their poetry from the narrow confines of interpretation . . . [and] contributed greatly to our knowledge of women's thinking and writing." --
Magistra
"Eisenbichler brings to his study of Aurelia Petrucci, Laudomia Forteguerri, and Virginia Martini Salvi the deep understanding of Renaissance culture, the confident mastery of archival and manuscript material, the keen eye for revelatory detail, and the lucid expository style that have distinguished his many previous publications. The result is a book that both increases the reader's knowledge of particular writers in a particular time and place and shows how such particularities can be used to advance understanding of an entire society and its literary culture." --
Choice
"As if holding a diamond in the twilight, Eisenbichler examines each facet of [these women's] lives, including intellectual friendships, heresy, political intrigue, and even a lesbian romance. . . .
The Sword and the Pen
is a major contribution to our understanding of female poets in the Renaissance and the glittering cultural climate of a proud but doomed city." --
Renaissance Quarterly
"This book is an excellent combination of historical and literary analysis. Confronted with a frustrating dearth of information on these women, The Sword and the Pen combines painstaking archival research, a careful analysis of biographical material, and a consideration of the women's own works to sketch their family ties, their intellectual networks, and the details of their lives." --Sixteenth Century Journal
"The book contributes o the work of rediscovery, now in process, of the extensive participation of women in the literary culture of sixteenth-century Italy. This participation was on an entirely different scale to that of any other European country." --SHARP News
"Our knowledge of how gender functions on many levels during the Renaissance has been greatly enhanced by Eisenbichler's work. The inclusion of sonnets and poems composed by several other Sienese women, and their excellent translations, raises many more questions than it answers on the history of gender in Italy--which is Eisenbichler's goal. A job well done." --Renaissance and Reformation
"Eisenbichler makes a compelling case for the unique aspects of women's participation in sixteenth-century Siena's literary networks. His book offers an enticing panorama of literary culture, where men and women of noble families wrote to each other, provoked one another, and built up each other's reputations in the final years of the Republic of Siena." --
European History Quarterly
." . . Eisenbichler has authored a book which breaks new ground, suggests new readings of texts and places a number of Italian language texts into the hands of English language readers for the first time. . . . The book is well worth the read and the academic community will be well served through this important contribution." --Comitatus: A Journal of Medieval and Renaissance Studies
Painstakingly researched and well-argued throughout, The Sword and the Pen offers us case studies centered on Siena, showing that the silence enjoined on early modern women was a fiction for at least a literate subset of the population, who wrote not only about love but on politics. . . . this volume will become necessary reading for any scholar working on Italian early modernity, women writers, and cultural history." --Early Modern Women Journal
"Through nuanced renderings and interpretations of their poetry, poems written about them, and works dedicated to them, as well as biographical reconstructions drawn from his meticulous archival research, Eisenbichler fills lacunae, corrects errors, and uncovers his protagonists' roles in and commentary upon their afflicted city and era . . . . This engagingly written and primary-source-rich study offers much to readers interested in Renaissance studies, Italian literature, and women's and gender history." --The Historian
"Konrad Eisenbichler presents a sustained investigation of key female protagonists in sixteenth-century Siena's literary culture. A key strength of this work is its careful analysis of three Sienese [women: ] Aurelia Petrucci, Laudomia Forteguerri, and Virginia Martini Salvi. . . . Fine translations are followed by the original citations and Eisenbichler contextualizes his literary analysis with an impressive range of archival research." --Parergon
You may also be interested in...
Simply reserve online and pay at the counter when you collect. Available in shop from just two hours, subject to availability.
Thank you for your reservation
Your order is now being processed and we have sent a confirmation email to you at
When will my order be ready to collect?
Following the initial email, you will be contacted by the shop to confirm that your item is available for collection.
Call us on or send us an email at
Unfortunately there has been a problem with your order
Please try again or alternatively you can contact your chosen shop on or send us an email at