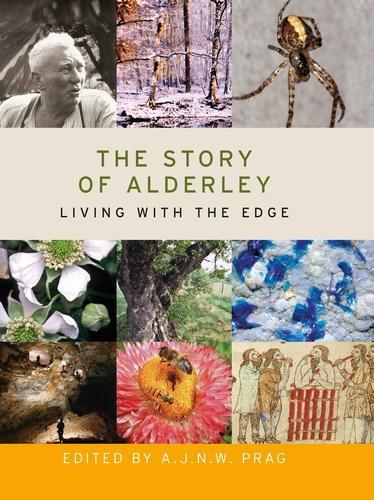 The Story of Alderley: Living with the Edge (Hardback)
A. J. N. W. Prag
(editor)
Hardback
1032

Pages / Published: 01/01/2016
In 1953 the schoolboy Alan Garner rediscovered a wooden shovel originally found in the Alderley copper mines in 1875. In 1991 he presented it to the Manchester Museum in the University of Manchester: this - and the discovery of a hoard of over 500 Roman coins - inspired the creation of the Alderley Edge Landscape Project, a multi-disciplinary research programme of the Museum and the National Trust, who own of most of the Edge, that aimed to study the entire history of Alderley, from geology to entomology, mining to oral history. No other village has enjoyed such a comprehensive study of its story: the list of chapter-headings reads like a roll-call of everything you ever wanted to know about this or any place. The book concludes with Alan Garner's retelling of the famous legend of the sleeping king, setting a familiar tale told him by his grandfather in a whole other world of prehistoric ritual and sacrifice.
Publisher: Manchester University Press
ISBN: 9780719091711
Number of pages: 1032
Weight: 2631 g
Dimensions: 234 x 156 x 51 mm
---
MEDIA REVIEWS
'John Prag, who has given so much of his life to the Alderley Edge Landscape Project, says that the driver for setting up the project in 1995 was to collect as much information as possible for the National Trust to compile a proper management plan for the site, balancing the need to protect the 'essential magic' of the Edge with sustainable access. That is why the project and its accompanying book are so comprehensive in scope, with chapters on the geology, pond life and trees, birds and invertebrates - no other village has received such an extensive and in-depth study. ' Chris Catling, Current Archaeology, June 2016 'If you ever wanted to know about Alderley Edge in Cheshire, UK, start here. It is a special place within easy reach from Macclesfield and Manchester, and much used for quiet recreation by people who live on the surrounding plain. Now those with a keen interest in the place have a huge reservoir of information at their fingertips. The book's scope is broad, with 34 listed contributors including Alan Garner, who introduces Alderley Edge and ends by telling the legend of Alderley and more modern tales. The authors cover geology, geomorphology and mineralogy; natural history; archaeology, including early mining, historic mining and quarries; local and social history, including archive sources, oral history, graffiti, the Stanley Estate, villas, village and mill, route-ways, boundary and other stones, and place-names; and conservation and the National Trust, including management, and threats and opportunities for the future. Given the size of this tome it is reasonably priced and the quality of publication and illustration are good throughout.' John Barnatt, Peak District National Park Authority, Landscapes 'The full value of this major work lies not only in its specialist interest to mining historians but its broader coverage of the history and environment of the Cheshire locality ranging, for example, from the Wizard legend to second world war graffiti on trees, and from mediaeval standing stones to Victorian mill-owners' villas. It may be an unworthy thought but at the last resort, the book might even be a suitable replacement for the door stops for which Alderley Edge Bronze Age hammer-stones were, it is said, traditionally used.' Nigel J Dribben, Derbyshire Caving Club, Peak District Mines Historical Society 'There can be no doubt that this is a comprehensive synthesis of what is known of the Alderley Edge invertebrate fauna. The extensive checklists are the first to be compiled for this locality. This work provides a baseline for future research and highlights areas that are likely to be extremely productive in terms of new records. If you don't want to collect, then just go and observe. As the authors note, plenty of the species recorded are known only by their name, with very little (if any) information known about their general biology, feeding or mating habits. There are calls throughout the chapter to take up the challenge of adding to our knowledge of various aspects of this fauna and I encourage you to do so. Reading this book certainly got my bug net-twitching!' Dr David Penney, Faculty of Life Sciences, University of Manchester, UK, Antenna 2016:40 (3) 'Many of the approaches and techniques used were ground-breaking at the time. The Story of Alderley ranges from the discovery of two new species of bramble to a retelling of the legend by Alan Garner that takes the story back into prehistory - and his shovel was radiocarbon-dated to the Bronze Age. No other project of book has covered the entire, complex story of a single village and its landscape in such detail. It will be read not just by landscape historians but by students and scholars in all those disciplines and at all levels, and by anyone interested in any aspect of history and of the countryside, whether out on the Edge or in the comfort of an armchair.' The Society of Antiquaries 'The Alderley Edge Landscape Project (AELP) began, we are told, with a 'shovel, a singer of tales and an archaeologist'. From this curious, and rather romantic, origin comes a work of daunting scholarship by no fewer than 34 contributors across an equally daunting range of discipline. Result: a record, a reference but also a deeply inspiring detective story. Oral history transcripts add local voices. Chapters are richly provided with enough photographs past and present, line drawings, maps, town plans, tables, technical diagrams and genealogies to spur on any casual reader to keep exploring. Several glossaries and a truly comprehensive index are extremely helpful. The Alderley story told here represents several decades of an ambitious and innovative landscape study. Certainly what comes across is how many different facets of research must blend to understand the life of a long-inhabited community.' Julie Elizabeth Smalley, Cheshire Landscape History Today '.and it is only now, with the production of the massive, and massively valuable and readable, The story of Alderley, that we can get the big picture laid out in all of its glory. And glorious is an apt term for this piece of work. Its 984 pages are made up into six main sections of 31 chapters, 13 appendices, three glossaries of terms (25 pages), a reference list (17 pages) and a comprehensive index (32 pages). Look at the number of pages, and the price, and order a copy. It will keep you in the most fascinating reading for weeks on end. And a word on the production of the book by Manchester University Press - hardback and flawless, an example to all publishers.' Graham Proudlove, Cave and Karst Science Review 'The AELP was a multidisciplinary study of the core area of the National Trust property on the Edge and the hinterland of Over Alderley, Nether Alderley and Alderley Edge village. This was headed by the National Trust, Manchester Museum and the University of Manchester. The project leader Dr A.J.N.W. Prag, formerly Keeper and Professor of Archaeology in the Manchester Museum, was joined by more than 30 researchers in geology, mineralogy, geomorphology, botany, ornithology, entomology, archaeology, mining history, human history, social history, archive history, local history and folklore. The experts contribute 31 chapters and 13 appendices to this comprehensive volume. It can, perhaps justly, claim to be the most complete account of the local landscape and the history of its community in this region! This book is truly a landmark in our knowledge and understanding of this popular natural feature and its environmental, historical and social contexts. It is a must for any lover the Edge or frequent visitor - above ground or below!' MGA Newsletter 8th March 2016 'Whilst firmly focused on the Cheshire settlement of Alderley and its eponymous sandstone Edge, this monumental tome records journeys of discovery, adventure and understanding which deserve a much wider readership.' Paul Belford, Industrial Archaeology Review, Vol 38, 2016 - Issue 2 'It is impossible not to admire the drive and energy which has seen this project through to publication in this well-produced volume, and within its pages every reader will find something of interest.' Bob Silvester , University of Chester , Landscape History Vol. 38, No. 1, 2017 'This book is unlike anything else in contemporary publishing: a rich, detailed, interdisciplinary natural and cultural history of the Edge, ranging in authorship from international experts in geology and soils, flora and fauna, to the traces of human inhabitation and extraction, above and below-ground. Alongside the maps and letters of archival research, the insights of oral historians, records of graffiti and street name analysis, sit the forward-looking plans of the National Trust's conservation managers and words of wisdom from the most famous son of the Edge: author Alan Garner. Never before has the natural, social and cultural history of a place been researched in such academic depth, drawn from such a breadth of authors: professional, amateur, incomer and local, scientist and poet.' Dr Melanie Giles , Archaeology, University of Manchester, The Prehistoric Society May 2018 'The story of Alderley, then, is less a book than a kind of library that centres on one place, but does so in ways that illuminate and interact with themes of continental span. As with all libraries, it is not just a storehouse but a place for new study. At the end of his editorial preamble, John Prag reflects on 20 years' obsession with the work, and hopes that his wife will be pleased to see it done. Mrs Prag should not hold her breath. Epic as this work is, it is hard to imagine it as being anything other than the prelude to something yet greater.' Richard Morris, University of Huddersfield, Antiquity, Volume 92, Issue 363, June 2018 -- .
You may also be interested in...
Simply reserve online and pay at the counter when you collect. Available in shop from just two hours, subject to availability.
Thank you for your reservation
Your order is now being processed and we have sent a confirmation email to you at
When will my order be ready to collect?
Following the initial email, you will be contacted by the shop to confirm that your item is available for collection.
Call us on or send us an email at
Unfortunately there has been a problem with your order
Please try again or alternatively you can contact your chosen shop on or send us an email at