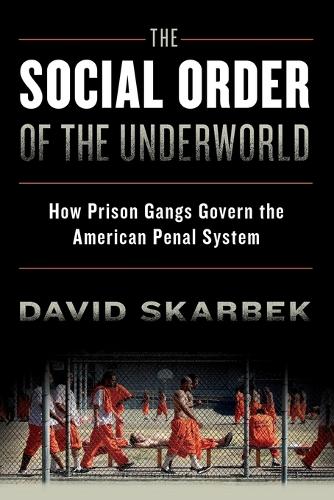 The Social Order of the Underworld: How Prison Gangs Govern the American Penal System (Paperback)
David Skarbek
(author)
Paperback
240

Pages / Published: 24/07/2014
In stock online

Free UK delivery
This book challenges the widely held view that inmates create prison gangs to promote racism and violence. On the contrary, gangs form to create order. Most people assume that violent inmates left to themselves will descend into a chaotic anarchy, but that's not necessarily the case. This book studies the hidden order of the prison underworld to understand how order arises among outlaws. It uses economics to explore the secret world of the convict culture, inmate hierarchy, and prison gang politics. Inmates engaged in illegal activity cannot rely entirely on state-based governance institutions, such as courts of law and the police, to create order. Correctional officers will not resolve a dispute over a heroin deal gone wrong or help kill a predatory rapist. Yet, the inmate social system is relatively orderly and underground markets flourish. In today's prisons, gangs play a pivotal role in protecting inmates and facilitating illicit commerce. They have sophisticated internal structures and often rely on elaborate written constitutions. To maintain social order, gangs adjudicate conflicts and orchestrate strategic acts of violence to negotiate the competing demands of inmates, gang members, and correctional officers. This book uses economics to explain why prison gangs form, how formal institutions affect them, and why they have a powerful influence even over crime beyond prison walls. Economics explains the seemingly irrational, truly astonishing, and often tragic world of life among the society of captives.
Publisher: Oxford University Press Inc
ISBN: 9780199328505
Number of pages: 240
Weight: 322 g
Dimensions: 238 x 170 x 17 mm
---
MEDIA REVIEWS
This book has much to offer in terms of ideas and analytical contributions ... Many fields of study need to take notice of what this book provides. It is deeply relevant for anyone interested in prisons anywhere, but also to those working on organized crime and gangs, violence, ethnicity and race, governance, urban sociology and politics, economics and, even, international development and anthropology. * Graham Denyer Willis, Public Choice Journal *
This is a remarkable study of a 'natural experiment' in the evolution of government. Put a couple of thousand men, not of the nicest kind, into close confinement with limited communication facilities and little government, and see what happens. What happens is government, based largely on ethnic gangs, with hierarchy, rules, and sometimes written constitutions. The basic problem to be solved is the management of the market for drugs, and solving that leads to genuine institutions. A great read. * Thomas Schelling, Nobel Laureate in Economics (2005) *
David Skarbek has written a wonderful book. It is a gripping account of prison gangs, pointing to a wholesale re-thinking of the management of American prisons. But it is far more than this: if you care at all about ethnic politics, violence, and the emergence of social order, organizational theory and the problems of collective action-in short, if you have any interest at all in how societies govern themselves-you have to read this book. * Philip Keefer, Lead Economist, Development Research Group, The World Bank *
David Skarbek's The Social Order of the Underworld can be read with great profit on each of three levels: it is an engrossing ethnography of American prison life; it is a penetrating economic analysis of the organization of the drug trade; and it offers an innovative theory of how an effective governing institution can originate in the wild and exert legitimate domination over its subjects. This book is a stunning achievement that makes me proud to be a social scientist. * David D. Laitin, Watkins Professor of Political Science, Stanford University *
Meticulously researched and convincingly argued. Skarbek's book is an outstanding addition to our understanding of self-governance, its ubiquity, and effectiveness. * Peter T. Leeson, George Mason University, and author of The Invisible Hook: The Hidden Economics of Pirates *
Skarbek's study of California prison gangs offers delightfully fresh perspective on the relationship between underworld's informal institutions. He argues that gangs evolved as substitutes for another set of informal rules, i.e., systems of criminal codes. The rules constantly evolve to lower transaction costs and often stabilize interactions and reduce chaotic violence unrelated to business enforcement. This is a first rate and novel take on the structure of organized criminal enterprises. * Marek Kaminski, University of California, Irvine, and author of Games Prisoners Play *
Drawing on economic theory, David Skarbek shows how social order can emerge in the most unlikely circumstances. In the nasty and brutish world of American prisons, gangs have emerged to govern the penal system, settle dispute and regulate the market for drugs. This is a story about the ingenuity of gang members and of institutional failure. The Social Order of the Underworld straddles all the social sciences to give us a masterly account of the human condition in the most harrowing circumstances. Add a vivid narrative style and the total absence of jargon, and you have in your hand a terrific book. * Federico Varese, Professor of Criminology, Oxford University *
Skarbek shows how gangs have spread through the prison system in the United States. He argues, convincingly, that gangs offer protection and governance in places where established institutions fail, and that it makes sense for prisoners to join them. Mr. Skarbek's analysis confounds the assumption that prisons are stuffed with violent, racist thugs who act irrationally. The very logic of gangs' existence may be the key to constraining them. Reduce demand for their services, he argues, by locking up fewer people and making prisons safer, and their appeal would diminish. * The Economist *
This is a thoughtful book that contains much of value, not least in the ways it surveys a mass of data and illustrates its central theme: how gangs operate as alternative governmental bodies within the American penal system. Skarbek uses a wide range of sources...to build up a nuanced and detailed picture of elements of the history, and much of the current organizational strategy of America's prison gangs. The Social Order of the Underworld is thought-provoking and challenging. * Tim Newburn, The London School of Economics and Political Science *
A fascinating new book... * Matt Ridley, The Times *
You may also be interested in...
Simply reserve online and pay at the counter when you collect. Available in shop from just two hours, subject to availability.
Thank you for your reservation
Your order is now being processed and we have sent a confirmation email to you at
When will my order be ready to collect?
Following the initial email, you will be contacted by the shop to confirm that your item is available for collection.
Call us on or send us an email at
Unfortunately there has been a problem with your order
Please try again or alternatively you can contact your chosen shop on or send us an email at