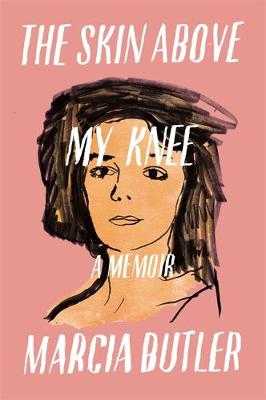 The Skin Above My Knee: A Memoir (Hardback)
Marcia Butler
(author)
Hardback
272

Pages / Published: 16/03/2017
Music was everything for Marcia Butler. Growing up in an emotionally desolate home with an abusive father and a distant mother, she devoted herself to the discipline and rigor of the oboe, and quickly became a young prodigy on the rise in New York City's competitive music scene.
But haunted by troubling childhood memories while balancing the challenges of a busy life as a working musician, Marcia succumbed to dangerous men, drugs and self-destruction. In her darkest moments, she asked the hardest question of all: Could music truly save her life?
A memoir of startling honesty and subtle, profound beauty, The Skin Above My Knee is the story of a woman finding strength in her creative gifts and artistic destiny. Filled with vivid portraits of 1970's New York City, and fascinating insights into the intensity and precision necessary for a career in professional music, this is more than a narrative of a brilliant musician struggling to make it big in the big city. It is the story of a survivor.
Publisher: Little, Brown & Company
ISBN: 9780316392280
Number of pages: 272
Weight: 468 g
Dimensions: 235 x 161 x 27 mm
---
MEDIA REVIEWS
"Marcia Butler's amazing memoir, The Skin Above My Knee, could have remained a tale of damage and survivorship. But from the first page Butler announces bigger intentions than her own autobiography which in and of itself is mesmerizing. She weaves her journey as if it were music itself--at first a horn section begins playing whenever the parents enter the stage wings. But then we move to grander art and in the end the mature concerto triumphs. Always fueled by her startling musical talent and precocious intelligence, Marcia Butler is a winner and so is her must-read book."
--Nancy Zafris, author of The Home Jar

"Creativity is tricky and elusive. You can't buy it. You can't rent it. You can't borrow it. And you certainly can't fake it. Marcia Butler has it. In this superbly written memoir, Butler observes her own life, sharing the ups and downs of it and this mysterious gift which saved her. Now the rest of us who weren't fortunate enough to hear her perform can read this astounding journey into the heart of what creativity feels, tastes, and looks like, as well as see w hat goes into being an artist."
--Charles Salzberg, author of Swann's Lake of Despair

"Impressive.... [Butler's] imaginative prose fires the senses dramatically. Music aficionados will find an extraordinarily kindred spirit here, and lovers of memoir will find this a sensationally satisfying one."
--Booklist
"[Butler] writes lovingly and beautifully.... The light and the dark fight it out in this fierce, fiery memoir."
--Kirkus
"A moving account of how passion and creativity can be powerful weapons against neglect, cruelty, and self-harm."--Publishers Weekly
"Marcia Butler has written a beautiful memoir -- meticulously nuanced, daringly honest, and utterly inspiring. I'm not sure I've ever read a book that captures so fully the ability music has to transport, sustain, defend and elevate struggling human beings through difficult times."
--Tim Page, Pulitzer Prize winning music critic, The Washington Post, author of Parallel Play and Dawn Powell: A Biography

"Gorgeously written, The Skin Above My Knee takes the reader from the world's most lauded concert venues into the innermost sanctums of musician's lives in New York. Always honest and admirably adverse to self-pity, Marcia Butler's beautiful book cuts its devastating insights with poetic love for the world. My heart broke in several places, and leapt in several others. When I finished reading, I felt as if I understood music on a level usually reserved for world class musicians. Stunning."--Marie-Helene Bertino, author of 2 A.M at The Cat's Pajamas

"Heartbreaking, page turning, and ultimately redemptive, The Skin Above My Knee is a dazzling memoir about life as an internationally recognized classical musician and about one woman's journey to the only sort of love that lasts-self-acceptance. An insider's look at the world of professional performance and a moving account of one woman's effort to transmute pain into beauty, this book will appeal to anyone who has ever wondered how you get to Carnegie Hall or how to survive family. Reader, she succeeds beautifully."--E.J. Levy, author of Love, In Theory

"In her debut memoir, The Skin Above My Knee, Marcia Butler shows us how music - listening to it, playing it, losing it, and rediscovering it - can save us. With bravery and honesty, she unflinchingly tells her story. And through it all, music resonates and becomes the soundtrack for us all."
--Ann Hood, author of The Book That Matters Most

"With clear-eyed courage and spare, lyrical prose, The Skin Above My Knee carries us not only into the mesmerizingly compelling world of a professional oboist, it also takes us into her love-starved childhood, her self-destructive young adulthood, and a descent into a solitary darkness that only her art can save from her; Marcia Butler has composed her own music here, and it is filled with passion and yearning and ultimately the kind of beauty that can save us all. This is a gorgeous book."
--Andre Dubus III
"In The Skin Above My Knee, a classical musician takes a walk on the wild side and almost doesn't make it up the stairs. Butler's remarkable memoir of a New York City freelance musician's life does for classical music what Patti Smith's Just Kids did for proto-punk, and Eileen Myles's Inferno did for Lower East Side poetry."
--Tim Tomlinson, author of Requiem for the Tree Fort I Set on Fire

"Fierce and lyrical, honest and darkly funny, Marcia Butler's memoir is so good, I found myself canceling plans with friends so I could stay home with this ravishing book. Her gift with language is rare. Not only can she describe her descent into a spiral of self-destructive behavior so vividly that you fear for her life, she will, in the end, carry you away with the poetry of her words as she describes the transcendent power of music."
--Patrica McCormick, author of the National Book Award finalist Sold

"For Marcia Butler, the oboe was a protective garment and a ticket to the world, though both applications came at a steep price.... The Skin Above My Knee ultimately succeeds because it leaves readers knowing a thing or two about an esoteric world."--Meghan Daum, New York Times Book Review
"Marcia Butler's original and lyrically written memoir charts her rise from oboe prodigy to freelance professional on the international classical scene. Transportive portraits of Carnegie Hall concerts share space with memories of childhood trauma and gritty slices from 1970s New York."--New York Magazine
"A tale of triumph over a childhood rife with abuse, yet blessed with talent. Filled with insight and honesty, [Butler's] memoir flows like a series of gorgeous musical phrases, taking the reader on a journey as uplifting as it is disturbing.... Her courageous memoir is a testament to the power of art to inspire and heal."
--Washington Post

"Such is the miracle of art. But Butler also makes us confront its limits, as redemption in life is rarely whole or permanent. Music saved her from an unhappy home, but it could not fill the throbbing vacuum caused by a parent's lack of affection. Music did not rescue her from her attempts at self-destruction, though it did provide a place for her to experience a rare feeling of wholeness. Butler's unmistakable bravery turned a traumatized girl into a world-class musician, then into a writer of memorable grace and force. You hope, while reading Butler's transcendent words, that some of it will rub off on you."
--National Book Review

You may also be interested in...
Simply reserve online and pay at the counter when you collect. Available in shop from just two hours, subject to availability.
Thank you for your reservation
Your order is now being processed and we have sent a confirmation email to you at
When will my order be ready to collect?
Following the initial email, you will be contacted by the shop to confirm that your item is available for collection.
Call us on or send us an email at
Unfortunately there has been a problem with your order
Please try again or alternatively you can contact your chosen shop on or send us an email at