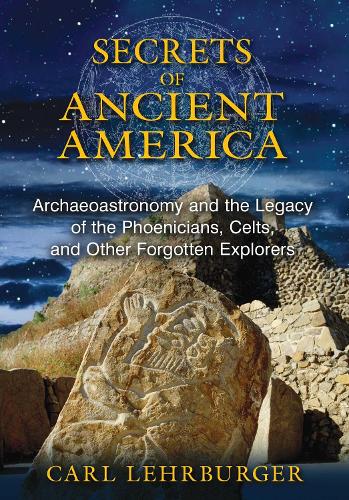 Secrets of Ancient America: Archaeoastronomy and the Legacy of the Phoenicians, Celts, and Other Forgotten Explorers (Paperback)
Carl Lehrburger
(author)
Paperback
480

Pages / Published: 29/01/2015
As the myth of Columbus "discovering" America falls from the pedestal of established history, we are given the opportunity to discover the real story of the New World and the visitors, from both East and West, who traveled there long before 1492.

Sharing his more than 25 years of research and travel to sites throughout North America, Carl Lehrburger employs epigraphy, archaeology, and archaeoastronomy to reveal extensive evidence for pre-Columbian explorers in ancient America. He provides more than 300 photographs and drawings of sites, relics, and rock art, including Celtic and Norse runes in New England, Phoenician and Hebrew inscriptions in the Midwest, and ancient Shiva linga and Egyptian hieroglyphs in the West. He uncovers the real story of Columbus and his motives for coming to the Americas. He reinterprets many well-known archaeological and astronomical finds, such as the Ohio Serpent Mound, America's Stonehenge in New Hampshire, and the Crespi Collection in Ecuador. He reveals Celtic, Hebrew, Roman, early Christian, Templar, Egyptian, Chinese, and Japanese influences in famous stones and ruins, reconstructing the record of what really happened on the American continents prior to Columbus. He also looks at Hindu influences in Mesoamerica and sacred sexuality encoded in archaeological sites.

Expanding upon the work of well-known diffusionists such as Barry Fell and Gunnar Thompson, the author documents the travels and settlements of trans-Atlantic and trans-Pacific explorers, miners, and settlers who made it to the Americas and left their marks for us to discover. Interpreting their sacred symbols, he shows how their teachings, prayers, and cosmologies reveal the cosmic order and sacred landscape of the Americas.
Publisher: Inner Traditions Bear and Company
ISBN: 9781591431930
Number of pages: 480
Weight: 753 g
Dimensions: 241 x 168 x 25 mm
---
MEDIA REVIEWS
"Carl Lehrburger's comprehensive documentation of the dizzying number of ancient petroglyphs, artifacts, and sites in the Americas is stunning. This work proves beyond any doubt that many cultures from around the world came to the Americas and permanently left evidence of their extensive knowledge in the rocks and people who inhabited this land." * Scott Wolter, forensic geologist, author, and host of the popular TV series America Unearthed *
"This is a fascinating exploration of the deep history of human migrations around the planet. Drawing from evidence systematically and irrationally dismissed by many of the professional archaeologists, Lehrburger shares his path of discovery, his pioneering field research, and his heartfelt observations about the peopling of the Americas. Clearly, there is a truer story here that has been right under our noses all along." * John Major Jenkins, author of Maya Cosmogenesis 2012 and director of the Center for 2012 Studies *
"Threatening to topple the `archaeopriests' who still think Columbus discovered America, Lehrburger strikes at the heart of the matter with his New History. An intimate and brilliantly illustrated journey back to the time of ancient sky-watchers . . . a game-changing work." * Susan B. Martinez, Ph.D., author of The Mysterious Origins of Hybrid Man *
"Impressive insights into the spirituality of ancient stargazers abound in Carl Lehrburger's compelling, personally guided tour of archaeological sites from Stonehenge to Newport and from Serpent Mound, Ohio, to the Hindu campsites in the Mojave Desert. Fascinating research by an inquiring mind will inspire those who are curious about the new dimensions of archaeoastronomy and spirituality. Wherever a shaft of sunlight from the winter solstice has shined upon the ancient petroglyphs left by ancient Celtic seafarers in Ireland or along the eastern seaboard, you can bet Carl Lehrburger has been there to record it on camera. His easy-to-read compendium of sacred sites and archaeoastronomy is a spectacular, exciting guide for our own journey." * Gunnar Thompson, Ph.D., archaeologist, anthropologist, and author of American Discovery: Our Multicu *
"The Secrets of Ancient America, by Carl Lehrburger eloquently argues that it is time for a new history of America to be written. Drawing on first-person accounts of his numerous visits to little known pre-Columbian sites across America, as well as a detailed overview of previous suppressed work in this field, this lavishly illustrated and compelling book makes a convincing case that Columbus was the last to discover America and that it is high time for the true history of pre-Columbian contact in America to be taught in our schools." * Richard Dewhurst, author of Ancient Giants Who Ruled America *
"Sharing more than 25 years of research, Lehrburger employs epigraphy, archaeology, and archaeoastronomy to reveal extensive evidence for pre-Columbian explorers in ancient America. He provides more than 300 photographs and drawings of sites, relics, and rock art, and uncovers the real story of Columbus and his motives for coming to the Americas." * Watkins' Mind Body Spirit, Issue 44, December 2015 *
"I found Secrets of Ancient America incredibly difficult to put down and Lehrburger's analysis of the India/Mexico connection was mind blowing. Lehrburger's Secrets of Ancient America is a tome spanning over 400 pages. Over 300 images have been included and the author went to great lengths to notate each of the images to better explain the petroglyphs that are typically time worn and challenging to decipher without the influence of natural lighting. The detailed explanation of the archaeoastronomical connection found at the majority of the ancient sites is thought provoking and eye opening. It is quite clear that the Americas were frequented by Old World inhabitants for thousands of years prior to the voyages of Columbus." * Lost-Origins.com, Andrew Tuzson, February 2016 *
"Carl Lehrburger exposes and slays the dragons of the "archeopriesthood"-their still persistent "flat-earth" science, historical conspiracies and cover-ups-to redefine our role in nature and history as inclusive participants, rather than conquering exploiters; as harvesters of the collective rather than selfish greed- and power-driven ends-hallmarks of our new history. " * Whole Life Times, June 2015 *
You may also be interested in...
Simply reserve online and pay at the counter when you collect. Available in shop from just two hours, subject to availability.
Thank you for your reservation
Your order is now being processed and we have sent a confirmation email to you at
When will my order be ready to collect?
Following the initial email, you will be contacted by the shop to confirm that your item is available for collection.
Call us on or send us an email at
Unfortunately there has been a problem with your order
Please try again or alternatively you can contact your chosen shop on or send us an email at