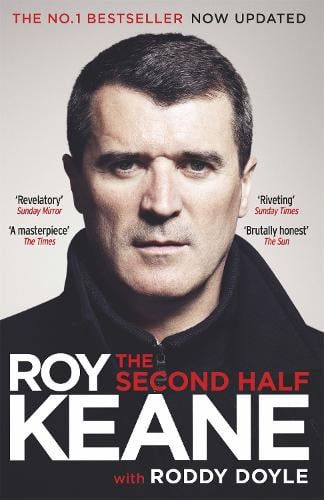 Paperback
320

Pages / Published: 21/05/2015
Save £1.00

In stock online
No. 1 bestselling memoir of Roy Keane, former captain of Manchester United and Ireland - co-written with Man Booker Prize-winner Roddy Doyle. Now updated with a new chapter, including Roy leaving Aston Villa and the Republic of Ireland's qualification for Euro 2016.

In a stunning collaboration with Booker Prize-winning author Roddy Doyle, Roy Keane gives a brutally honest account of his last days as a player, the highs and lows of his managerial career, and his life as an outspoken ITV pundit.
'Roy Keane's book is a masterpiece . . . It may well be the finest, most incisive deconstruction of football management that the game has ever produced' Mail on Sunday
'A genuine pleasure . . . His thoughts on his players are humane, interesting, candid and never less than believable' The Times
'The best things are the small things: regretting joining Ipswich when he discovered the training kit was blue; refusing to sign Robbie Savage because his answerphone message was rubbish; being appalled that his side had listened to an Abba song before playing football' Evening Standard
'The book is brilliantly constructed, rattling along at breakneck speed . . . full of self-deprecation . . . a ruthless self-examination' Daily Telegraph
Publisher: Orion Publishing Co
ISBN: 9781780228822
Number of pages: 320
Dimensions: 131 x 199 x 19 mm
---
MEDIA REVIEWS
Roy Keane's book is a masterpiece: The Second Half gives a startling account of his colourful career and reveals the hard-man midfielder's long-hidden good points ... Keane's book, ghost-written by Roddy Doyle, is an endlessly absorbing piece of work. It may well be the finest, most incisive deconstruction of football management that the game has ever produced -- Patrick Collins * THE MAIL ON SUNDAY *
There is much in Roy Keane's new book that is thoughtful and self-mocking, insightful and funny -- George Caulkin * THE TIMES *
Keane's book - ghosted by Roddy Doyle - is brutal, amusing and self-deprecating, often at the same time -- Des Kelly * EVENING STANDARD *
Roddy Doyle's works, mostly set in a fictional Dublin suburb, often star quietly frustrated everymen, and it's this book's achievement to make you see its mighty subject in that light -- Anthony Cummins * DAILY TELEGRAPH *
It is the dearth of integrity that makes Pietersen such a peevish, trifling character, and the surfeit that makes Keane so entrancingly epic ... the personification of honest to a fault ... he is as close as sport can offer to an Old Testament prophet. Heroically unconcerned with being loved, almost insanely devoted to telling what he regards as the plain truth, he may not always be engaging. But ... he stands out as utterly and irreducibly true to himself -- Matthew Norman * THE INDEPENDENT *
The best things are the small things: regretting joining Ipswich when he discovered the training kit was blue; refusing to sign Robbie Savage because his answerphone message was rubbish; being appalled that his side had listened to an Abba song before playing football. The irrational, blistering intolerance is delicious. Keane famously detested yes-men; he created himself as the ultimate no-man. And he's still here -- Dan Jones * EVENING STANDARD *
A genuine pleasure; it is a masterpiece of the genre and one that paints, in an entirely unintentional way, an extremely flattering portrait of the man ... Keane is not afraid to laugh at himself by telling stories against himself ... His thoughts on his players are humane, interesting, candid and never less than believable ... Keane's story is of a man, too, one who has had to look at football and life anew as a manager, and it is this added perspective that gives richness and humanity to the tale -- Mike Atherton * THE TIMES *
When Keane says anything, listening is usually the best option. He's scarily extreme, dangerously provocative, oxy-acetylene forthright ... and hugely entertaining ... Self-desctruction, self-pity, self-laceration - his latest unburdening has all this and more. His book reveals more flaws and admits to more mistakes than Sir Alex Ferguson did in his last literary effort - and Keane's is much funnier -- Aidan Smith * SCOTLAND ON SUNDAY *
The book is brilliantly constructed, rattling along at breakneck speed. And it makes a change from the standard sporting autobiography in being so hard on its principal subject. This is a book full of self-deprecation ... No self-aggrandisement, rather a ruthless self-examination -- Jim White * DAILY TELEGRAPH *
Keane's eminent co-writer, Booker Prize-winning Irish author Roddy Doyle, does a brilliant job. His gift for comedy and swearing, together with his wonderfully transparent style, not only captures his country man's voice but also adds some much-needed light and shade to the unforgiving business of being Roy Keane. It's not a sentence I expected to write but the account of Keane's triumphant first season at Sunderland is particularly uplifting -- Neil O'Sullivan * FINANCIAL TIMES *
I'm surprised how much Roy Keane's second autobiography made me laugh ... More importantly the book told me that Keane should be the next Manchester United manager. The more I read what he had to say, and his reflections on his two jobs as boss, the more I realised how perfect he would be at Old Trafford -- Adrian Durham * MAIL ONLINE *
A book that offers great insight into the modern manager's job ... The book does not attempt to deflect the mistakes Keane made but it adds a dimension to the man. Especially in his reflections on small details of behaviour, and there are scores of them ... Keane must hope that the decision-makers in football take the trouble to read the book itself -- Sam Wallace * i NEWSPAPER *
Very funny ... fantastically entertaining * SHORTLIST *
The rhythm of it compels attention - it's like someone talking directly to you in a pub ... It's a thoughtful book, for a footballer. But while it's taken a novelist to write his life, it may take a psychoanalyst to understand it -- Anthony Quinn * THE MAIL ON SUNDAY *
Reflective and funny ... Doyle helps to capture Keane's humour and polish his jokes (the punchline is invariably an expletive). Despite the involvement of such an esteemed novelist and author of The Commitments, there is no doubt that the voice is Keane's ... an enjoyable read ... Keane is full of such sharp observations -- Matt Dickinson * THE TIMES *
Searingly honest * THE SUN *
The belligerence, dry humour and short fuse still exist but it has now been accompanied by introspection, harsh self-criticism and no little humility -- James Olley * EVENING STANDARD *
I've just got my copy of The Second Half and although I'm only a couple of chapters into it, it has not disappointed. People have their own opinions of Roy and some would be fearful of him, given how outspoken he can be. I have always judged people how I find them and I can honestly say I have never found a fault in him ... He had a fabulous career and I know I'm going to enjoy reading about it -- Jamie Carragher * DAILY MAIL *
A candid and at times moving account of Keane coming to terms with the end of his playing career. It is at its most engaging when Keane steps out of character: describing shedding tears upon leaving Old Trafford and his twilight season at Celtic when his broken body failed him. Star ghost writer Roddy Doyle captures Keane's short, sharp and abrupt rhythm, like the cracks of a snare drum -- Paul Rees * SUNDAY EXPRESS *
People miss the fact that Keane is funny. Caustic, yes, clenched, he'd admit. Angry (though no longer prone to rage, his book claims) more than most. But funny. The light touch in The Second Half is not exclusively Doyle's. Yet the heavy stuff compels ... The account of Keane's Sunderland reign is riveting. The everyday trials of a first-time manager are uncovered as in no other book ... The Second Half is brutally honest -- Jonathan Northcroft * THE SUNDAY TIMES *
Defiant and enjoyable * THE OBSERVER *
If you write a book, you have got to be true to yourself. It's no good just making something up. You have got to show what is in your heart, and what is in your head, and that is what Roy has done -- Terry Venables * THE INDEPENDENT ON SUNDAY *
The thing I love about this man is there is nothing he writes down that he would not say to someone's face -- Stan Collymore * THE PEOPLE *
There is no denying the man is a compelling figure... Keane is a welcome maverick. Football is entertainment and the Irishman is infinitely entertaining. His aura makes his every word worth listening to... Roy Kane is a treasure of the game; love him or hate him, football would the all the poorer without his loveably, uniquely scathing presence * FOOTBALLFANCAST.COM *
True star quality... a brilliant insight into Keane's mindset * IRISH EXAMINER *
There are plenty of insightful and entertaining anecdotes, wry asides and sarcastic barbs. It's not unexpected. Keane is a more rounded individual than the cartoon image that's been created around him might suggest... Surprisingly, you might find yourself chuckling as you work your way across a panoramic footballing landscape * THE HERALD (Ireland) *
Keane's wry wit enjoys the turbo-boost of Doyle's comic timing, absurd observations and his mastery of the dark arts of expletives -- David McKechnie * IRISH TIMES *
Two books in one - the tales of a truly great Premier League footballer, flawed by raging moments of visceral destructiveness... then the tortuous account of an aspiring, complex 21st-century manager... addictive road-crash reading... But the book's true revelatory value is seen during Keane's time as manager of Sunderland, which he relates with a remarkable candour and honesty. An incomparable achievement - written with Booker prize-winner Roddy Doyle - illustrating the contemporary demands on a player and boss whose life has always been conducted with its own stark, peculiar, and sometimes violent, logic -- Neil Masuda * SUNDAY MIRROR *
I won't name names, but most sporting biographies couldn't set an ashtray on fire, let alone a crowd. The best one I've read of late is Roy Keane's The Second Half, which is actually written by Roddy Doyle, of course; and this is why it's good. It's not just Keano himself that makes the book interesting; it's Doyle's writing * Philip Kerr, author of IF THE DEAD RISE NOT and JANUARY WIDOW *
Keano rarely fails to entertain and with a ghost outrider such as Roddy Doyle, we get a snappy, snapping tale,, with Keane putting the boot into those he considers deserving but also not sparing the rod on himself... Like the midfield dynamo in his prime, this story could run and run * RTE GUIDE *
Engrossing... a book that is both an exercise in truth-telling and a piece of literary football writing -- Leo Robson * NEW STATESMAN *
Brutally honest, self-deprecating and critical of everyone. Whether you're a fan of Roy or not, you will see a whole new side of him and his views * THE SUN *
One of the most compelling sports autobiographies in recent times -- Olivia Cole * GQ Magazine *
The former Manchester United and Ireland hard man comes across as funny, scathing, regretful and, as with so many forcefully clear-minded people, touchingly contradictory -- Giles Smith * THE TIMES *
A thoroughly entertaining rampage -- Matt Dickinson * THE TIMES 'Books of the Year' *
Keane pulls no punches in what he says. I admire him. He's incredibly passionate and doesn't suffer fools. He deserves credit for that. I was never on the end of one of his tackles but I always enjoyed watching him and I like how he speaks his mind. We've lost a little bit of that personality in the game - the likes of Keane and his bust-ups -- Peter Crouch * LOADED *
Booker Prize-winner Roddy Doyle nails Keane's attitude and cadences... Compelling, eye-opening, and - whisper it - great fun -- Ben East * METRO *
To use a sporting cliche, this blisteringly honest book - written in collaboration with Roddy Doyle - is a tale of two halves. An account of the driven Premier League star's career, then an insight into life as a manager. Roy Keane's self-deprecating wit, combined with a take-no-prisoners approach, make for an entertaining read * i newspaper 'The 10 Best Sporting memoirs' *
As an Arsenal fan, I was never a lover of Roy Keane. But I loved his book, The Second Half, written with Roddy Doyle. Honest, self critical and... a raising of the bar in the generally dodgy field of football autobiography -- Sam Mendes, Film and stage director * THE OBSERVER *
You may also be interested in...
"A natural and worthy successor to the first memoir and a very welcome addition to any football bookshelf."
Roy Keane's first autobiography was brutally honest and a massive bestseller and The Second Half has not failed to live up to it on either mark. Dealing with the autumn of his playing career and first forays into... More
Simply reserve online and pay at the counter when you collect. Available in shop from just two hours, subject to availability.
Thank you for your reservation
Your order is now being processed and we have sent a confirmation email to you at
When will my order be ready to collect?
Following the initial email, you will be contacted by the shop to confirm that your item is available for collection.
Call us on or send us an email at
Unfortunately there has been a problem with your order
Please try again or alternatively you can contact your chosen shop on or send us an email at