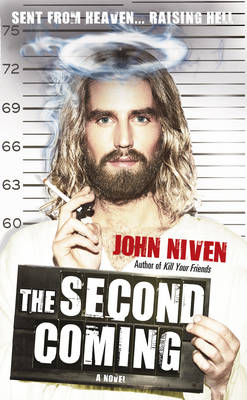 Paperback
Published: 07/04/2011
'God's coming - look busy!' God really is coming, and he is going to be pissed. Having left his son in charge, God treated himself to a well-earned break around the height of the Renaissance. A good time to go fishing. He returns in 2011 to find things on Earth haven't gone quite to plan...The world has been rendered a human toilet: genocide; starvation; people obsessed with vacuous celebrity culture, 'and', God points out, 'there are fucking Christians everywhere'. God hates Christians. There's only one thing for it. They're sending the kid back. JC, reborn, is a struggling musician in New York City, helping people as best he can and trying to teach the one true commandment: Be Nice! Gathering disciples along the way - a motley collection of basket cases, stoners and alcoholics - he realises his best chance to win hearts and minds may lie in a TV talent contest. "American Pop Star" is the number one show in America, the unholy creation of English record executive Steven Stelfox...a man who's more than a match for the Son of God.
Publisher: Cornerstone
ISBN: 9780434019564
You may also be interested in...
"brilliant!"
This is such a funny thought provoking book. The characterisation is brilliant and it is extremely witty. However there is so much more to it, it sends out the message that nothing is more important than being nice to... More
"Great...Unless you're a Christian"
The cover of The Second Coming will entice any atheist to pick it up off a shelf; and its contents don't dissapoint. The Second Coming is just plain hilarious: poking fun at humans, our ideas in regards to the... More
"John Niven on top form"
John Niven's third novel is by far his funniest. I laughed out loud many times. Thoroughly recommended to readers who like uber modern fiction and who don't take life too seriously.
We would love to hear what you think of Waterstones. Why not review Waterstones on Trustpilot?