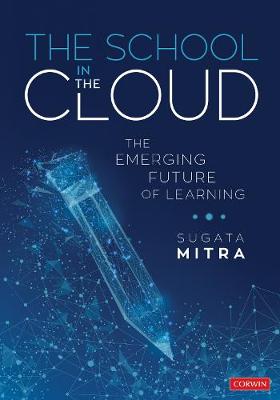 The School in the Cloud: The Emerging Future of Learning - Corwin Teaching Essentials (Paperback)
Sugata Mitra
(author)
Paperback
224

Pages / Published: 14/10/2019
The Science and the Story of the Future of Learning
In 1999, Sugata Mitra conducted the famous "Hole in the Wall" experiment that inspired three TED Talks and earned him the first million-dollar TED prize for research in 2013. Since then, he has conducted new research around self-organized learning environments (SOLE), building "Schools in the Cloud" all over the world. This new book shares the results of this research and offers
* Examples of thriving Schools in the Cloud in unlikely places
* Mitra's predictions on the future of learning
* How to design assessments for self-organizing learning
* How to build your own School in the Cloud
* Clips from the documentary, The School in the Cloud

Publisher: SAGE Publications Inc
ISBN: 9781506389172
Number of pages: 224
Weight: 470 g
Dimensions: 254 x 177 mm
---
MEDIA REVIEWS
"This isn't another book about boring old teachers." -- From the 3rd-year class of Belleville Primary School
Sugata Mitra's new book is arresting. It stops you in your tracks and causes you to think again. Many a good book will encourage and guide; and some will recommend better ways of doing things. This book does all of that and more. It also questions popular convention and provokes you into a new way of thinking about learning.
For example, think of the millions spent on providing enough computers for one student, or at least one device between two students; whereas Sugata shows that children will learn at greater rates if they cluster around large screens, in mixed-age groups and discover together. Or, think of the ways in which ICT teaching carefully plans a step-by-step approach to ensure the 'right' thing is studied at the right time, whereas Mitra shows children who are given free and public access to computers and the Internet can become computer literate without the need for a planned curriculum. Perhaps most profound of all, Mitra describes the conditions leading to a Self-Organised Learning Environment (SOLE) in which, contrary to the usual situation in which students cram for a test and then forget much of what they've learned once the test is done, the students in his experiments actually knew more when they were given a surprise test months later! As for the 'School in the Cloud' idea, the underlying principle is to not teach; instead, have a conversation, raise questions and ask children to work out possible answers-but do not teach!
On reading this book I suspect, like me, you will think the quote will prove prophetic when considering Sugata Mitra's contribution to education; I just hope that by reading and acting upon the messages herein, we can hasten towards that celebration: "First they ignore you. Then they ridicule you. And then they attack you and want to burn you. And then they build monuments to you." (Attributed to Nicholas Klein, pp 34)
-- James Nottingham, Founder and Author, The Learning Challenge
Sugata Mitra's long awaited book is not only a documentation of two decades of studies into self-organised learning, it is also an invitation to explore the mind of a disruptor. Mitra deftly traces the history of his projects, offering keen insights into the thinking behind his celebrated Hole in the Wall and Schools in the Cloud experiments. He provides a compelling, personal and at times contentious narrative, replete with evidence that when given the right conditions, children really can learn for themselves. For educators everywhere, The School In The Cloud will be challenging and inspirational in equal measure.
-- Steve Wheeler, Learning Innovation Consultant, Former Associate Professor of Education
We universally underestimate children. Sugata does not. His life's work has been to enable children to explore for themselves, using their innate curiosity and imagination. Education is what people do to you. Learning is what you do to yourself. Digital ether allows that latter, as you will see in this book. -- Nicholas Negroponte, Founder of MIT Media Lab and One Laptop per Child
Twenty years ago, Sugata Mitra disrupted traditional education by installing a computer kiosk in an Indian slum and inviting children to learn together-without teachers, textbooks, or tests. Lessons from that first Hole in the Wall experiment have informed the global development of what Mitra calls self-organized learning environments (or SOLEs), where children investigate "big questions" by conducting online research. In The School in the Cloud, Mitra doesn't call for the end of schools or the elimination of teachers. Rather, he shows what's possible when educators embrace the SOLE model. With data and storytelling, he paints a picture of education that's sparked by curiosity, enabled by technology, and facilitated by teachers who are wise enough to let children drive their own learning.
-- Suzie Boss, Author and Consultant, Thinking Through Project-Based Learning
Many people profess to know what the future of school will be. These claims are often vague, overconfident, or overly simplistic. Not here. This book is filled with examples, questions, humility, possibilities, and undeniable stories that should make us all uncomfortable with our current ways of thinking about education. This is a must-read for all who want to expand their understanding about learning. -- Julie Stern, author of Tools for Teaching Conceptual Learning
In The School in the Cloud, Sugata Mitra presents learning at its most elemental - a child's need to know combines with open access to information and gentle encouragement and her potential as a learner takes off.
Readers familiar with high-quality project-based learning (PBL) will appreciate that Mitra's work gets at the essence of this methodology. And, in its way, his book is the embodiment of the very processes Mitra recommends. In The School in the Cloud we follow Mitra as he identifies an urgent concern (poor access to education), investigates and tries to address it (through internet and "granny" encouragement), and through iteration and improvement, settles on a solution (self-organizing learning environments) we're lucky he shares with others.
With humor, humility and insights borne from both successes and setbacks, Mitra shares lessons that, at their germ, show how student-centered, inquiry-driven learning can take shape, no matter the context.
-- Jane Krauss, Author, Thinking Through Project-Based Learning
For many years Sugatra Mitra has been one of very few saying, and evidencing, that we should properly trust children with their learning. Children saw right away that they needed to know about the past to imagine and then build their futures. So of course they know how important it is to practice imagining. Children don't need this book; this book is for everyone else. -- Stephen Heppell, Felipe Segovia Chair in Learning Innovation at Universidad Camilo Jose Cela
Sugata Mitra is the standard-bearer for a genuinely 21st century education: one that connects children's innate thirst and capacity for learning with the massive resource of the internet - and then gets out of the way and lets them run free and grow their minds in the process. Read this book and let your sense of what it is possible for children to do, and become, be expanded beyond your wildest dreams. And join Sugata's crusading army of angels - for his radical yet practical ideas are opposed by many who have done well by systematically underestimating children's capabilities.
-- Guy Claxton
The Internet provides a seemingly endless resource beyond just consumption. Leveraging years of research Sugata Mitra provides a compelling narrative on how it can empower kids to learn in ways we never imagined. The wisdom and strategies he shares serve as a blueprint to transform education now and in the future.
-- Eric Sheninger
Sugata Mitra is one of the most original voices in education today. His unique research with children and technology around the world casts a fascinating light on the core dynamics of learning - and teaching. Children love to learn: they don't all do well in education. Why not? In school they're usually obliged to compete with each other: what if they collaborate instead? They're typically taught by age: what happens when they're not? What if there's no teacher at all? And what does all of this mean for the future of education in an increasingly connected and febrile world? A bold, provocative and important book for anyone with a serious interest in learning, technology and schools.
-- Sir Ken Robinson, PhD
You may also be interested in...
×
Download the Waterstones App
Would you like to proceed to the App store to download the Waterstones App?
Simply reserve online and pay at the counter when you collect. Available in shop from just two hours, subject to availability.
Thank you for your reservation
Your order is now being processed and we have sent a confirmation email to you at
When will my order be ready to collect?
Following the initial email, you will be contacted by the shop to confirm that your item is available for collection.
Call us on or send us an email at
Unfortunately there has been a problem with your order
Please try again or alternatively you can contact your chosen shop on or send us an email at