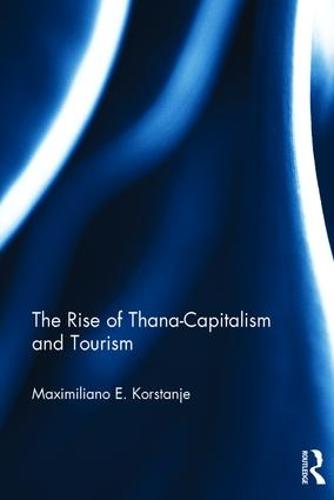 Hardback
134

Pages / Published: 24/11/2016
We live in a society that is bombarded by news of accidents, disasters and terrorist attacks. We are obsessed by the presence of death. It is commodified in newspapers, the media, entertainment and in our cultural consumption.
This book explores the notion of an emergent class of "death-seekers" who consume the spectacle of the disaster, exploring spaces of mass death and suffering. Sites that are obliterated by disasters or tragic events are recycled and visually consumed by an international audience, creating a death-seekers economy. The quest for the suffering of others allows for a much deeper reinterpretation of life, and has captivated the attention of many tourists, visiting sites such as concentration camps, disasters zones, abandoned prisons, and areas hit by terrorism. This book explores the notion of the death-seekers economy, drawing on the premise that the society of risk as imagined by postmodern sociology sets the pace to a new society: thana-capitalism. The chapters dissect our fascination with other's suffering, what this means for our own perceptions of the self, and as a tourist activity. It also explores the notion of an economy of impotence, where citizens feel the world is out of control.
This compelling book will be interest to students and scholars researching dark tourism, tourist behaviour, disaster studies, cultural studies and sociology.
Publisher: Taylor & Francis Ltd
ISBN: 9781138209268
Number of pages: 134
Weight: 426 g
Dimensions: 235 x 159 x 15 mm
---
MEDIA REVIEWS
"Dr. Maximiliano Korstanje, an eminent tourism authority, demonstrates his intellectual talent in his new book on dark tourism. The book takes the reader through not only the history of dark tourism, or as it is technically known, Thana-Tourism, but also introduces in this ground-breaking work the concept of Thana-capitalism as an important contribution not only to tourism literature but also to the fields of economics and social-philosophy" Dr. Peter Tarlow, Texas A&M University, USA
"In this study, Korstanje skilfully elaborates on the contemporary mutations of capitalism. He explains how mass suffering is produced and consumed today, pointing out that both ends of production and consumption are industrially crafted on the basis spectatorial indifference and on mergers of tropes and practices of death and life. The book makes a thoughtful contribution to critical sociological theory" Dr Rodanthi Tzanelli, University of Leeds, UK
"This book makes the compelling argument that we accept death and suffering as forms of entertainment, rather than seek their prevention, because we have become infatuated by our ownsurvival.Korstanje develops this one argument through an array of different theories, scattered all over the book, ranging temporally from the birth of Christianity to post-modernity. Quite impressively, it seems like all the big names within philosophy and social theory are added to the mix: Baudrillard, Giddens, Zizek, Foucault, Marx and Beck, to name a few." Solene Prince, European Research Institute (ETOUR), Mid-Sweden University, OEstersund, Sweden, Annals of Leisure Research, 2017
"Life is a transient escape from the boundless landscape of death. To make life meaningful, it needs to be anchored in the framework of death. Maximiliano Korstanje introduces some path-breakingingly fresh perspectives into the debates on Thana capitalism and thana-tourism. Thana tourism creates an economy around those who are motivated by the need to consume death related experiences. Thana-tourists undergo liminal transitions that make them see death as a living experience. It is sickening but also therapeutic, depending on how the experiences are structured and lived. Maximiliano has knit together a comprehensive treatise on this important transdisciplinary field and I believe it will be a valuable resource for scholars studying this interesting phenomenon." Babu P. George, Fort Hays State University, USA
"Professor Korstanje artfully weaves our fascination with entertainment and fear about death and the loss of self with historical trends in capitalism to market actual and virtual visitations to sites and presentations of death and suffering. It is vicarious, it is real, it is our condition!" David L. Altheide, Regents' Professor Emeritus, Arizona State University, USA
"Dark tourism has captured the imagine of tourism scholars over the past decade. This book by Maximiliano Korstanje not only reviews the literature in this field, but challenges existing conceptualizations of dark tourism. From a broad perspective, Korstanje looks at dark tourism through the lenses of capitalism, post-industrialism, religious ideology, and biopolitics to examine the roots of dark tourism, the fascination all cultures have with life and death, and the appropriation of death by modern economics and politics in the development of thana-capitalism (i.e., the commercialization death) through making death the Other. This book is a must read for anyone interested in dark tourism studies." Dr. Daniel Olsen, Department of Geography, Brigham Young University, USA
"Informed by perspectives in sociology, behavior studies, and cultural studies, this book explores the motivations of the "death-seekers," tourists who seek out disaster and tragedy. Timely focus is given to those visitors who take selfies at sites of disaster. This book also explores the economic implications of tragedy-consuming tourists and the
associated rise in "thana-capitalism": literally, the business of death." Rebecca Price, MLIS, MEd, Adjunct Research and Instruction Librarian, Duquesne University Gumberg Library, Pittsburgh (Book Review in RUSA, Vol 57, No 2, 2017: https://www.journals.ala.org/index.php/rusq/article/view/6525/8677)
"Maximiliano Korstanje's The Rise of Thana-Capitalism and Tourism is a deeply thoughtful and provocative work which explores the apparent rise of the obsession with death in today's society. Marrying philosophical and theological debates with economic theory, Korstanje paints a critical view of the world today, a world in which everyone fights for survival in a social Darwinist (thana-) capitalist system constructed to suppress them. The result of this is a constant quest for survival and ergo, an obsession with death." Jack Shepherd, European Tourism Research Institute (ETOUR), Mid Sweden University, OEUROstersund, Sweden
You may also be interested in...
Simply reserve online and pay at the counter when you collect. Available in shop from just two hours, subject to availability.
Thank you for your reservation
Your order is now being processed and we have sent a confirmation email to you at
When will my order be ready to collect?
Following the initial email, you will be contacted by the shop to confirm that your item is available for collection.
Call us on or send us an email at
Unfortunately there has been a problem with your order
Please try again or alternatively you can contact your chosen shop on or send us an email at