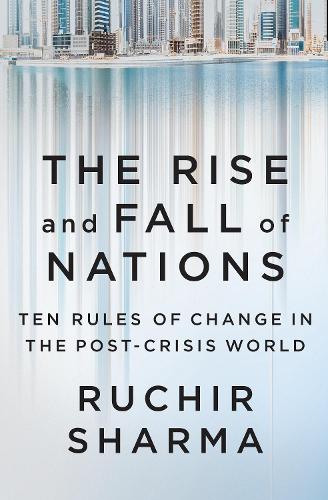 The Rise and Fall of Nations: Ten Rules of Change in the Post-Crisis World (Hardback)
Ruchir Sharma
(author)
Hardback
480

Pages
Published: 20/07/2016
The crisis of 2008 ended the illusion of a golden era in which many people imagined that prosperity and political calm would continue to spread indefinitely. In a world now racked by slowing growth and mounting unrest, how can we discern which nations will thrive and which will fail? Shaped by prize-winning author Ruchir Sharma's twenty-five years travelling the world, The Rise and Fall of Nations rethinks economics as a practical art. By narrowing down the thousands of factors that can shape a country's future, it spells out ten clear rules for identifying the next big winners and losers in the global economy. Each rule looks at a nation's political, economic, and social conditions in real time to filter out the hype and noise. He shows, for example, how slow population growth is eroding economic growth, and ranks nations by how well they respond. He describes the way cycles of political complacency and revolt fuel economic booms and busts. Amid growing tensions over inequality, he demonstrates how billionaire lists yield clues to which economies are most or least threatened by extreme wealth. In a period when the world is struggling with trillions of dollars in new debt, he explains which nations are most likely to avert this threat or buckle under it. Sharma's rules are based on the data he has collected over many years at Morgan Stanley Investment Management in New York, where he is now Head of Emerging Markets and Chief Global Strategist. This is a book of original research, not mere opinion. The final chapter takes the reader on a surprising world tour of the likely winners and losers in the near future. The Rise and Fall of Nations is enlivened by Sharma's stories from the road and his encounters with presidents, tycoons, and villagers from Rio to Beijing. It is a pioneering field guide to understanding our impermanent world.
Publisher: Penguin Books Ltd
ISBN: 9780241188514
Number of pages: 480
Weight: 766 g
Dimensions: 240 x 162 x 41 mm
---
MEDIA REVIEWS
Filled with amazing data ... fascinating insights and revealing anecdotes, this is quite simply the best guide to the global economy today. Whether you are an observer or an investor, you cannot afford to ignore it. -- Fareed Zakaria
There is nothing theoretical or abstract about this work. [Sharma's] new book adopts the same approach that served him well in his 2012 survey of emerging markets, Breakout Nations, considering the views of village barbers alongside those of presidents as he works out whether the fundamentals of the countries he considers suggest a more bearish or bullish stance. ... All of these views are not meant to be written in stone: Sharma believes long-term forecasting is a fool's game. But for insights into the forces operating in our world today, The Rise and Fall of Nations is a stimulating and useful guide. -- Henry Sender * Financial Times *
The Rise and Fall of Nations has three aims: to assess the crash; to dismantle the analysis that led investors and economists to get overexcited; and to offer a new framework for thinking about emerging countries. The result is ambitious. It covers four-fifths of the world's population and 40% of its GDP ... it is also entertaining, acute and disarmingly honest. Instead of pious statements about poverty, or portentous mutterings on the importance of American leadership, Mr Sharma sees the world from the ruthless and restless perspective of an investor ... He has a knack for sharp comparisons between countries. ... If Mr Sharma is right that global capital flows will remain depressed, and that developing economies face a pedestrian future, then the hot money chasing them will recede-as, perhaps, will the influence of famous fund managers. Until then, Mr Sharma's book is a fine guide to the great emerging market boom and bust. * The Economist *
Ruchir Sharma is a shrewd and thoughtful observer of emerging markets. His insights deserve the attention of all who care about the future of the global economy. -- Lawrence H. Summers
This efficient, positive guide for the practical observer and investor shows how to choose healthy emerging markets. ... Evenhanded, measured, sage advice on the global economy. * Kirkus *
Articulate ... Highly recommended to all readers interested in global economics ... Sharma presents a wealth of data and insights into the economic condition of the post-2008 world ... Some of his conclusions may seem jarring but are always thought provoking. * Library Journal *
Sharma's wealth of knowledge ... and ample experience on the ground are strong foundations for his exploration of what makes economies break out, or break down. * Reuters *
For sheer readability and insight on the developing world drama, I dare say you won't find a better choice. * Wall Street Journal *
A vital guide to the new economic order. It's a new world, and investors are looking for a roadmap to help them capture whatever return they can. Ruchir Sharma's new book, The Rise and Fall of Nations: Forces of Change in the Post-Crisis World, provides a guide. ... Sharma's new book is ambitious in positing new rules that investors should take into consideration as they think about the growth prospect of all nations, developed and developing, in the coming economic era of bifurcation, political populism, growing inequality, and uncertain technological disruption. ... One thing that sets Sharma's take on the new world apart straight away: He isn't making 20, 30 or 50 year predictions about who will fare well or poorly as many banks like Goldman Sachs, or consulting groups like McKinsey have lately been wont to do. He points out sharply that even when all the economic vectors seem to be leading in a certain direction, unexpected human behaviour, usually in the form of political change, can shift everything in a heartbeat ... Rather he looks to help readers navigate this turbulent world with rules that can help them identify which countries might, over 5 to 10 year time horizons, rise, fall, or muddle through. -- Rana Foroohar * Time *
He writes interestingly and well. ... The nub of the book is ... how to spot which countries are likely to succeed, and which to fail, in this impermanent world. Sharma offers a framework of 10 rules. The more of these rules countries achieve, the more they are likely to rise rather than fall. It is a good approach... The book is rich in example and anecdote, which lifts it above the usual airport business book. And it may just help you avoid picking losers. -- David Smith * The Sunday Times *
Compelling ... The combination of statistical analysis and anecdotes makes the book a success. The local insight adds colour, while the data reassures us that his analysis is underpinned by more than a series of conversations with taxi drivers. While Sharma is a fund manager specialising in emerging markets, The Rise and Fall of Nations is much more than an investment primer. The issues he deals with, from growth to inequality, are of much broader interest. Perhaps the most striking aspect of his approach is how, in one regard, it is both modest and brave. Sharma limits his rules to trying to guess the likely path of an economy over a five-year time frame. While recent works such as Thomas Piketty's Capital in the Twenty-First Century or Robert Gordon's The Rise and Fall of American Growth tried to predict how the world will look over the next few decades, Sharma looks no further than the early 2020s ... [his] message is that the immediate future does not necessarily resemble the recent past. Optimism and pessimism about a country's growth tend to come in cycles and be overdone in each case, often amplified by the international media. The world economy is going through a transition-headline growth has slowed, international trade is weaker and economic power is shifting. Sharma's book provides a good guide for working out what will come next. -- Duncan Weldon * Prospect *
In this lively and informative book, Sharma explains his system of 10 rules for identifying economies with good potential. Among the striking conclusions is his bearishness about China, largely because of its huge and growing indebtedness. -- Martin Wolf * Financial Times (Summer Books) *
If you have been wondering what's happening to the world - why for example has England voted to commit economic suicide by leaving the European Union? ... The Americans have voted for Donald Trump... Donald Trump? What's going on? Is there a rightwing, anti-immigrant backlash, or is it more complex? In fact much of what is happening is following a pattern, a pattern of global trends that this book has in great detail and mastery documented ... an amazing read, I learned a lot from it, and its out-of-the-box thinking. -- Prannoy Roy * NDTV *
Sharma's mission is as ambitious as it is well-executed. A mix of humble pragmatism and daring decisiveness make his tips compelling and credible. The author backs up each of the rules with a combination of hard facts and colourful anecdotes gathered on his travels ... The book is worth a good, long look. Sharma's tried and tested tenets and eloquent delivery will reward anyone hoping to understand what determines the fickle fortunes of nations. -- Katrina Hamlin * Reuters *
You may also be interested in...
×
Download the Waterstones App
Would you like to proceed to the App store to download the Waterstones App?
Reserve online, pay on collection


Thank you for your reservation
Your order is now being processed and we have sent a confirmation email to you at
When will my order be ready to collect?
Following the initial email, you will be contacted by the shop to confirm that your item is available for collection.
Call us on or send us an email at
Unfortunately there has been a problem with your order
Please try again or alternatively you can contact your chosen shop on or send us an email at