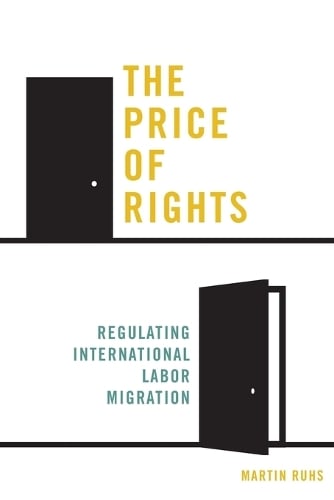 The Price of Rights: Regulating International Labor Migration (Paperback)
Martin Ruhs
(author)
Paperback
272

Pages / Published: 13/02/2015
We can order this from the publisher
Many low-income countries and development organizations are calling for greater liberalization of labor immigration policies in high-income countries. At the same time, human rights organizations and migrant rights advocates demand more equal rights for migrant workers. The Price of Rights shows why you cannot always have both. Examining labor immigration policies in over forty countries, as well as policy drivers in major migrant-receiving and migrant-sending states, Martin Ruhs finds that there are trade-offs in the policies of high-income countries between openness to admitting migrant workers and some of the rights granted to migrants after admission. Insisting on greater equality of rights for migrant workers can come at the price of more restrictive admission policies, especially for lower-skilled workers. Ruhs advocates the liberalization of international labor migration through temporary migration programs that protect a universal set of core rights and account for the interests of nation-states by restricting a few specific rights that create net costs for receiving countries. The Price of Rights analyzes how high-income countries restrict the rights of migrant workers as part of their labor immigration policies and discusses the implications for global debates about regulating labor migration and protecting migrants. It comprehensively looks at the tensions between human rights and citizenship rights, the agency and interests of migrants and states, and the determinants and ethics of labor immigration policy.
Publisher: Princeton University Press
ISBN: 9780691166001
Number of pages: 272
Weight: 425 g
Dimensions: 235 x 152 x 15 mm
---
MEDIA REVIEWS
Winner of the 2014 Best Book Award, Migration and Citizenship Section of the American Political Science Association "To what extent should countries encourage immigration? What rights should be conferred on immigrants, especially temporary ones? Ruhs emphasizes the uncomfortable tradeoffs built into every answer to those questions."--Richard Cooper, Foreign Affairs, US "Ruhs's work is an excellent reality check for idealism within the immigrant advocacy community and a solid discussion on the rights of migrants and the trade-offs of policy decisions. It'd be a good addition to a graduate or higher-level undergraduate migration course reading list, or to the bookshelf of an academically minded policy maker."--Amy Grenier, Migrationist, US "We may argue with the detail of Ruhs's prescriptions for expanding labour migration schemes for low-skilled workers, but the substance of his ethical argument is not easily dismissed. To shut down labour migration--even in the name of protecting migrants' rights--is to deny opportunity to potential migrant workers, and to condemn them to living in the state of poverty they seek to overcome."--Peter Mares, Inside Story, Australia "This is an academic book, but very accessible, and I think it is an important one for anybody interested in the migration debate to read."--Diane Coyle, Enlightenment Economics "Ruhs makes many interesting observations of the regulation of labour migration and is therefore necessary reading for those interested in migration policy and law."--Jaana Palande, Nordic Journal of Migration Research "Supporters of the rights of migrants can and should read this book with a proper sense of gratitude that such a thoughtful piece of work which critically assesses exactly what we are trying to achieve has been written."--Don Flynn, Migrant Rights Network, UK "Ruhs's detailed documentation of the existence and variation in immigration policies has a crucial implication for the models that predict huge gains from unrestricted migration."--George Borjas, Journal of Economic Literature "In successive GFMD meetings and at the 2013 UN High Level Dialogue on International Migration and Development, civil society and migrant observers have continued to insist on a frank and honest discussion of human rights--a discussion which has been repeatedly frustrated. Hopefully Ruhs' provocative book will help begin that discussion."--Susan Gzesh, Journal on Migration and Human Security "The Price of Rights makes a critical contribution to the literature on labour migration by showing how the differential access to rights for migrant workers according to their skills has become a global trend. The coverage of the study is impressive, including a variety of countries from higher to lower income, spanning from Europe to the Middle East, the USA and Australasia."--Gabriela Alberti, British Journal of Industrial Relations "This is an excellent book. Ruhs is right to place migrant rights in the discussion about migration policy so vividly... Ruhs's solutions will be confrontational to some, however they are to be commended. Anyone interested in the overall flow of global migration would do well to understand how migrant rights plays a pivotal role."--Henry Sherrell, Value for Money "The Price of Rights makes a brave contribution to the debate on the ethics of immigration policy and the restrictions it imposes on the legal rights of migrant workers... [A] core strength of this study is the separation it makes between migrant rights in practice and rights migrants should have from a moral/ethical point of view."--Wayne Palmer, Asia Pacific Migration Journal "This excellent book deserves to be read and considered by anyone interested in immigration policies and the human rights of migrant workers."--Martin Provencher, CERIUM, University of Montreal "The book provides a good overview of the analytical and policy issues in this area of resarch, and the rigor of reasoning and the wealth of data it mobilizes constitute a useful reference in current debates."--Antoine Pecoud, Critique international "Through a rich discussion of existing labour migration policies, The Price of Rights unfolds an inspiring analysis... Could development and the objective of promoting more migration justify some restrictions to human rights? The Price of Rights goes about as far as an academic work can go in framing this important debate."--Benoit Mayer, Human Rights Law Review "In an area of policy with such a diverse range of interests and policy perspectives, Ruhs contributes an important framework for analysis that recognises the complexity of the ethical issues surrounding the employment of migrant workers within the geopolitics of economic migration and state practice. The Price of Rights is a valuable resource for policy-makers in choosing settings for labour migration programs and for academics grappling with the appropriate terms of analysis."--Alexander Reilly, Adelaide Law Review "The pity of Ruhs's book is that something like it wasn't available fifty or even forty years ago. Had it been, European policymakers might have managed their guestworker programs differently, or at least entered the process with their eyes wide open."--Roger Waldinger, American Interest "Ruhs has raised and analyzed the competing goods that lie at the heart of using low-skilled labor migration as a tool for development."--Philip Martin, Developing Economies "Ruhs' book offers an insightful and useful analysis for academics and policy-makers, as it attempts to bridge the gap between theory and practice in the complex international and national debates on migration, rights, and citizenship."--Karen Seegobin, Studies in Ethnicity and Nationalism "Scholars who can weave together moral philosophy and pragmatic policy debate are all too rare, but Ruhs is on strong footing in both camps. His ethical framework is compelling: We should prioritise citizens but actively promote the interests of sending countries, and recognise the moral weight of human rights principles without treating them as the only good."--Meghan Benton, European Journal of Development Research "The book [evinces] erudition ... meticulous research and a comprehensive understanding of the subject, and [a] nearly seamless integration of empirical, policy and normative elements... The author's command of knowledge and research skills demonstrates the best practices of scholarship ... appreciate the care he took to address the sensitivities in the controversies of key policy debates, the marshaling of both the positivist and the normative arguments, and the moral courage to take a stand in the advancement of migrant rights despite the known tradeoffs and opposition."--Comments by Best Book Award Committee 2013 (Martin Heisler, Pei-te Lien, and Daniel Tichenor), Migration and Citizenship Section, American Political Science Association "[T]he book is an important call to compromise in a policy area that is plagued by factions. Its central plea--to take migrants' interests seriously, by acknowledging that sometimes they require a temporary suspension of certain rights--is an important one for both academia and policy."--Meghan Benton, European Journal of Development Research "Could development and the objective of promoting more migration justify some restrictions to human rights? These, as Ruhs clearly shows, are value-loaded questions that economists or experts cannot answer. Such questions must be the object of political debates through which societies define their values. The Price of Rights goes about as far as an academic work can go in framing this important debate."--Benoit Mayer, Human Rights Law Review "The Price of Rights is enlightening and provoking. Its breadth is deep."--Oxford Journals "Martin Ruhs has produced a volume destined to become a key reference for anyone interested in the regulation of labor migration."--Hania Zlotnik, International Migration Review
You may also be interested in...
×
Download the Waterstones App
Would you like to proceed to the App store to download the Waterstones App?
Reserve online, pay on collection
Alternatively, for multiple items you may find it easier to
add to basket
, then pay online and collect in as little as 2 hours, subject to availability.
Thank you for your reservation
Your order is now being processed and we have sent a confirmation email to you at
When will my order be ready to collect?
Following the initial email, you will be contacted by the shop to confirm that your item is available for collection.
Call us on or send us an email at
Unfortunately there has been a problem with your order
Please try again or alternatively you can contact your chosen shop on or send us an email at